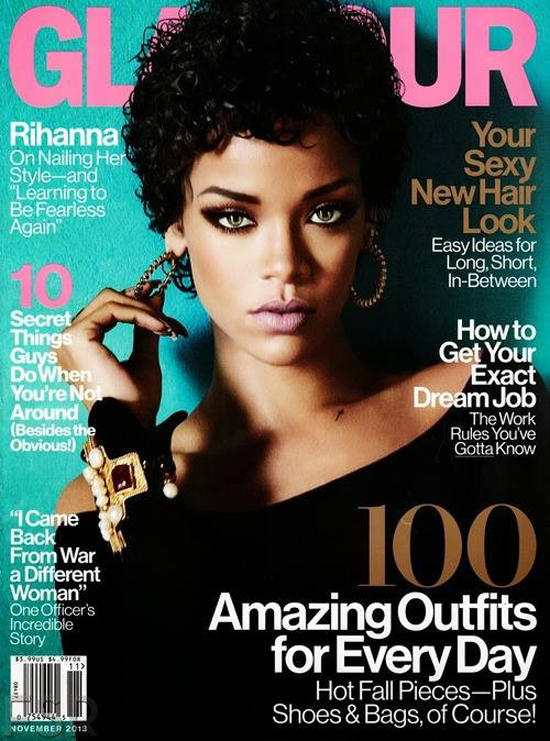 Rihanna covers the November issue of Glamour with a total poker face. This has been RiRi's standard expression ever since the VMAs where she looked profoundly unimpressed with Miley Cyrus' attention-seeking antics. Glamour hasn't released any excerpts or the editorial yet, but they'll probably surface soon enough. The "learning to be fearless again" headline sounds promising for an interview. This cover is rather different than what we've come to expect from Rihanna, who loves a good weave but has been going with a more natural curl lately.
The last time I covered Rihanna, a lot of you were surprised I didn't mention her latest Twitter feud. I had missed the festivities because Rihanna had already deleted those tweets. Tweeting and deleting is so Kanye West, right? Thankfully Us Weekly has the scoop on Rihanna's mean girling of Teyana Taylor:
And the claws come out! On Tuesday, Sept. 24, Rihanna got into her latest Twitter tussle, this time with up-and-coming singer Teyana Taylor. The war of words escalated quickly after Taylor, 22, posted a video of herself covering Anita Baker's "Caught Up in the Rapture."

Moments later, Rihanna tweeted an Instagram video of her hairstylist Yusef with a wig, snapback and sneakers (in an obvious jab at Taylor's style), singing the exact same song. An irate Taylor then took the pair's beef public in a series of since-deleted angry tweets.

"Don't play wit me Rihanna," she warned. "F–k all this industry s–t, YOU & I know each other VERY well. Throwing subs 4 wat? U got my #, don't show off."

Before the "Diamonds" singer could even respond, however, her legions of fans jumped to her defense, calling Taylor out for what they deemed a major offense.

Taylor held her own, however, tweeting that "y'all could bully everybody else & get away wit that sh-t but that sh-t ain't one work ova here. so y'all could miss me with that NAVY sh-t."

When Rihanna finally did reply, she was no less apologetic, telling Taylor (and her more than 31 million followers) that she "refuses" to help the other singer's career.

"You will NOT get an @ from me! Not till you pay me!" she wrote, using the hashtags "no more free promo" and "I refuse."

The pair pulled no punches in the conflict, with Rihanna first changing her Twitter background to the website Celebrity Net Worth, which noted Taylor's assets at $500,000 versus Rihanna's at $90 million. Taylor responded with her own background change, to a poorly photoshopped image of her as a boxer laying into Rihanna.

Both singers have since returned their Twitter pages to their regular settings and deleted the vast majority of the feuding tweets, though Rihanna still has a few errant tweets left over from the online shouting match.

"I hate broke bitches," she concluded.
From Us Weekly]
"I hate broke bitches." How classy. I'm sure Rihanna was sitting around and acting like a square and not smoking a bowl while acting like an a-hole to a fellow singer and budding pop star. Comparing one's own monetary worth to another's is probably really hilarious when you're baked. LOL. Why does Rihanna lower herself to such rude tactics? This isn't going to help her keep fans any more than showing up four hours late to concerts will do. Rihanna might be riding high (har har) now, but we'll see how she fares in a decade if she keeps this behavior going.
Here's some new behind-the-scenes pictures from Rihanna's "Pour It Up" video. That wig looks ridiculous.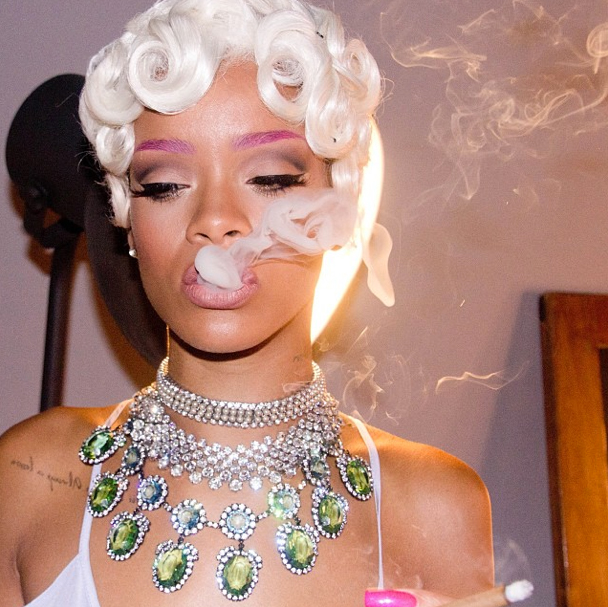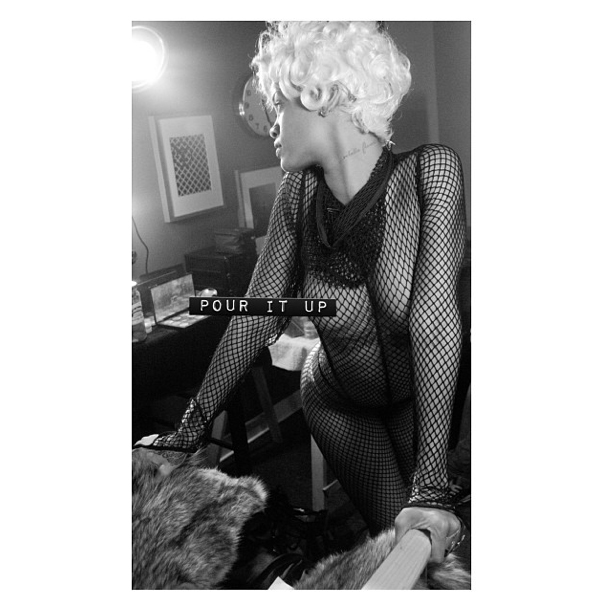 Photos courtesy of Glamour & BadGirlRiRi on Instagram