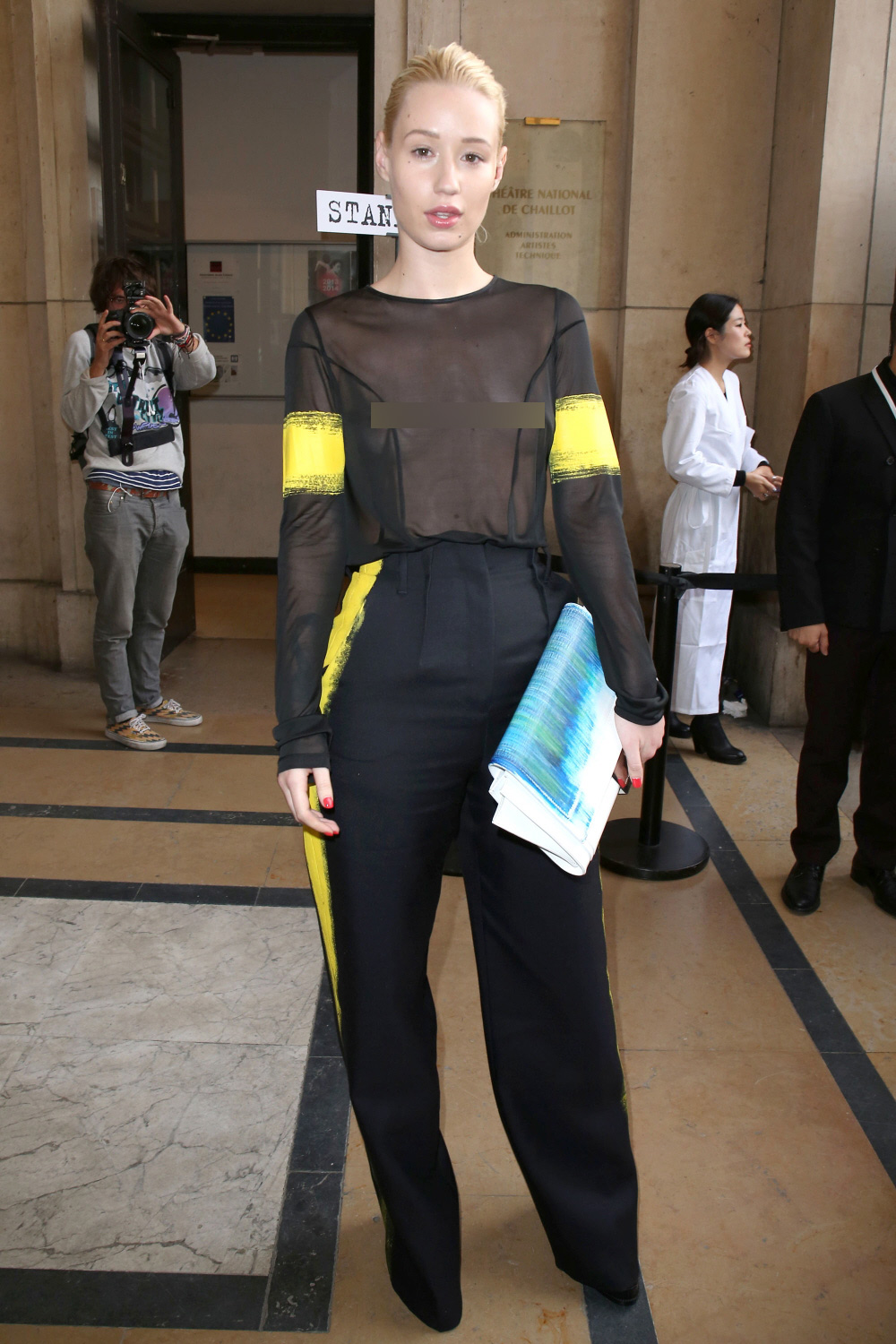 Here are some photos of Australian rapper Iggy Azalea at Paris Fashion Week a few days ago. She was attending the Maison Martin Margiela show. And not wearing a bra. So that's why we had to do some nipple-blurring. As for Iggy… well, I'm hoping that most of you know who she is. Some see her as "the white Nicki Minaj" but some see her as some kind of bizarre one-of-kind musical artist. When I first saw the video for "Work", I'll admit that I was sort of enchanted by her. She's got a crazy body and her voice is… unusual. Iggy's getting more famous by the minute though, and she definitely rocks that kind of "Bad Bitch" attitude. She's only 23 years old. She'll be around for a few more years at least. Especially if she keeps giving amazing interviews about how she found success in the music industry:
Iggy Azalea has hit out at critics who have suggested she has been sexually involved with her male counterparts in order to further her career.

The star joins Beyonce on the Australian leg of her Mrs Carter tour later this year, and claims joining the 'Single Ladies' star on the road will mean she avoids the sexual slurs she has previously been hit with. Speaking to Gigwise the Australian rapper candidly expressed her frustration at the unfair allegations.

"Obviously I was really excited and happy," she said, when asked about joining Beyonce on tour. "I kind of felt honestly like, finally someone that [the press] won't be able to say I had sex with to get it. I just feel like everything I do, people are always like 'She probably had sex with someone to get that… she's probably sucking that d–k.'"

"Honestly, I swear to God I've never sucked anyone's d–k for anything," the 'Bounce' rapper added. "I've only ever sucked d–k for free. I've only ever given free bl*wjobs. I've never given a bl*wjob for anything other than I've wanted to give that guy a bl*wjob. They won't be able to say I gave Beyonce a bl*wjob, so, yes! You can't discredit me for this… she likes me, and she invited me, so, so there. Take that."
First of all, do you believe her? That she's never handed out a beej to further her music career? I don't know. I wouldn't judge her if she was bangin' or beejin' her way to musical successes, mostly because I think that's the way the music industry works a lot of the time. But if she says it never happened, so be it. Second of all, I kind of love her for "I've only ever sucked d–k for free… I've never given a bl*wjob for anything other than I've wanted to give that guy a bl*wjob." Preach it sister.
But, here's the problem – just a few days after Iggy made these statements, there was an announcement that she was no longer going to be opening for Beyonce in New Zealand. Iggy tweeted: "Yes, Iam missing the NZ leg of the Mrs Carter Tour. I personally really wanted to come, but sometimes I don't get to make the choices." Huh. Maybe Beyonce really did want a beej after all?! Either that or Beyonce wanted no part of Iggy's Free Beejs For All Tour.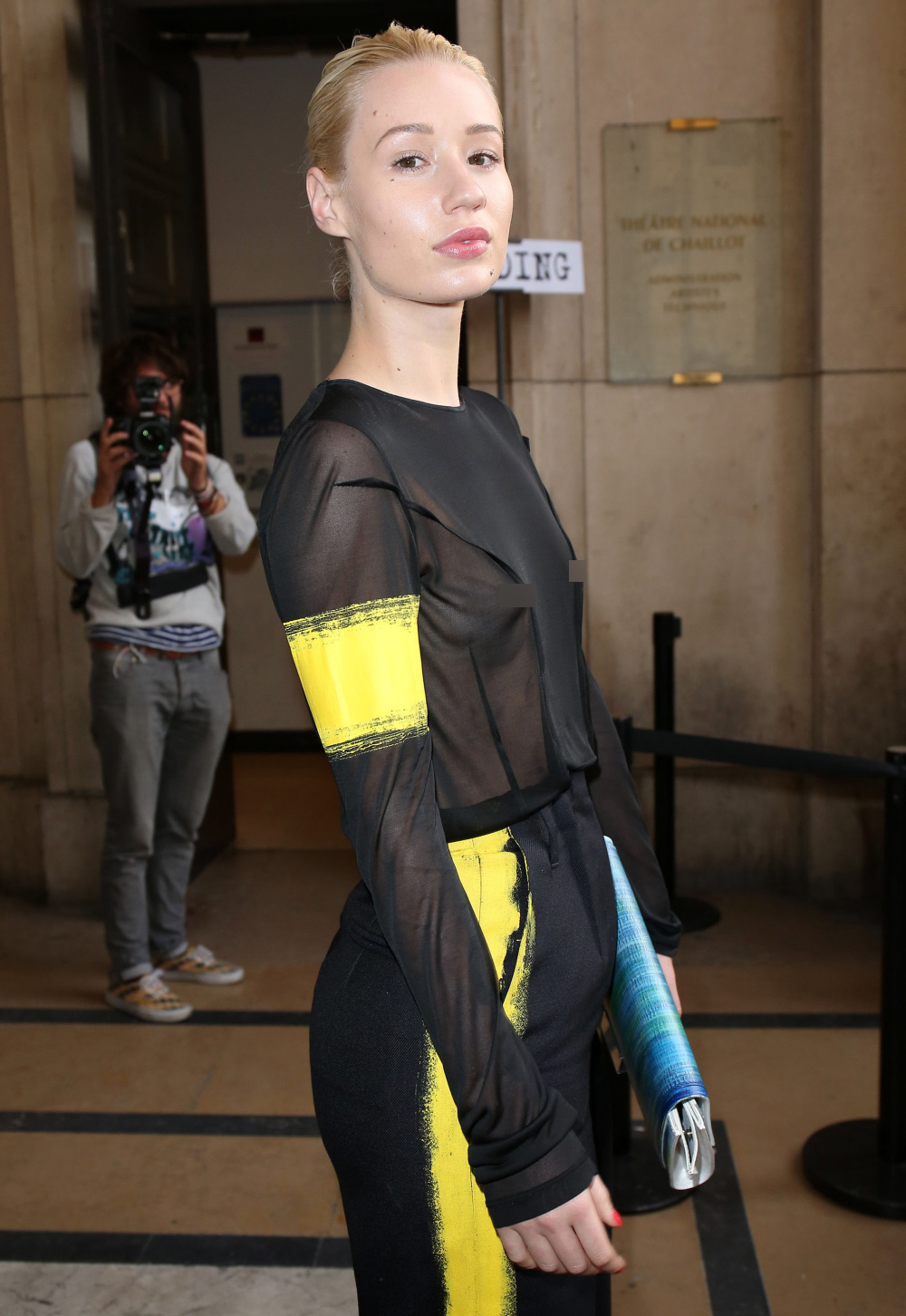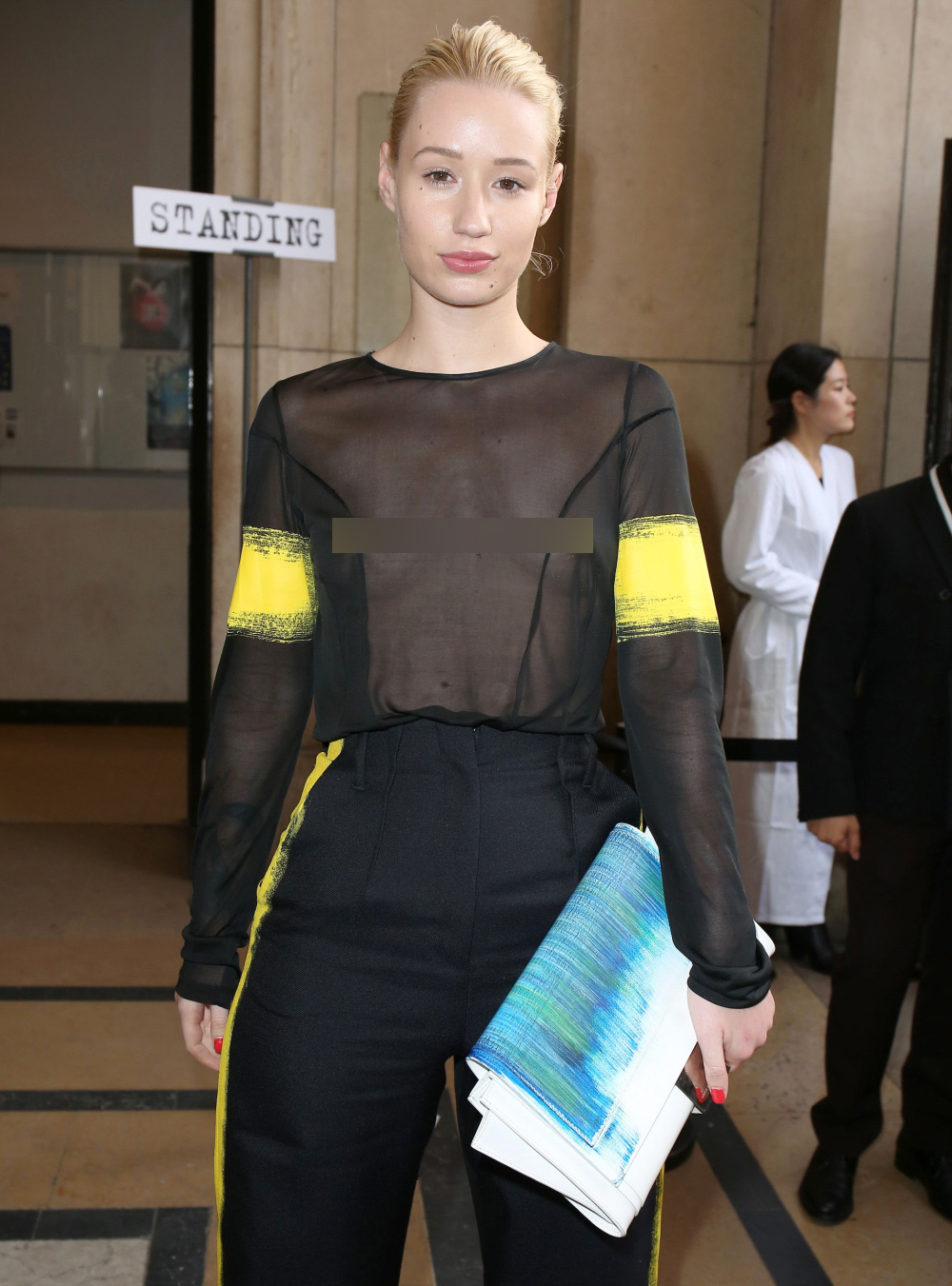 Photos courtesy of Fame/Flynet.