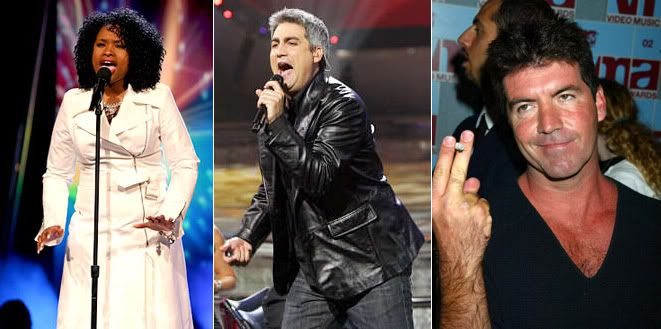 Simon Cowell is pissed that Jennifer Hudson called American Idol a "stepping stone" to her fabulous career. He thinks she's downplaying the role of his show in making her famous, and that without Idol she'd be nothing. He also thinks Taylor Hicks sucks and says he doesn't have what it takes to sell records despite winning last season.
Cowell did all this trash-talking at a discussion panel for the Museum of Radio and Television:
"Jennifer Hudson said American Idol was a 'stepping stone' for her. Stepping stone? It was her big opportunity to become noticed and she got noticed and she got Dreamgirls," Cowell said, noting that other past contestants "deliberately turn against the show that made them successful. The reason (people) come on the show is because all the doors had been slammed in their face."

As for Taylor Hicks, who won season 5's competition, "They (Paula Abdul and Randy Jackson) loved him. I couldn't stand him. I didn't get it," Cowell snapped, adding that "at the end of the day you have to find a bona fide recording artist. Just because you win the show doesn't mean you will sell a lot of records. Chris (Daughtry) is the one who sold the albums, not Taylor."
This isn't surprising coming from Cowell as he always talks smack. Hudson should have called American Idol her big break, but maybe she mischaracterized it or wants to downplay it as she moves on to other things.
It doesn't seem like it matters how far finalists get in the competition as long as they're given other opportunities. People has a nice gallery of Idol runners up on their website. Diana Degarmo, who was runner-up in Season Three to Fantasia Barrino, is performing on Broadway but until I read about it I had completely forgotten her. I found her rather annoying on Idol and although she could belt out the tunes and did a wide range of numbers I was surprised she made it so far.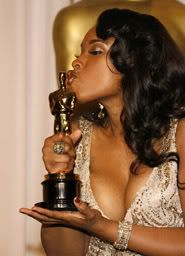 Hudson finished Season Three in seventh place, and it was a shocker when she was voted off so early. Elton John called the voting "incredibly racist" after he noticed Hudson's talent and she was voted off. It looks like it really didn't matter and she was spared a lot of stress in the finals as she moved on to better things. Since she was voted off the show realitively early, maybe that's why she's calling it a stepping stone instead of a milestone.
Here are pictures of Jennifer Hudson when she was on American Idol from AmericanIdolJenniferHudson.com.