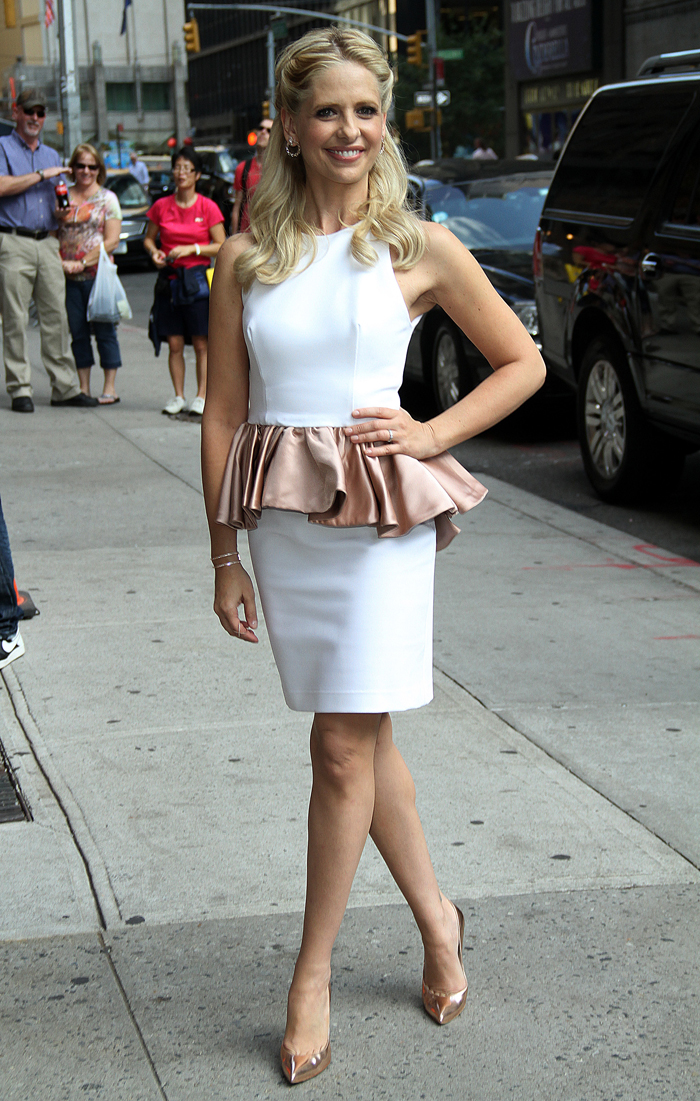 These are photos of Sarah Michelle Gellar outside the Letterman show yesterday to promote her new show, The Crazy Ones. I'm not wild about peplum at all, and matchy-matchy outfits usually drive me insane. Somehow I like how this white dress contains a peplum that gets all matchy matchy with SMG's shoes. Is that crazy? Sometimes two wrongs do make a right.
Anyway, Sarah is promoting The Crazy Ones, which is her newest television show that also co-stars Robin Williams. He covered Parade a few short weeks ago and seems like a great person. Sarah talks a lot about him in her new Parade interview. Then she goes off on a bit of a rant about childhood vaccinations. Sarah's very pro-vaccine unlike Jenny McCarthy's sketchy, slightly murky stance. This could get interesting: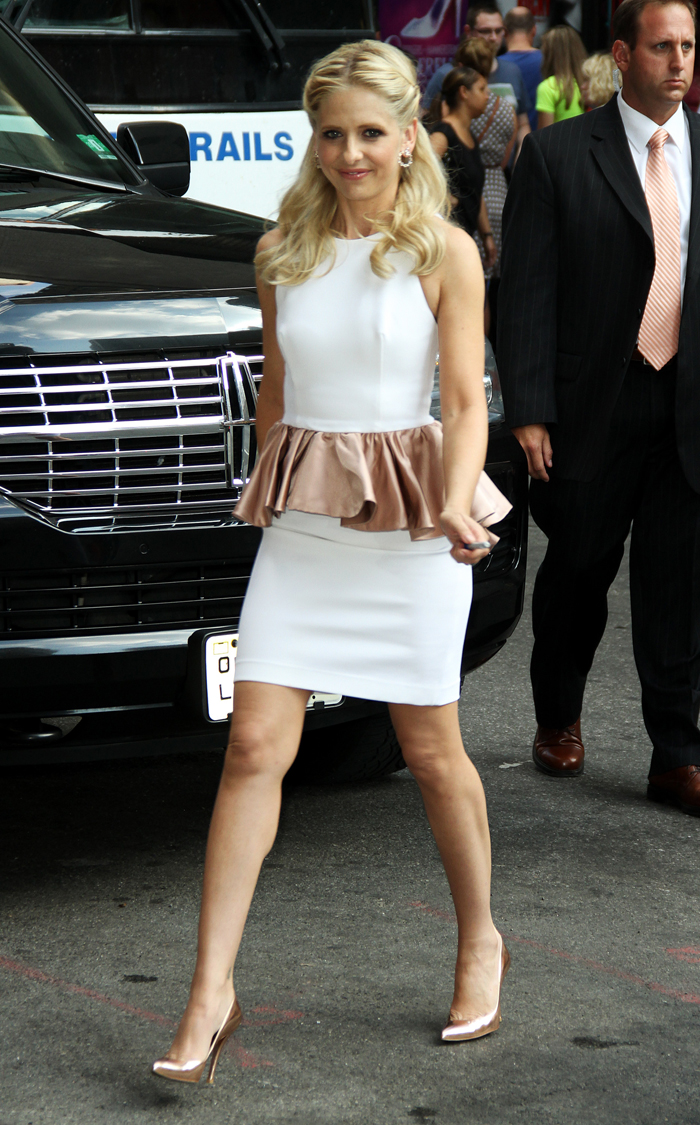 Starting over with a new show: "I'm so nervous and so excited. It's a weird combination. I think it's like getting married. You can't wait for the day and you're so excited, but you're also really, really nervous about the day. We've worked really hard. The episodes get better and better and I'm really proud of it, and I'm excited to finally get to share it with everybody. I hope they laugh. In our profession, you have to be so careful. You can be torn apart so easily, just as much as you can be brought up, you can be torn down. I advise anyone in my position to be very careful with what you read and what you watch and what you listen to. For me, I don't make a show for the critics, I make it for the fans, and I just hope they like it."

Life on The Crazy Ones set: "It's a big party! I've been doing this job for 32 years, and I've never had this much fun. I mean, literally, I am the luckiest. I keep pinching myself. I am so grateful for everything in my life, because this is the most fun I've ever had at work."

Working with Robin Williams: "That is the bucket list, to work with an Academy Award-winning actor and one of the greatest standup comics of all time. I was so nervous meeting him. I mean, he's a legend! The first time I met him, he leaned over at the table read and said to me, 'I'm so nervous.' And I was like, 'What? Yeah, I'm pretty nervous too.' But to my kids, he's Uncle Robin. To me, he's the kindest, most generous comedian, actor, and person. He calls me every night on the way home: How did I feel about the work? Did I get home in time to see the kids? How are the kids? What do they want for their birthdays? If I went on and gloated about him the way I want to, you would totally think I was making him up."

How to keep a straight face around Robin: "I do the best I can, and after every episode we have outtakes, and all of America can witness how hard it is to keep a straight face. Honestly, as good as the episodes are, the part we all wait for as a crew is to see what they outtakes use. A lot of them they can't put on network television. Maybe they'll do a red band DVD one day of the outrageous outtakes."

Her new character: "For my character, it's about finding her inner crazy one. Robin's character is crazy, and he's afraid he's losing the sanity to the crazy, and my character is trying to find her inner crazy. That's something that I had to learn, because I've been working since I was a young child, and I took things so seriously. Then you have children, and you have to learn to let go a little bit and find the inner crazy."

Balancing career & work: "It's the hardest thing I've ever done, working and having children and wanting to be as present as you can for the children, and as present as you can for your job. It's very, very difficult. There's no such thing as a supermom. We just do the best we can. That's why I'm here today, because if there's one extra thing I can do to save one child, ten children, or a thousand children from pertussis, then that's what I'm going to do."

The importance of vaccinations: "Having children is the greatest gift anyone's ever given me, and if I can help protect anyone else's gift, then it's not just my pleasure, but it's my responsibility to do it. Every person can say, 'Oh, I wanted to go visit my friend's newborn, but I had a cold so I didn't go.' Well, why would you also potentially expose them to something they can't fight? And the best way to stop the spread of pertussis is with the Tdap booster. [Whooping cough] is an epidemic at this point, which is an incredibly scary word, and there's so much going on in your world as a new parent. You're so overwhelmed with information and I just thought this is a great way that I could help."
[From Parade]
I can't help but agree with Sarah Michelle on the importance of vaccinations. You might not agree, but some diseases that were nearly eradicated are making a comeback because not every parent believes in vaccinating their children. Kids are out there suffering when modern medicine can help them with a quick prick of a needle. Some people (like McCarthy) do believe that autism is caused by the MMR vaccine in its combined form. That's got nothing to do with the whooping vaccine of course. It's hard to argue with anyone on the issue because both sides are so heated.
Beyond the serious stuff, can you imagine working with Robin Williams? That could very well drive me crazy. I laugh a lot with Kaiser and CB, but Robin is in a whole other league of side-splitting humor. I'd be so worried about him pulling out the Patch Adams red nose at every opportunity.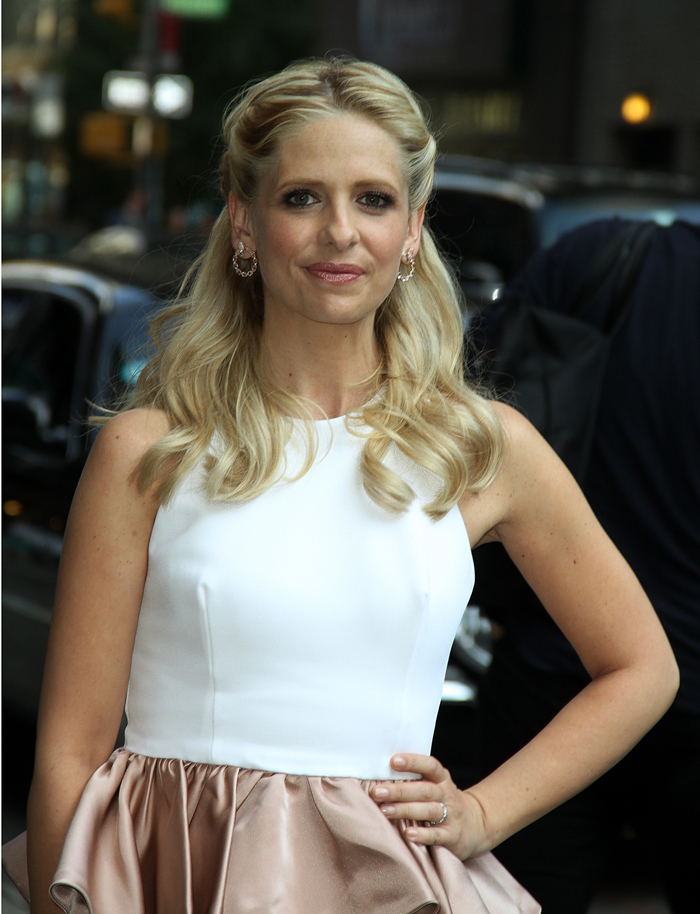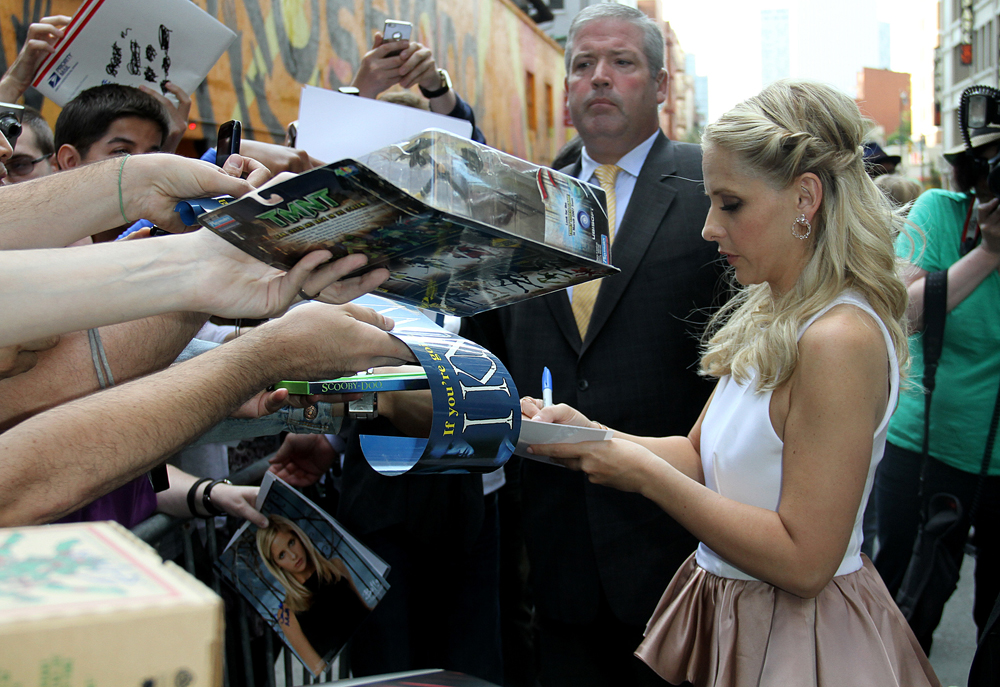 Photos courtesy of WENN