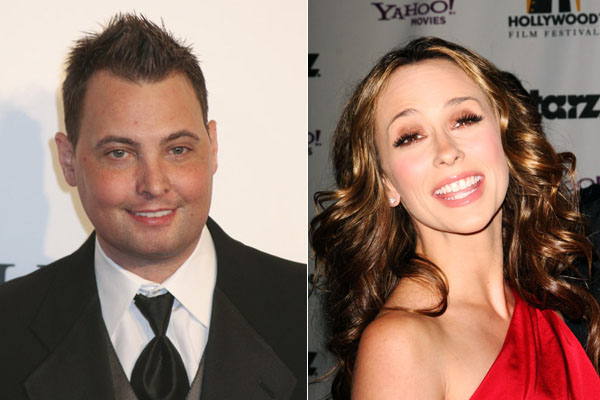 Reports recently surfaced that Jennifer Love Hewitt called off her Spring 2009 wedding to Ross McCall because she was insecure about her body and their relationship. She would reportedly call him onto the set of her show Ghost Whisperer and demand that he tell her he loved her. And as we reported yesterday, Ross McCall has denied the breakup rumors.
Now Jennifer's ex boyfriend of two years, LFO's frontman Rich Cronin, is speaking out about their relationship. On Howard Stern, he revealed that Jennifer cheated on him and that it was he who played the "girl" in their relationship.
During their two-year long relationship, however, Cronin revealed that she cheated on him and even used the same line on other guys — including Jeff Timmons from 98 Degrees.

"Jeff goes, 'Hey, you and me have something in common… Jennifer Love Hewitt,"" recalled Cronin, who said Timmons received the same Cartier ring. "I had always asked her about that. 'Did you ever get with this guy?' [And she was like,] 'No, no, no.' So when that happened, I was lost. This was two years ago. It was rough, man."

Cronin — who grew to fame in the late '90s thanks to his boy band's hit, "Summer Girls" — first met Hewitt at the Blockbuster Awards more than eight years ago.

"We had the same publicist, so I started to talk to her and I couldn't believe it — she kept talking to me and talking to me," he said. "She was actually interested. Later on that night, she gave me her number. I was floored.

"I was so anxious about calling her. I actually got a notebook and wrote down all these subjects, like, 'Okay, so when there is a quiet point, I'll talk about this.' I actually called her up and she answered the phone and we talked for like two hours…"

"She was in New York doing a movie, and I get a phone call from someone at my record company. They go, 'Rich, get Us Weekly. It just came out," Cronin said. "[I'm thinking] maybe there is something cool about me.

"No, it was a f–cking thing about Jennifer Love Hewitt in New York City… with seven guys."

Hewitt dumped Cronin shortly after.

"I was on the bed having a panic attack, so I called her up and was like, 'Do you have something to say to me?' I was the girl in this relationship.

"And she goes, 'Listen, don't you f–king call me up like this when I am at work. If you believe that bulls–t, shame on you.' She hung up."

Hewittt — who recently called off her wedding with fiance Ross McCall (read the story in the
current issue of Us Weekly, on stands now) — called Cronin three days later to end it.

"She goes, "I am out of this relationship. Goodbye, I have to go do The Tonight Show' and hung up the phone," he said. "And that was it."

Still, when Stern asked if he would have married her, Cronin said, "In a second.

"But whatever, she is a great girl. She is just out there doing her thing."
Jennifer Love Hewitt is getting a lot of flak recently over her relationships. First she's labeled as a clingy, insecure finace, and then she's accused of cheating on her ex. What's the real story here? If Cronin cared about Jennifer at all, he wouldn't be revealing intimate details of their relationship while she's dealing with a public possible-breakup. This seems more like a case of Rich Cronin trying to become relevant again. The latest thing he's done, according to his homepage, is release an album in May 2008. Post-LFO fame has not treated him well.
We'll see if her Love Hewitt's engagement, which her finance claims is still on, lasts. They've postponed the wedding several times already.
Jennifer Love Hewitt is shown shopping on 1/18/09 and at an event on 10/27/08. Credit: WENN. Rich Cronin is shown at an event on 10/29/07. Credit: PRPhotos