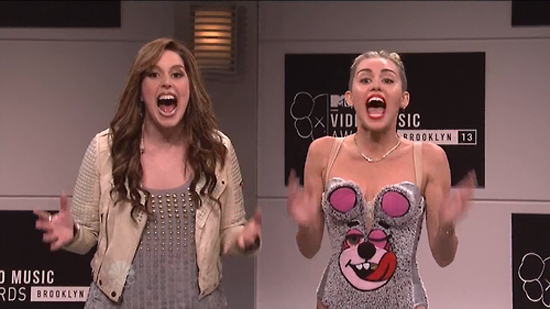 Miley Cyrus hosted this weekend's episode of SNL. The leadup to this episode included claims that Miley was preparing to "shock and awe". She was supposedly going to go after Sinead O'Connor and make fun of her breakup with Liam Hemsworth. Larry Rudolph is undoubtedly the one who put it out there how Lorne Michaels had to rein in many of Miley's suggestions for raunchy skits.
In the end, Miley's episode was obnoxious but pretty tame and not funny at all. It was essentially a typical SNL evening. The official tongue count was 16.5 appearances. No twerking happened ("Now that white people are doing it, it seems kind of lame). The musical performances were okay, and the skits fell flat. Of course Miley tweeted some after party and backstage pics.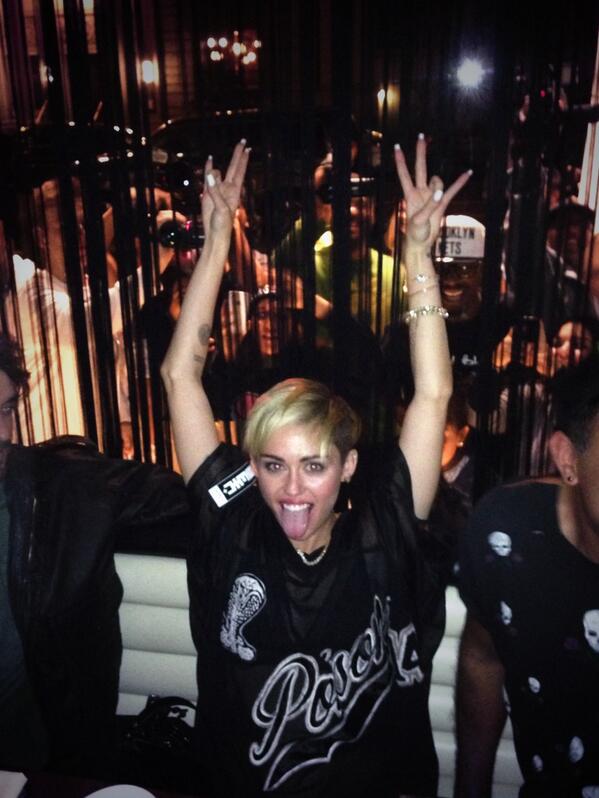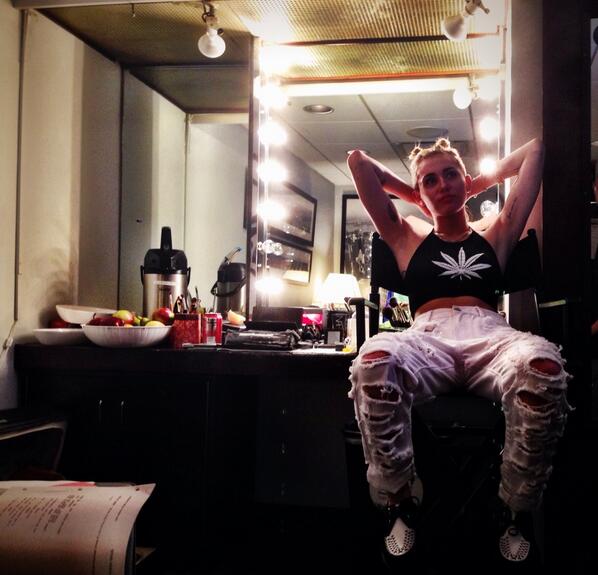 Here's the backstage cold open where old Miley warns new Miley that her VMA act is too much. Jailhouse Robin Thicke is kind of funny. Two Mileys at once were not.
Miley's self-indulgent monologue was decent. She mentions the VMA controversy and announces how Hannah Montanna "was murdered."
The "We Did Stop" parody was actually kind of funny. Miley pretended to be a lusty Michele Bachmann, and the wig looks really cute on Miley.
The skits where Miley played a little hip hop girl and a prospective Anastasia Steele were terrible. In fact, all of the skits that Miley did were awful. I'd blame the writers, but Miley was bragging about all of her input, so it's definitely her fault. I'm sure Miley was up for this "adult film" skit because it pokes fun at what people think she'll do next.
The acoustic rendition of "We Can't Stop" wasn't bad. I'm glad she didn't bring out the rainbows and twerking little people.
Miley also performed "Wrecking Ball." I guarantee you won't be watching the whole clip because she's not naked.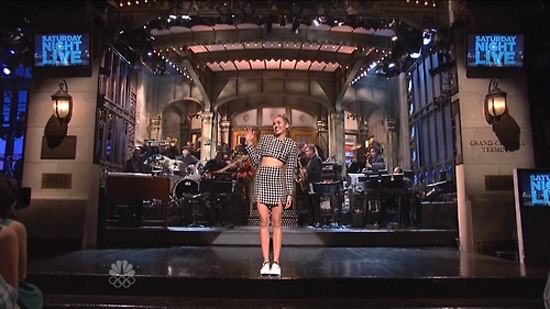 Photos courtesy of NBC & Miley Cyrus on Twitter