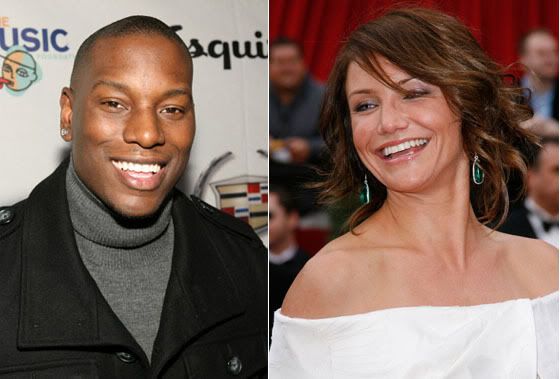 While Djimon Hounsou has moved on from his brief dalliance with Cameron Diaz into the scarier arms of fashionista Kimora Lee Simmons, Diaz wasted no time finding another buff bald actor to hook up with. She was seen making out with Tyrese Gibson at LA nightspot Xenii, and was out at an Oscars party with him:
Looks like the tide went out and took surfer Kelly Slater with it. A Gatecrasher spy caught Tyrese Gibson and Cameron Diaz in full lip-lock at the hip L.A. club Xenii. "They made out right in front of me on the dance floor," says the spy.

They also came (and left) together to a pre-Oscars party thrown by Harvey Weinstein, Tamara Mellon and Tracey Edmonds, although Diaz's rep tells us the two are not dating.
And in that same article the NY Daily News claims that Whitney Houston's recent younger boyfriend and star of the now on legal-hold sex tape with Kimberly Kardashian, Ray J, was hanging out with plastic surgery victim 'Lil Kim!
I don't know much about Tyrese so I looked him up on IMDB and Wikipedia. He was first known as a rapper and R&B artist under the names Tyrese and Black-Ty. He got his start in films in 2001 in Baby Boy and was in 2003's 2 Fast 2 Furious, and 2006's Annapolis. He has several films in the works, including the upcoming Transformers movie. He also has producer credits on two films to come out next year.
Gibson is 28 while Diaz is 34. She certainly seems to be enjoying her single status since splitting with Justin Timberlake. Hopefully she'll find a guy willing to commit this time.
Here are a bunch of pictures of Tyrese from 2 Fast 2 Furious and Annapolis thanks to All Movie Photo.