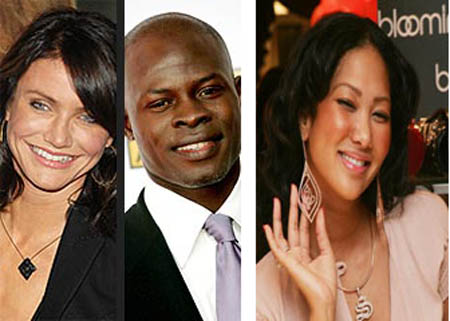 And that is one stealable man — model-turned actor-turned model-turn me over I'm done– DJIMON Hounsou. There is however an element of denial in the man stealing story — it's already flowing like that river in Egypt.
Cameron is all like "He's not my Man … We are just friends" DENIAL.
..and Kimora is all like "You best better be … 'Cause I will beat a Friendly Bitch's Amicable Ass Down" DELIGHTFUL.
The tale begins in the hallowed pages of People magazine
Cameron Diaz was spotted getting cozy with Blood Diamond Oscar nominee Djimon Hounsou at L.A.'s Hyde Lounge on Thursday.

A rep for Diaz says the pair are just friends. "Cameron was out to dinner with friends, they ran into Djimon and he joined them for a drink at Hyde," says the rep. "They are friends, nothing more."

A rep for Hounsou did not return calls for comment.
But the ever reliable patrons with their patronizing tone and their eagle eyed celebrity eaves-watching felt differently about the pair:
"It looked like the perfect post-Valentine's Day date," a patron tells PEOPLE of the pair, who were with several other friends.

"They were totally vibing each other, lip-on-lip action," says the source. "Cameron looked so happy… Djimon followed her every move."

Diaz, 34, and Hounsou, 42, hit the dancefloor … says the onlooker, adding, "They were dancing really close, bodies pressed together."
Lip on Lip action is pretty strong confirmation — St. Liponlipia is well know as the patron saint of realiable gossip. Ask the Pope … sh's the one who told everyone he wears gay red Prada loafers.
But their Diaz-Djimon bodies are no longer pressed together: the only thing beingpressed now is Cameron Diaz's people — pressed for an explanation of how Charlies Angel lost Hunky Hounsou to the Queen of Baby Phat.
People may serve it up nice but the Post serves it up straight with a Richard Johnson twist
Last week, the "Blood Diamond" star was all over Cameron Diaz. This week, he turned his attention on Kimora Lee Simmons.
Turned his attention indeed …. Very much the way a wandering asteroid turns its attention to the overwhelming gravity of a nearby planet. Its a Kimora Lee Solar System … and Hounsou is in the Kimora Lee Orbit. This stellar constellation of models-turned-actors-turned Baby Phatters-turned Spielberg Stars-turned back to models will not be seen again this century. Call Hubble your telescopes out.
Hounsou and Simmons made out all night at Boulevard 3 in L.A. Tuesday during a Dom Perignon dinner for Forest Whitaker. The two, there to help celebrate Whitaker's Oscar win, ignored Oprah Winfrey, Mary J. Blige, Chris Tucker and Quincy Jones to grope each other, and left together.
Making out all night — Just like teenagers in love … six foot tall bling covered model contracted gabillionairre teenagers in Oprah ignoring LOVE.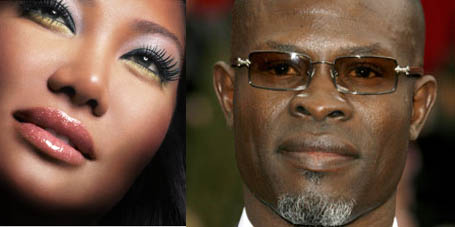 pics via People and Page Six