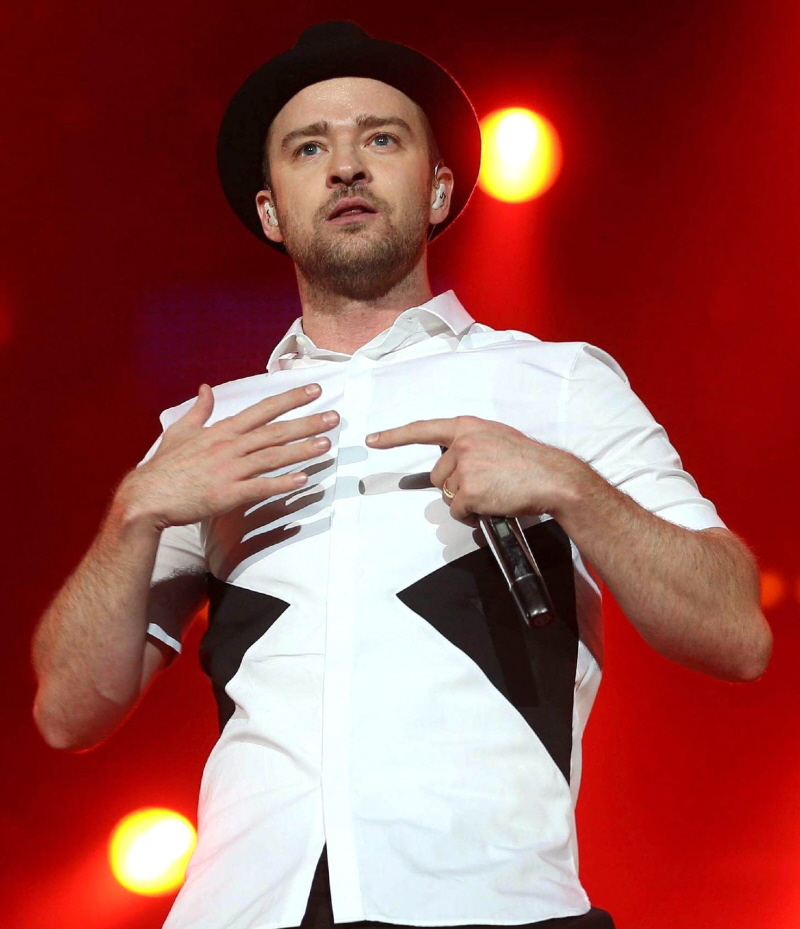 On Monday, we had a good laugh about Runner, Runner and how barely anyone cared about that movie or Justin Timberlake as an actor. I think there's enough blame to go around – it's not like this movie was all Justin's idea, and he wrote and directed it and decided not to promote it. The studio deserves the blame. The director deserves the blame. Ben Affleck deserves the blame too. But of course, we can still laugh and laugh because poor little Justin is still trying to be a movie star and he just fails every single time. He's like a piece of wood on camera – no charisma whatsoever. No "watchable" quality. On stage, when he's singing? Sure. But never in any film. And now, after the failure of Runner, Runner, even Hollywood is taking notice of the Charisma Vacuum. Trade paper Variety published an essay by Ramin Setoodeh in which he's basically saying, "Justin, baby, give it up. It's over."
In 2011, I sat down for a lengthy interview with Justin Timberlake, who told me that he was having the time of his life as a big screen star. Even though he'd experienced a few setbacks ("I bombed all my auditions," he confessed), he was in the middle of promoting two romantic comedies and he had another film out that fall. Most of our conversation focused on his revitalized movie career.

Timberlake, who first appeared on "The Mickey Mouse Club" with Britney Spears and Ryan Gosling, said he had been studying acting for a long stretch. His inspiration was Will Smith, who successfully transitioned from music to "The Fresh Prince of Bel-Air" to box office megastar. But then Timberlake said something that surprised me. "I have no aspirations of being a movie star," he said. "I need no more attention." (Almost on cue, a young man came up to the patio where we sat and asked for a photo, which Timberlake briskly declined.)

I couldn't tell if this was faux modesty or not, so I never published that part of our interview. But it seems weirdly appropriate now: Timberlake's "Runner Runner" was a spectacular box office flop. The gambling drama only eked out $7.6 million in its opening weekend, despite the casting of Ben Affleck, post-"Argo," as a slimy casino boss.

There are plenty of reasons for "Runner Runner's" failure. The reviews were awful, and Timberlake (at 32!) is hardly plausible as a brainy Princeton graduate student trapped in an illegal Costa Rica gambling scheme. None of the film's principals did much press for the movie released by 20th Century Fox, so they must not have had confidence in the finished product either. At a Manhattan showing on Sunday night, the unfortunate group inside my theater had to wiggle past the excited crowds waiting for "Gravity." Timberlake, who is meant to anchor "Runner Runner," struggles with most of the screenplay's cheesy dialogue. In other scenes, he comes across like a lost celebrity hosting "Saturday Night Live" who can't find the teleprompter.

But the real problem with "Runner Runner" stems from what Timberlake told me. Even if he can peddle zillions of iTunes singles or concert tickets, most of his groupies aren't going to follow him to the big screen. He will never be a movie star, and it's a mystery why he took such a long hiatus from music to appear in so many movies. Now that he has a hit new album, "The 20/20 Experience," it might be a good idea for Timberlake to give up acting.

He put his cinematic ambitions on the map with 2006's "Alpha Dog" and 2008's disastrous "Love Guru." But it was his dazzling turn as Napster founder Sean Parker in the "The Social Network" that got him noticed. (He told me that he joked with his friends about getting business cards that read, "David Fincher Put Me in a Movie.") After that, there was a flood of offers. Since 2010, he's appeared in more pictures — eight — than real working actors Meryl Streep, Julia Roberts or Tom Cruise.

Timberlake was the voice of Boo Boo in "Yogi Bear," a nerdy high school teacher ("Bad Teacher"), a GQ magazine editor who couldn't keep his clothes on ("Friends with Benefits"), a sci-fi bandit ("In Time"), a baseball recruiter in a Clint Eastwood movie ("Trouble With the Curve") and a folk singer in an upcoming Coen brothers' musical dramedy ("Inside Llewyn Davis"). While some of these performances aren't bad, they pale in comparison to what he's accomplished as a musician. An artist who can rock the MTV Video Music Awards like Timberlake doesn't need a second mediocre career.

In his heyday, Elvis Presley had 31 Hollywood acting credits and he became his own franchise at the movies. Throughout the '80s and mid '90s, Bette Midler, Cher and Madonna all had viable film performances (and an Oscar win). But something changed in Hollywood around the time that "Total Request Live" marked the final hurrah for musicvideos. It could be that the millennial generation found the idea of bigscreen divas unappealing or the bubble gum pop stars weren't versatile enough to make the leap. But whatever it was, many one-named superstars who tried to transition to the big screen flopped — from Britney ("Crossroads") to Mariah ("Glitter"), Christina ("Burlesque"), Jessica ("Dukes of Hazzard") and Kelly ("From Justin To Kelly"). Jennifer Lopez may be the exception, but she was introduced to Hollywood as a dramatic actress first in "Selena." On the other hand, the Internet revolted when Justin Bieber pretended to nab the part of Robin in the new Warner Bros. Batman installment.

In the new Hollywood model, the singers who successfully bridge into film do so in supporting or character roles. Jennifer Hudson won the Oscar for "Dreamgirls," even though it was Beyonce's name at the top of the credits. After Mariah failed in "Glitter," she redeemed herself in "Precious." Lenny Kravitz is a great stylist for Katniss in "The Hunger Games." Lady Gaga has cameos in Robert Rodriguez's "Machete 2" and "Sin City 2." Adam Levine makes his movie debut in "Can a Song Save Your Life?" with Keira Knightley and Mark Ruffalo. Taylor Swift, who had a small role in "Valentine's Day," was recently announced in "The Giver" with Streep and Jeff Bridges.

If there's one lesson Timberlake can learn from all these other acts, it's that he should stick to ensemble parts, because he can't carry a film on his own. His best onscreen work has been wedged between other strong performances in both "The Social Network" and "Inside Llewyn Davis." But after "Runner Runner," I still think he should take a break from the movies. Please stop sending him scripts.
So, at the end of the day, the very least Justin could do for all of us is stop trying to make the leading man thing happen forever. Variety seems to think that if he MUST act, he should only stick to ensembles. I would argue for a more hardcore embargo though – think of how many times otherwise decent films might be ruined by fifteen minutes of Justin Timberlake. While he's not as blatantly offensive when he's part of ensemble, that's still a role that should go to someone who isn't a Charisma Vacuum. And for those of you who think I'm a complete hater – I was amazed by Justin at the VMAs this year. He was incredible and badass. Why does he insist on forcing his "acting career" on us when he's capable of so much musically?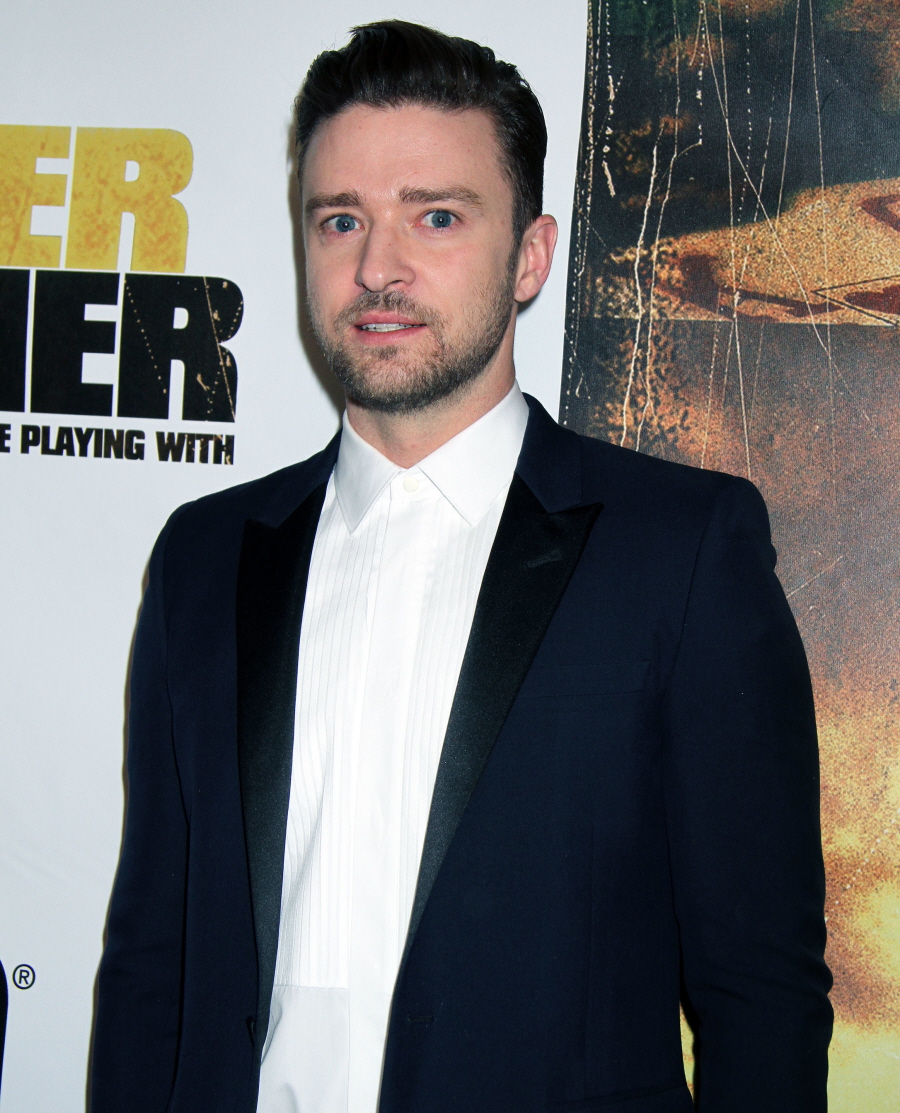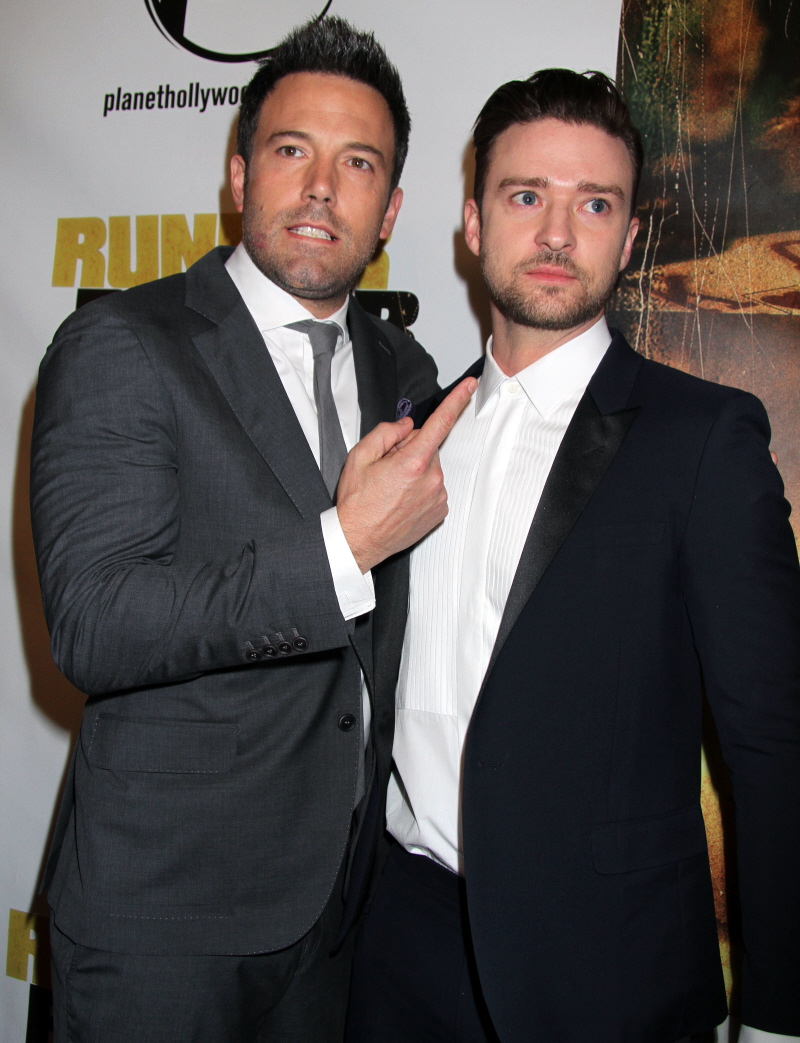 Photos courtesy of WENN.