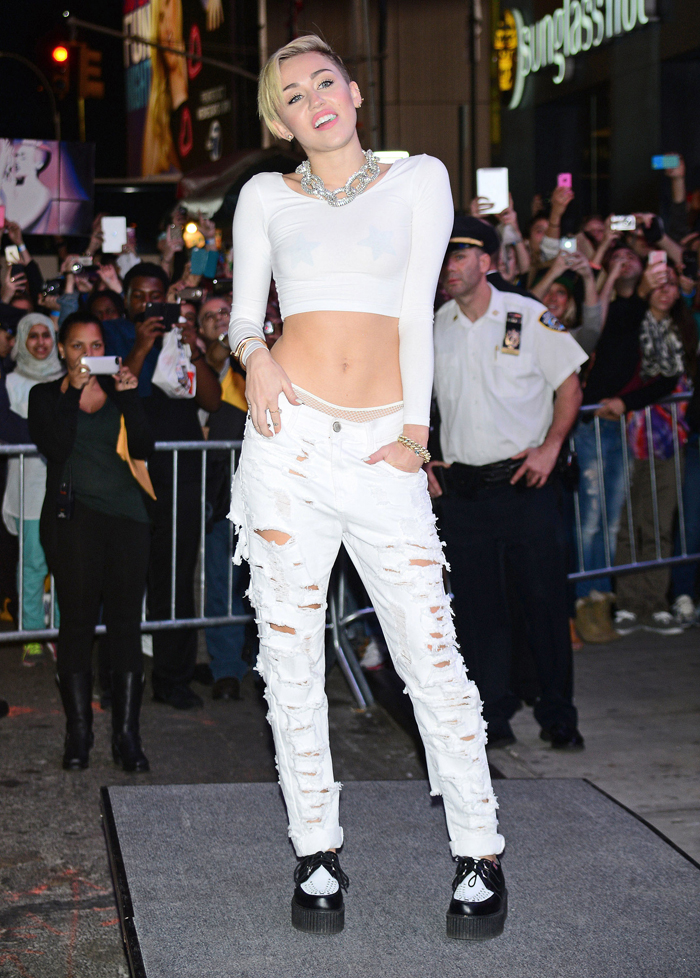 Here's a picture of Miley Cyrus yesterday at NYC's Planet Hollywood. Of course Miley's wearing white because she's "on a whole other level of sh-t." Yes, she's wearing pasties under the white shirt. I'm just glad we're not being forced to stare at her everpresent cheeks. Once inside the venue, Miley did change into a pink satin bra & miniskirt for the Bangerz release party.
Miley is coasting on her river of controversy right now, and no one can touch her. She's having so much fun feeding her ego that she's probably forgotten all about her flame war with Sinead O'Connor. I glossed over this yesterday, but during Miley's interview with Matt Lauer, she refers to Sinead as "crazy." Sinead is very upset and posted a FOURTH open letter on her Facebook account. Sigh. We all know that Miley was wrong for making fun of Sinead's mental illness (and dragging Amanda Bynes into it), but I really think Sinead would be better off letting this go. Miley can't be bothered to understand the effects of her attitude. She's all about the weed, you know? Nice Bieber.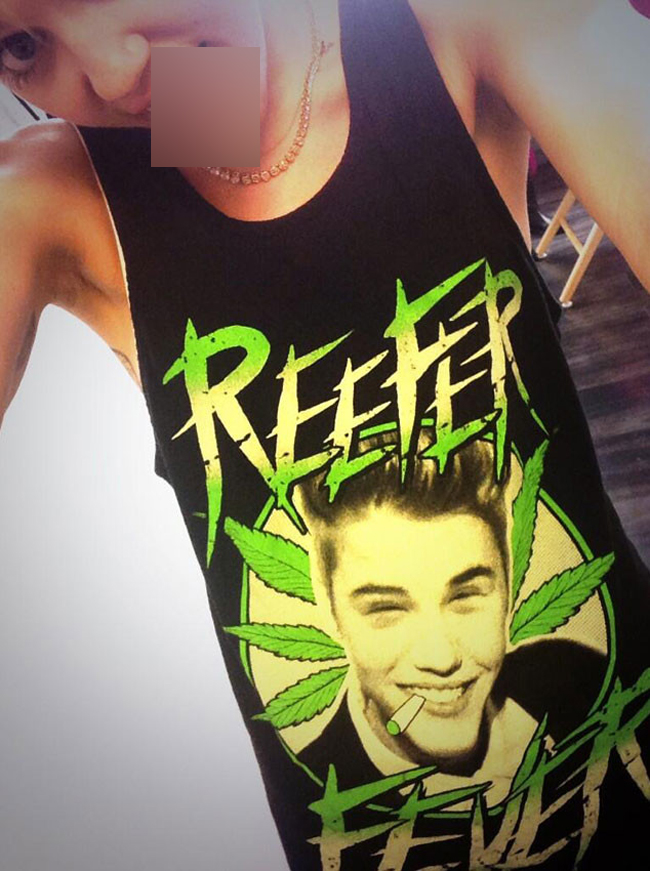 Here's a photo of Miley doing her best impression of Bill the Cat from the Outland comic strip. This image comes from a feature in the November issue of Hunger TV magazine: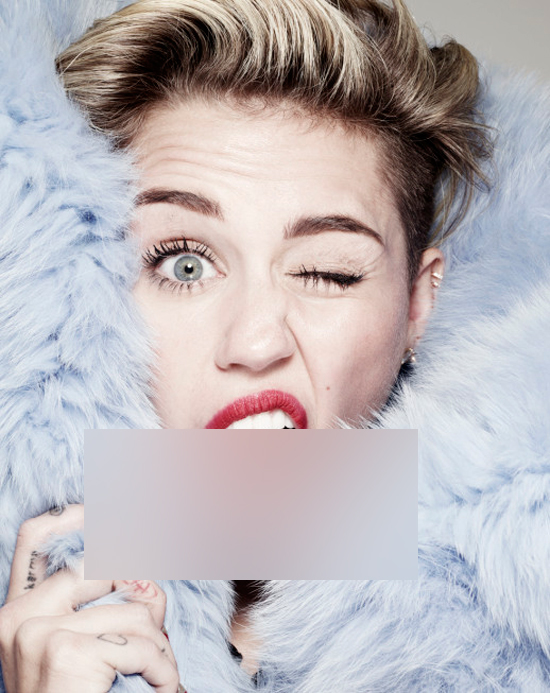 A message to her fans: "Buy my f—ing album…now."

On the intrusion of fame: "Yeah, it does bug me but then again I had two years where I really just hid out in the studio and I didn't really work, I didn't really do anything. I pretty much sat around with my friends and didn't do sh-t, so now it just feels like that's what it needs to be. I'm either a zero or a million, there's really no in between, I'm so hot or cold. So either I have to have everything about my music and have nothing else matter or it has to be everything else matters and career doesn't matter at all. I kind of have to choose what my time is and that's why I think it's good when you can shut off, it's too much to balance real life and this.

"Right now it has to be go time. You don't pause when a rocket ship is taking off, you don't say 'hold on I gotta go smoke with my friends' you know you've got to just go, it's your time. And so, I just make sure I keep reminding myself, this is my time. It's hard right now I've got to keep pushing myself. Once the music is out it's going to feel more inspiring because I'm going to get to perform more, where I get the people singing the songs back. Right now it's trying to describe it and I don't really know how."

Her duet with Britney: "I think West Hollywood just exploded, every gay area in the world just shot up into pink glitter dust."

On being "the most famous woman in the world": "It feels pretty sick. Only because like I said I have been gone for a few years, where I wasn't doing anything and I wasn't working. So now it feels like all that work in the studio did pay off. And I had so many times where I had to tell people like, 'Yo, just trust me, I'm telling you with this 'Can't Stop' video this is going make people watch' or with 'Wrecking Ball' saying, 'this is going to make people go crazy.' And once I did 'Can't Stop' that's when people really started trusting me. At first on paper that video sounded insane, no one understood it and I'm just like, 'let me film it and then if it doesn't work out you never have to trust me again but if it works out you have to let me drive this ship, you know I'm on to something.' And then they call me and they're like 'yo, you're onto something!'"

She's surprised that you're surprised: "I'm surprised people are still shocked, I'm glad that tactic is still working because I expected people at some point just to not be shocked."

She's having the last laugh: "Yeah. I mean that's how I always try to think of it. It's like a sales person really, you know you're like 'this sh-t does not get rid of your wrinkles but if I sell it well enough you know, they're gonna buy into it' and it's like the exact same thing for me. At the end of the day I want people to buy my records, it isn't about thinking just about this two minute performance on VMAs or this music video. I want people to want to hear my records and the more that they're wondering what the hell is she doing, the more they're going to want to listen to my record."

Plans for her 21st birthday: "Hopefully get away; I've got to go somewhere nice. I never get a vacation so I'm going to try and schedule in a vacation of some sort. I might hibernate for my 21st birthday, that'll give people a shock!"
[From Hunger TV]
Miley's so full of contradictions. She's always on vacation, yet she never gets a vacation. She's surprised that you're surprised, but this was her plan all along. She's an artist, but she really only cares that you buy her album. And so on.
Radar Online has a story about how Elsa Pataky was the secret mastermind behind Liam Hemsworth's breakup with Miley: "She spent the last year freezing Miley out in some kind of passive-agressive move." I can believe that Elsa disliked everything the new Miley stands for. I think Elsa probably influenced Chris, who in turn let Liam know the drill. Liam is currently in Atlanta where he attended Ashley Simpson's birthday party: "Liam was solo. Of course, all the girls in the restaurant wanted to sit close to him, but nothing. He didn't seem interested. He just came with his boys." Liam is all about his boys these days. Good for him.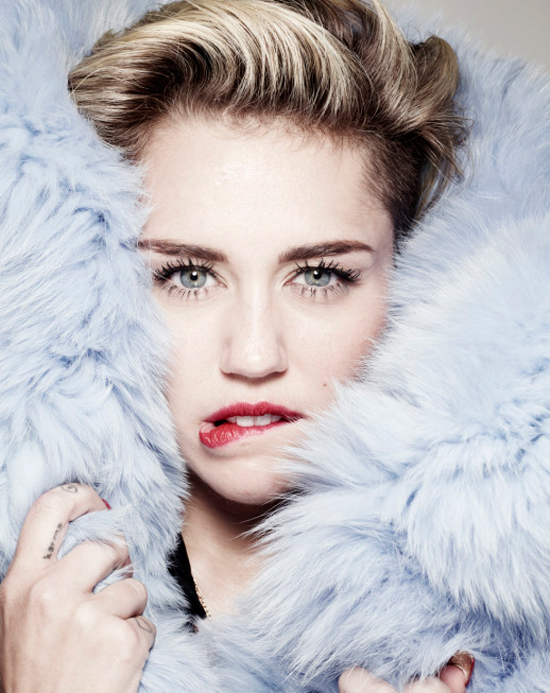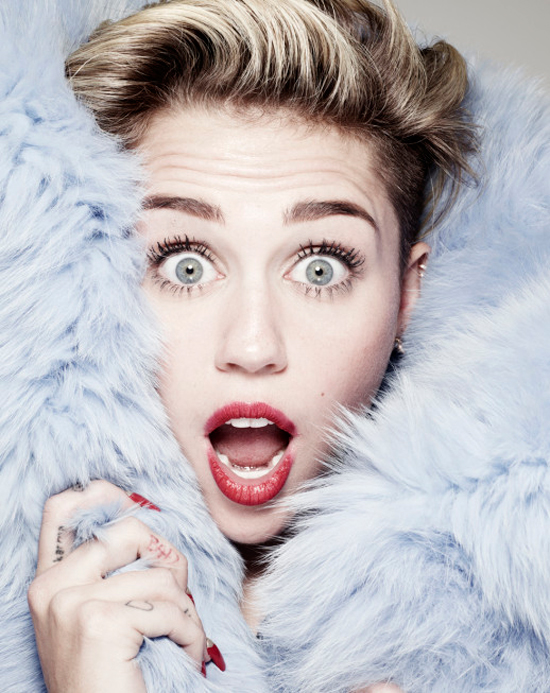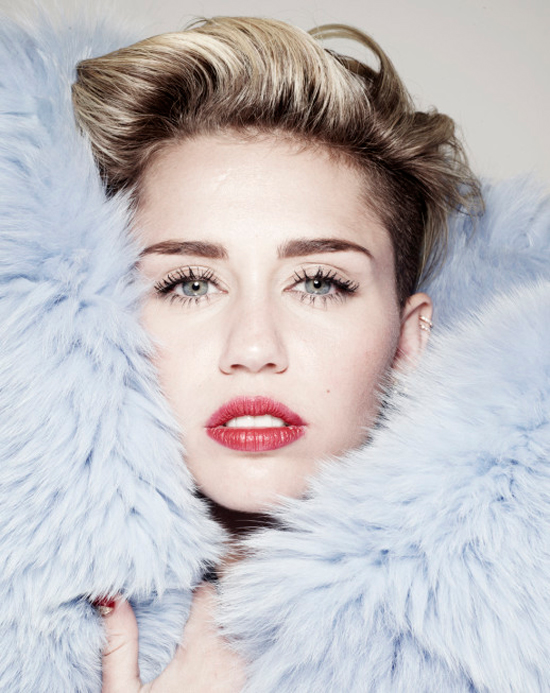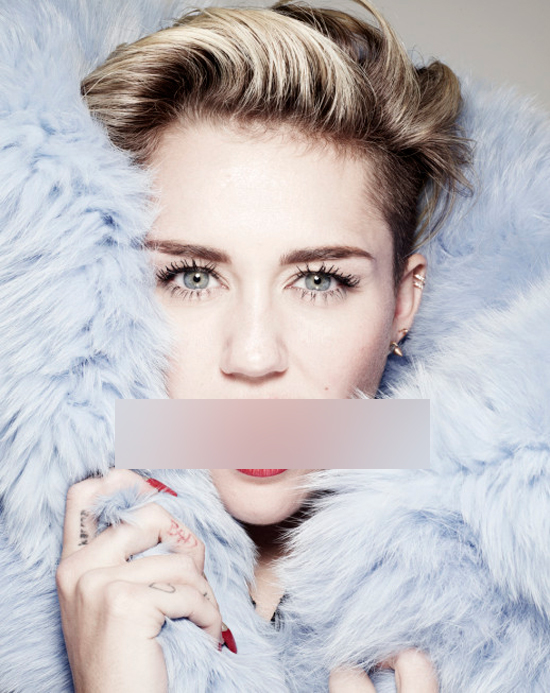 Photos courtesy of Miley Cyrus on Twitter, Hunger TV & WENN