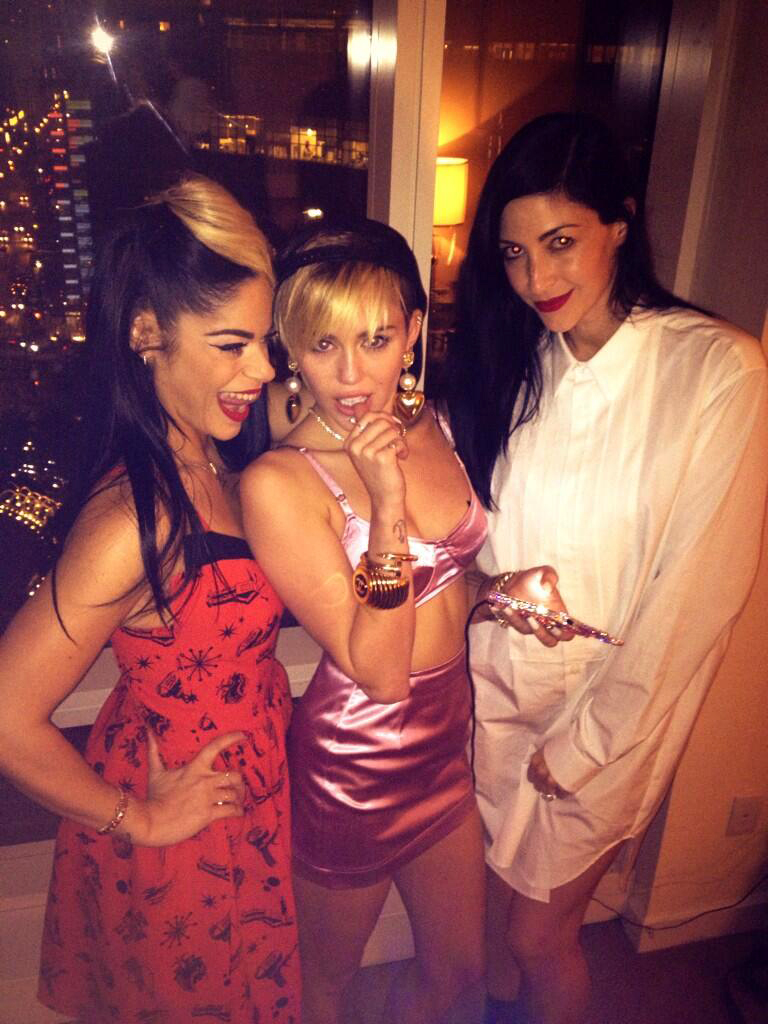 These are some self-tweeted photos of Miley Cyrus from the Bangerz release party we discussed yesterday. Since the record has been out for a few days, we're starting to see an indication of whether it will sell. The numbers are … not encouraging. Well they're good news for Miley, who is projected for 250-270k units sold in the first week. That's a first place finish. In the UK alone, she's already sold 62,000 copies, which puts her 18,000 copies ahead of Eminem. Em doesn't do much hustling anymore. I guess Miley's hustle is paying off.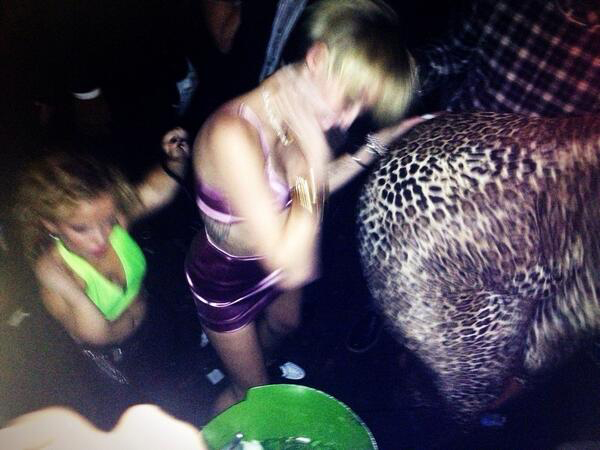 This release party must be part of the game too. According to a rather lengthy Us Weekly piece, Miley was seen twerking all over people and motorboating Amazon Ashley. She was also "all over Mike Will Made It, grinding all over him, kissing his neck." (Larry Rudolph has already dropped some hints about their "relationship"). Then she was seen enjoying a "triple kiss" with a little person and a "tan mystery man wearing a grey suit." She's staying classy.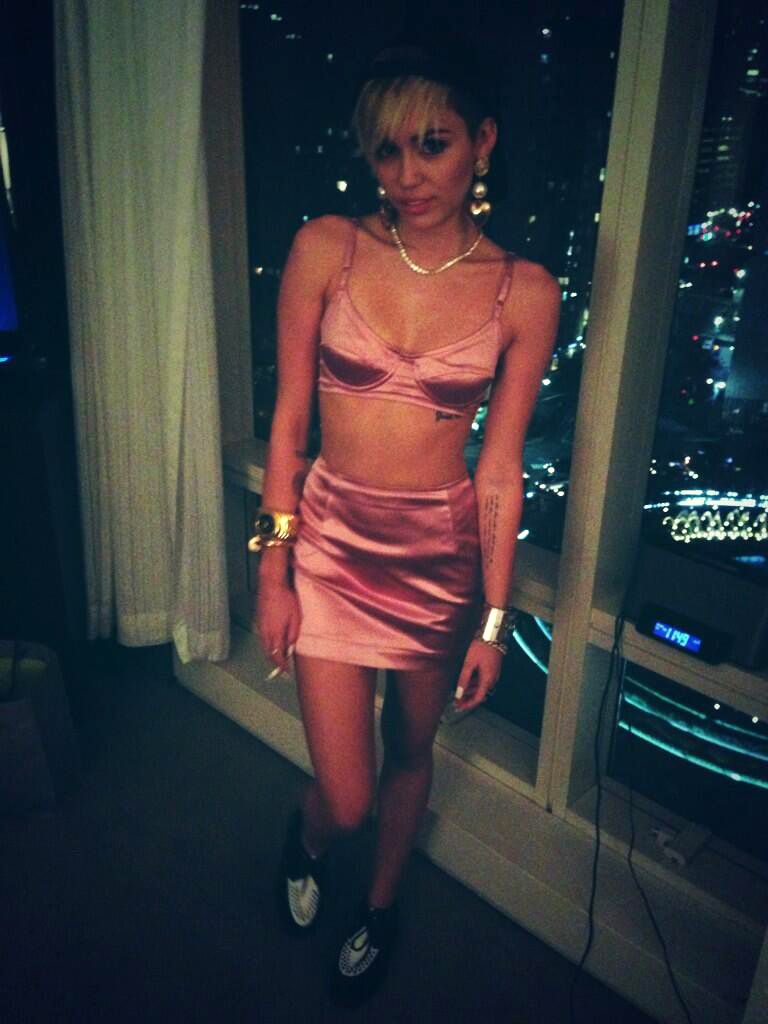 Miley stopped by Jimmy Fallon to perform "Wrecking Ball." She told him, "I don't just twerk and lick stuff." Here's a video clip:
Canada's Fashion magazine has released more from its cover feature (the one where Miley talked about how strong Terry Richardson makes women look). Here's more editorial and new excerpts: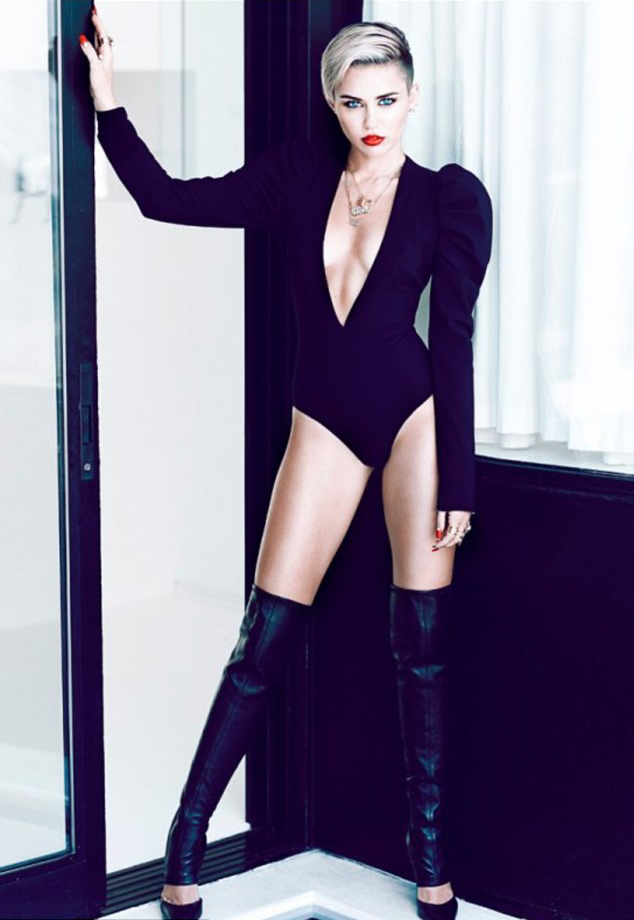 Those damn VMAs: "People expect me to shock–that's what I do. Shocking people is what I'm good at. I grew up, lived and learned/ I didn't wake up and say, "How am I going to change? How am I going to shock people?" I figured out who I am on my own. Artists are supposed to be honest. Think about it: Would Donald Trump really care about anyone's VMA performance unless it was at that magnitude? My friend's 94-year-old grandma saw it and she didn't remember anybody being at the show except me."

On selling sex: "It's 2013! Get with the program! If you wanna be sexy, be sexy. If you don't, don't."

Her good friend Molly: "People can try to censor me, but it won't work. You can bleep out Molly in my songs, but I don't let people censor my personality."

On double standards: "No one talks about who I was dancing with at the VMAs. It's never 'Robin Thicke gets raunchy with Miley,' it's always 'Miley Cyrus gets raunchy with Robin Thicke.' It's because I am young and a woman."

Her parents' support: "My dad loves my music. My parents aren't really strict. They don't care about what I do on stage — that's not who I am as a person, that's who I am as an entertainer. [My dad] supports me and is happy that I am succeeding. What parent doesn't want their kid to succeed?"
[From Fashion Magazine]
Ugh. These quotes aren't as inflammatory as some other stuff Miley's been saying, but damn. I just can't believe Bangerz is selling at all. Are these inflated figures in manner of Madonna's MDNA? Damn, now I sound like a conspiracy theorist.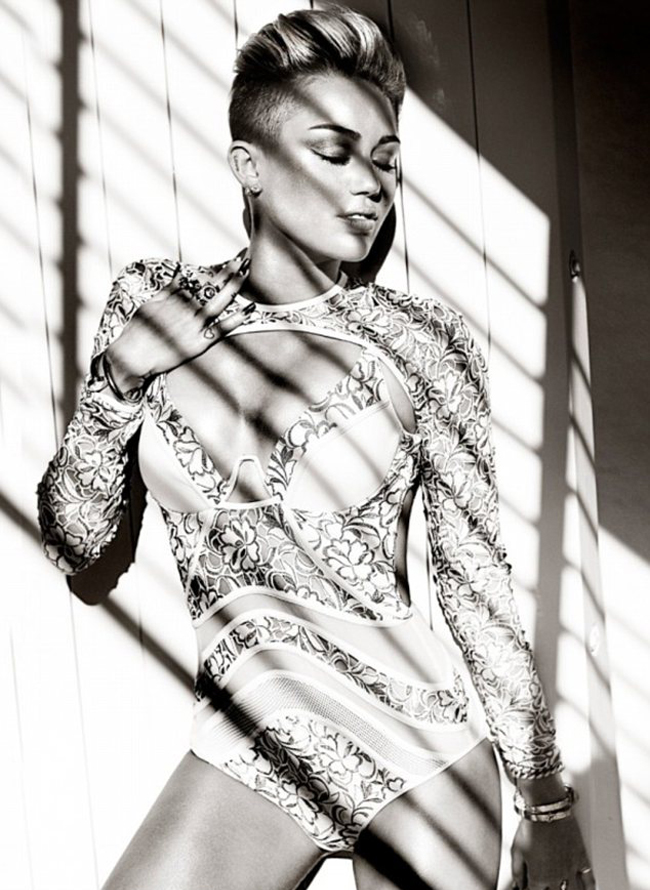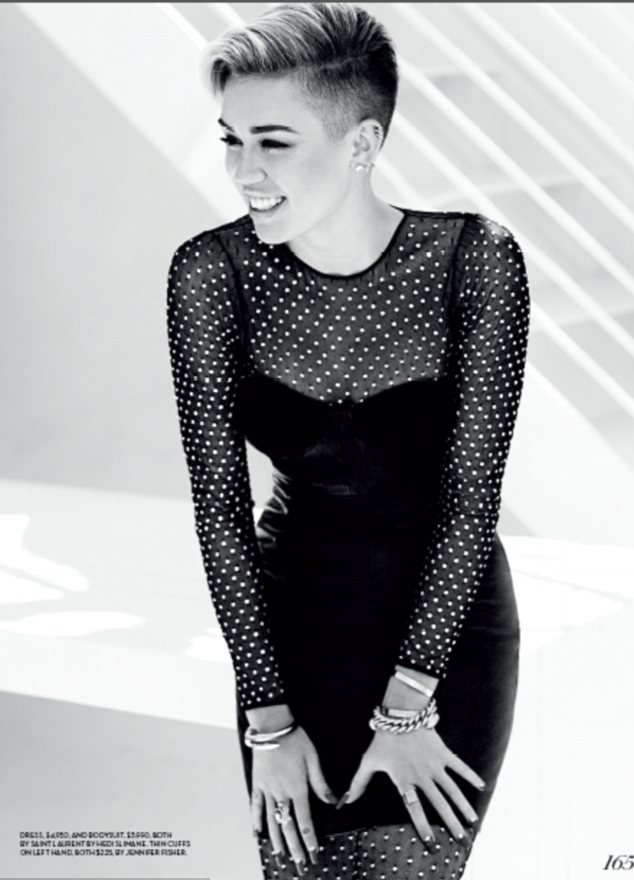 Photos courtesy of Miley Cyrus on Twitter, Fame/Flynet & Fashion magazine