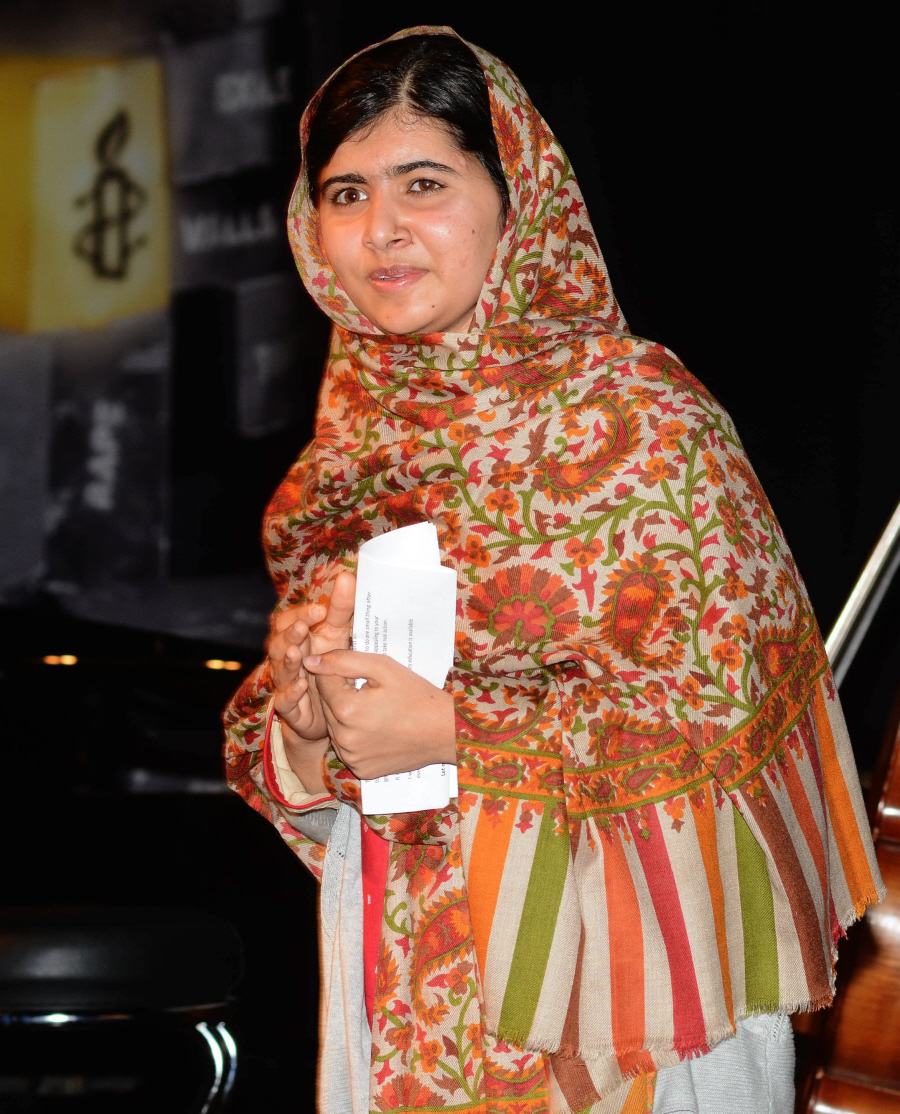 The Nobel Prize for Literature was just announced a few hours ago – Canadian short story author Alice Munro won! Big ups for Canada. The Nobel Peace Prize is always the last one to be announced, and we should get the announcement tomorrow. I hear Vladimir Putin made the short list. But everyone is really hoping that the Peace Prize goes to Malala Yousafzai, the 16-year-old advocate for education and women's rights who was shot and nearly killed by the Taliban in 2012. Malala was brought to England where she received months of medical treatments for her gunshot wounds, and this week she's been in NYC promoting her new book, I Am Malala: The Girl Who Stood Up for Education and Was Shot by the Taliban. I was so pleasantly surprised to see that Malala gave an interview to People Mag:
Oct. 9, 2012, was the end of another school day for Pakistani teenager Malala Yousafzai as she sat on her bus in her hometown of Mingora in Pakistan's Swat Valley.

But within minutes, one Taliban gunman stopped the vehicle while another climbed aboard and shot her in the head. The reason: She was an outspoken advocate for girls' education.

"My world has changed so much," the 16-year-old, whose new memoir I Am Malala was published Tuesday, tells PEOPLE. "But I have not."

Amid speculation that she may win the Nobel Peace Prize to be awarded Friday, Malala continues her recovery, now living in Birmingham, England, with her father, Ziauddin, 44, himself an activist for education (and former school principal); her mother, a homemaker; and her two younger brothers, ages 13 and 8.

After her near-death experience, part of Malala's skull was replaced by a titanium plate, and she has a cochlear implant in her left ear. Further necessary surgery on her jaw has been delayed until she turns 18.

She also continues to work with physical therapists and often thinks of the beautiful hometown she left behind, the place she calls "the most beautiful place in the world. … I don't know when I will see it again, but I know I will."

As for being the youngest person ever to be nominated for a Nobel Peace Prize, Malala says that whether or not she is honored, she believes the focus of her life is to make sure every child has the opportunity for an education.

"[The awards] only remind me how much work still needs to be done," she says.
She's such a special young woman. Not "special" in the way that we describe a kid who can sing or dance or entertain. It's like Malala has the reincarnated soul of Mohandas Gandhi or something. Like, we're all better people because Malala is still here, still speaking, still advocating.
Malala also appeared on The Daily Show two nights ago and right off the bat, Jon Stewart made her giggle. You forget how young she is and then she giggles like a girl. It's so sweet. Jon was so smitten he asked if he could adopt her.
Oh, and the Taliban still wants to kill her. They released a statement to the press (for real) about how they still want to kill her. But, as Malala said in her Daily Show interview, if she was attacked by a Talib again, she would turn the other cheek. She said: "I used to think about that and I used to think that a Talib would come and just kill me, but then I said, 'If he comes, what would you do Malala?' then I would reply to myself, 'Malala, just take a shoe and hit him," but then I said 'If you hit a Talib with your shoe, there would be no difference between you and the Talib. You must not treat others cruelly and harshly. You must fight others, but through peace and through dialogue and through education.'"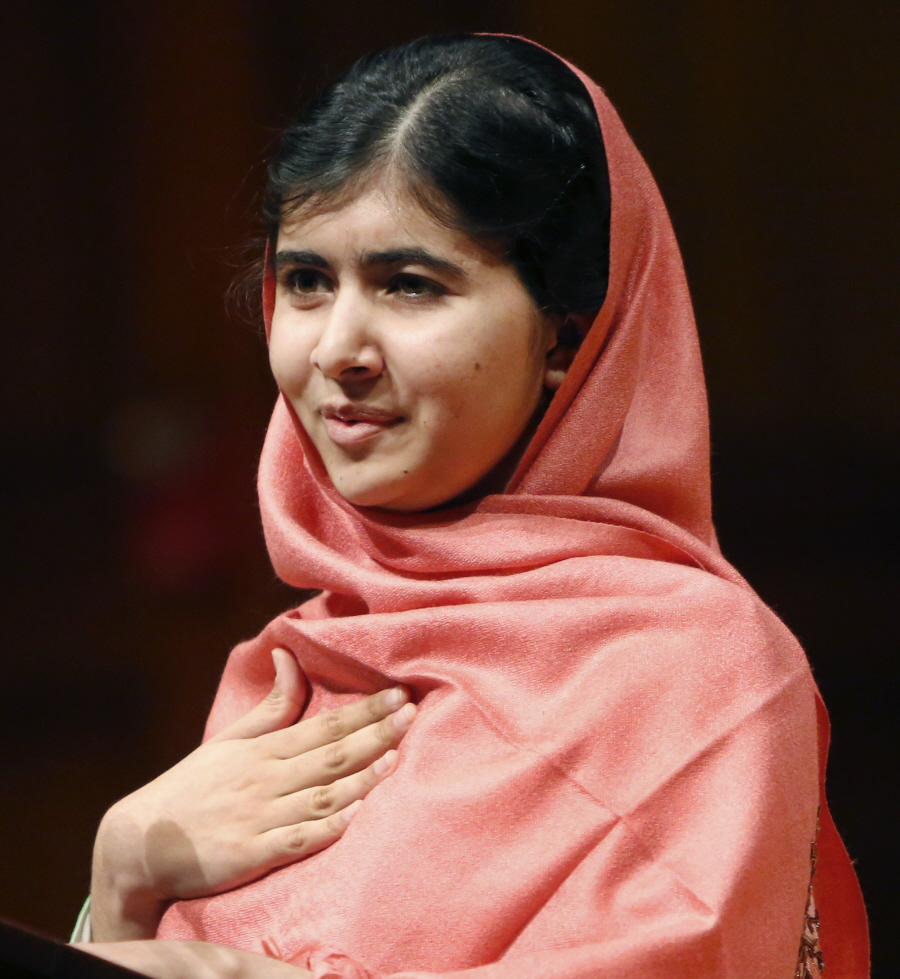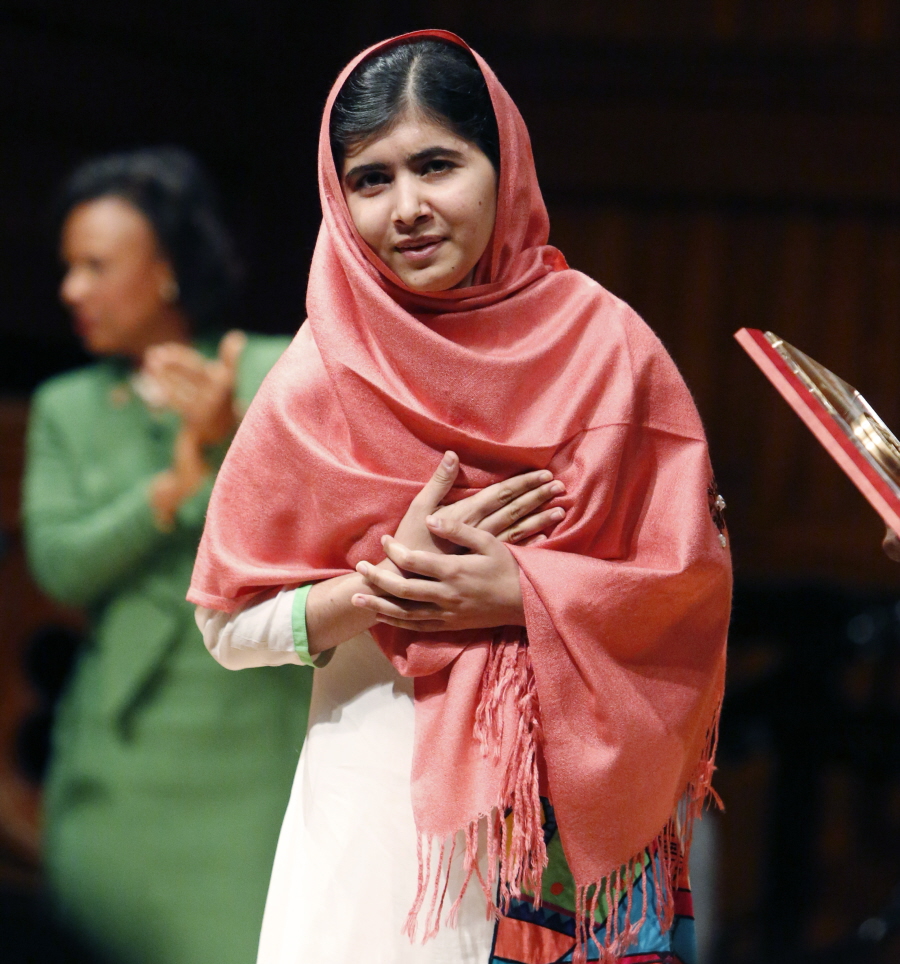 Photos courtesy of WENN.