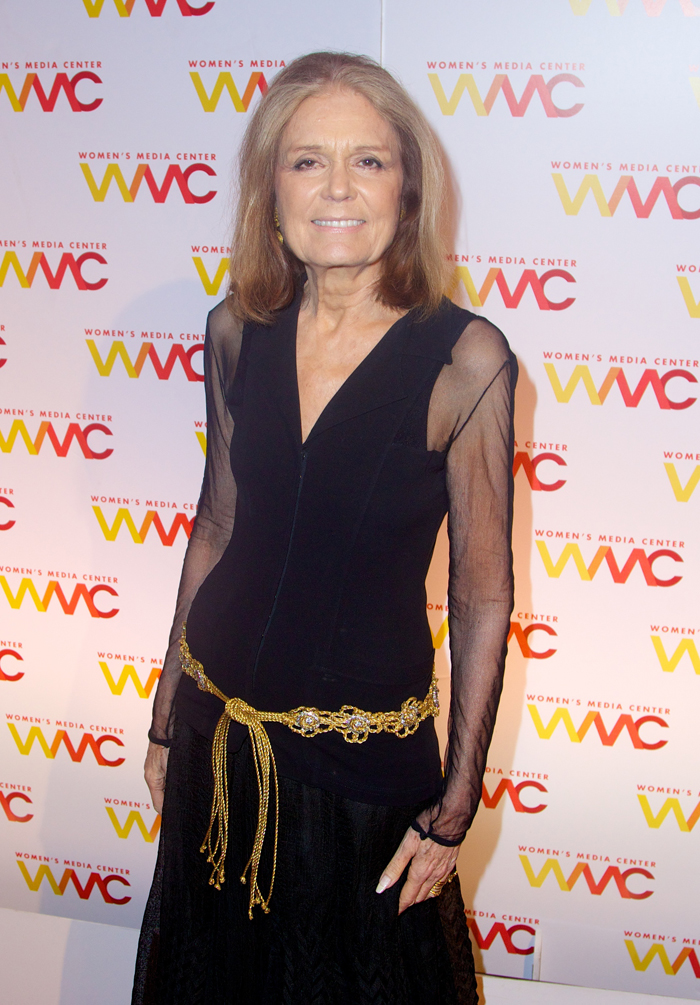 Here's a photo of Gloria Steinem at the Women's Media awards in NYC. While she was walking the red carpet, she was of course asked about Miley Cyrus. If that's not proof of how Miley is dominating the media right now, I don't know what is.
Miley is riding high right now on her surprising Bangerz success. She was announced to perform at the AMAs even though she was not nominated for any awards. Her tongue-filled SNL episode scored the best ratings since March (when Paul Rudd hosted). She was offered a million dollars to direct a pr0n movie, and she won a $10,000 Numi toilet from producer Dr. Luke. I guess Luke told Miley "Wrecking Ball" would never be a hit, and they bet a fancy ass toilet. That will teach Luke to wager against nudity.
Everyone else is still talking about Miley. Annie Lennox admits being disturbed at Miley's "peddling [of] highly styled pr0nography with musical accompaniment." Gloria Steinem doesn't have as much of a problem with Miley's antics, but she does bemoan how Miley felt the need to get naked for attention: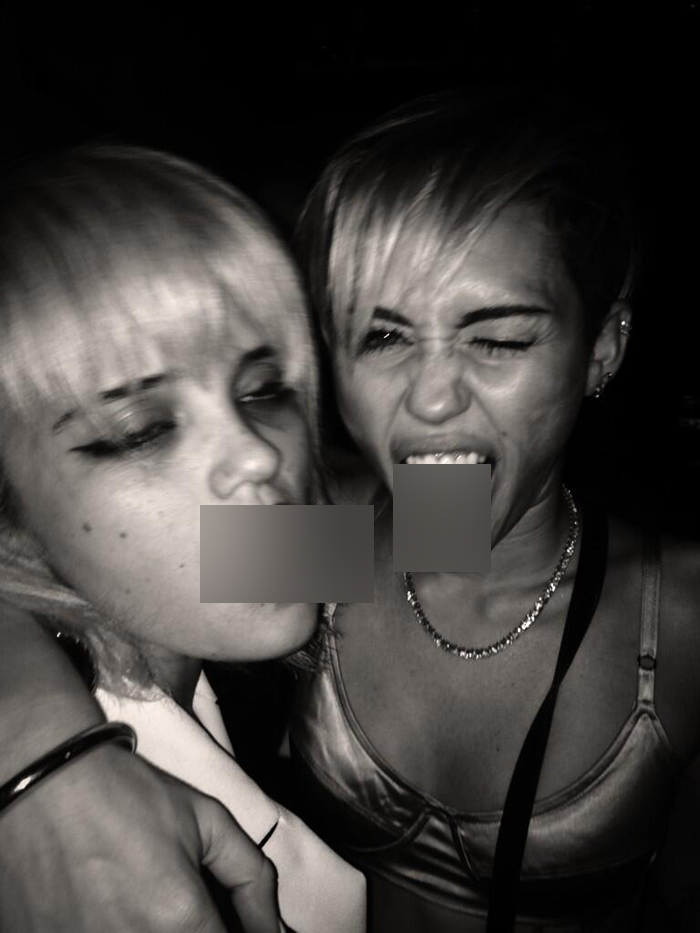 And now, an existentially chilling fact: the Internet has spent the better part of the last two months engaged in time- and soul-sucking Miley Cyrus–related discourse. (At this point, the Internet is officially Miley's world—we just trash her in it.) Our negative interest in her and her V.M.A. performance has propelled the 20-year-old pop star to the cover of Rolling Stone, the stage of Saturday Night Live (as both host and musical act), the Today studio (for some awkward middle-aged-sex-related banter with Matt Lauer), and whatever seedy porn-photo den Terry Richardson had at his disposal last week. But throughout all of this discourse, the world has been lacking the opinion of one of the women most qualified to comment on Miley Cyrus's in-your-face self-sexualization: Gloria Steinem.

Last night, at the 2013 Women's Media Center Awards ceremony in New York, America's foremost feminist and women's-rights activist gave her thoughts on Cyrus's behavior-specifically whether she thinks it is hurting the movement she helped pioneer in the 1960s. "You know, I don't think so," Steinem told Yahoo's omg! Insider blog when asked about Cyrus. "I wish we didn't have to be nude to be noticed. . . But given the game as it exists, women make decisions."

"For instance, the Miss America contest is in all of its states . . . the single greatest source of scholarship money for women in the United States," she continued. "If a contest based only on appearance was the single greatest source of scholarship money for men, we would be saying, 'This is why China wins.' You know? It's ridiculous. But that's the way the culture is. I think that we need to change the culture, not blame the people that are playing the only game that exists."

With Vulture, Steinem took a slightly less pro-Miley stance when asked about the pop singer's recent feud with Sinead O'Connor, who has written several open letters begging Cyrus to not let herself be "pimped" by the music business. "I think they have different views of the world," Steinem said of Cyrus and O'Connor, "and I would much rather be O'Connor. I mean, she's a serious human being. Perhaps they both are, but we don't know that yet."
[From Vanity Fair]
Is Miley really hurting feminism? I admit that I don't view the Miley problem in terms of women's rights. Miley seems to inhabit a realm where only Miley matters. She's neither male nor female to me but only a person who will do anything for attention. Male or female, I see that as a sad state. I do love how Steinem is essentially siding with Sinead O'Connor in she and Miley's neverending feud. Like I said before, Sinead has her own issues, but Miley takes the cake and acted like an immature brat when dissing people with mental illness.
Now for some more dangling tidbits about the Tongue:
* This week's issue of Star says Kelly Osbourne wants BFF Miley to go to rehab for assorted drug issues including the Molly fixation. "Miley was so offended. She told Kelly she's not an addict and to mind her own business. Miley doesn't want to hear anything that goes against her image overhaul. It's like she's living in a bubble."
* Miley sent a bunch of Liam Hemsworth's clothing to a thrift store. That was probably a great relief. No one ever wants to stare at their ex's crap.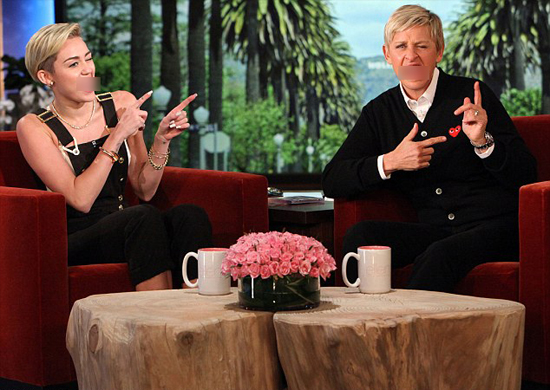 * Miley popped into The Ellen Show and rode on a wrecking ball while — gasp — wearing clothes. She also said the Liam thing is fine: "It's not really as awkward because I'm living it. So I think people spend more time actually thinking about it then I really do. I just believe when a chapter is done you have to close it and start that new one. That's kind of where I am right now." Here's a video clip: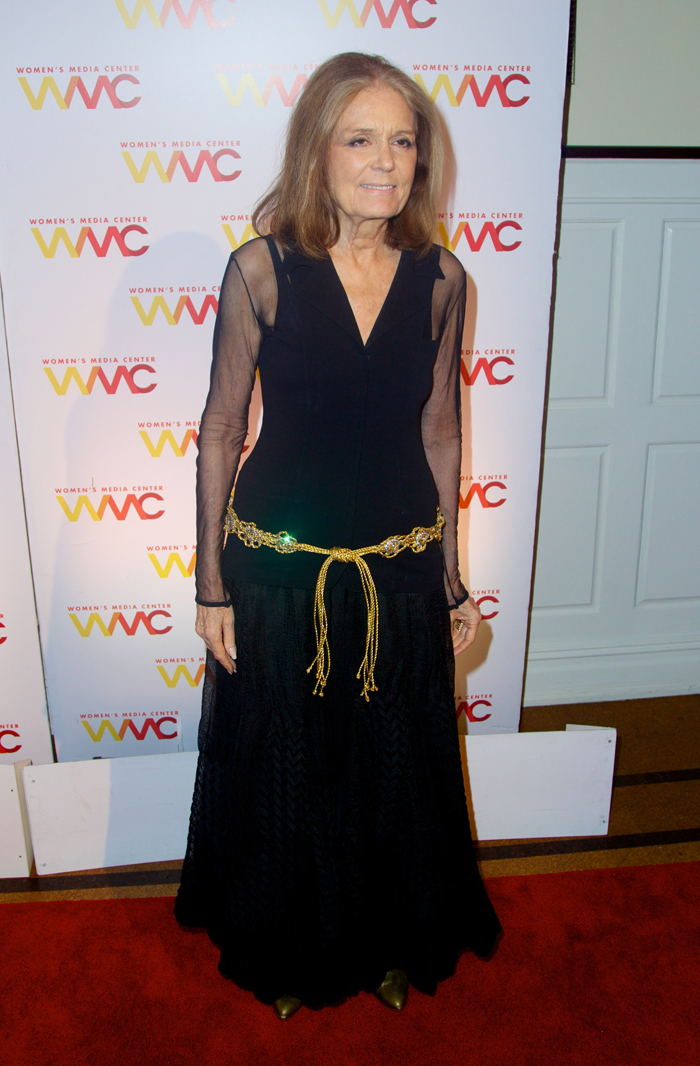 Screencap courtesy of YouTube. Photos courtesy of Fame/Flynet, Miley Cyrus on Twitter & WENN