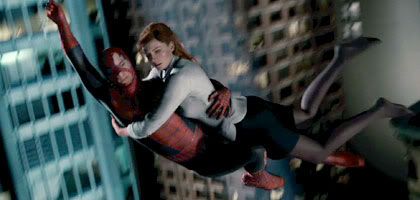 Spiderman 3 is out on May 7, 2007, and from the looks of these screenshots, they did a great job making one of the villians, Venom, look scary as anything. Other villians shown include Sandman and Green Goblin on a flying machine. More screenshots are accessible from the thumbnails below. These are just screengrabs from the trailer that's been out a while from what the commentors are saying on Digg.
And here's a video of scenes from the film. Warning: Spoilers

This looks excellent and I can't wait to see it. (I love when Tobey says "hate those things," but I won't reveal much more in case you're holding out for when it's in theaters.) I'm not much of an action movie fan but the first two Spiderman films did not dissapoint.
Pictures from CraveOnline via Digg. Spiderman 3 clips via Ain't it Cool News.