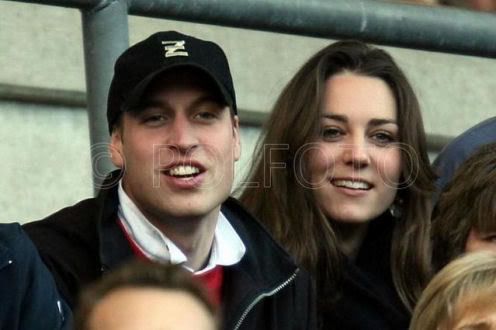 Hunky Prince William, 24, might get married soon to his longterm girlfriend Kate Middleton, 25. It sounds like speculation to me, but the news reached British Parliament and lawmakers were discussing the marriage plans of William, second in line to the throne behind his father Charles.
British royal photographer Arthur Edwards was speaking to The House of Commons select committee about a recent intrusion of Ms. Middleton's privacy. She was hounded relentlessly by paparazzi around her 25th birthday in January, and MPs want to work on a new privacy law that will protect royals and celebrities.
Photographer Edwards said "She's in love with Prince William. I'm sure one day they'll get married."
Just because a friend of the family thinks it will happend doesn't mean it's imminent, though. William himself has said he has no intention of getting married until he is 28 or 30, and it is thought that he will finish his duties with the Armed Forces first. He has two more years to serve. A spokesperson for the royal family has countered that he has no plans to get engaged.
Kate, an assistant accessories buyer at a High Street department store, was dating another guy when she lived in a student home with William in 2001. They both attended St Andrews University. They started to date in secret in late 2003 and their romance went public in 2004 when they took a ski trip together.
Kate lives in an apartment in London's Chelsea neighborhood, where William visits her on the weekends. They also have weekday date nights on Thursday night, as she has off from work every Friday. William and Kate will have a long distance relationship when he takes a six month training course in Dorset in Southern England. William will take the same Troop Leaders course his younger brother Harry completed last fall. [Some Information from Hello! Magazine print edition, February 22, 2007]
Prince Harry will join his regiment in Iraq in May of this year although it is unclear how long he will stay. Britian has announced a phased withdrawl of troops that is likely to ensure that William will not be deployed to Iraq.
British news outlets were all over Kate and William's recent appearance together at the Six Nations Rugby Tournament between England and Italy, which is where these pictures were taken.