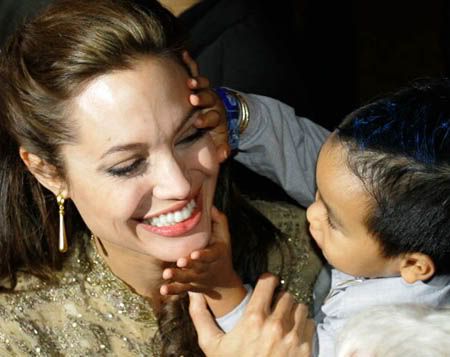 Angelina Jolie has sort-of been fast tracked through the Vietnamese adoption system, but not really. Officials there say she applied to adopt a four year old boy she met at the Tam Binh orphanage during her visit with Brad to a suburb of Ho Chi Minh City back in November. She filed the papers three months ago, and they were approved by the Vietnam's top adoption agency and sent to their justice department for review. The head of the adoption agency is the person who originally confirmed that Angelina had applied to adopt a child.
Now Vu Duc Long, the agency director who confirmed Angelina's adoption, says the process is only going to be a month shorter for her than it normally would take:
HOLLYWOOD movie star Angelina Jolie is set to adopt a Vietnamese boy in May after being fast-tracked through the system, the nation's top adoption official said today.

The process is being speeded up because Jolie had already chosen the child on a previous visit to an orphanage on the outskirts of the southern business hub of Ho Chi Minh City, the official said.

"She might receive her adoptive child in three months, one month earlier than the normal timeframe for an adoption," said Vu Duc Long, the head of the justice ministry's international child adoption department in Hanoi.

"He is between four and five and now stays at the Tam Binh orphanage," he said.

Jolie filed the first application papers three months ago.

During last November's Thanksgiving holiday, Jolie and her partner, fellow screen idol Brad Pitt, travelled to Ho Chi Minh, the communist state's largest city, and spent several hours playing with children in the orphanage.
Angelina's paperwork now just needs another seal from the justice department in Ho Chi Minh City before it is sent to the orphanage.
Maddox and Zahara were just babies when Angelina adopted them, so it's nice to hear that she and Brad are adopting a slightly older child. There was a story I reported from the NY Post that Angelina was getting "special favors" in her adoption because she was filing as single, but since she's not married people pointed out to me that she doesn't have any other box to check. It seems like Page Six always trashes her, and was just looking for an excuse.
Here are pictures of Angelina and Maddox pre-Pitt, Zahara and Shiloh at the Venice International Film Festival in September, 2004. Maddox had just turned three, his birthday is 8/5/01. She's not quite as thin here and she looks better to me. No matter how you feel about her, she certainly is stunning.
Thanks to Absolument Jolie for these pictures.