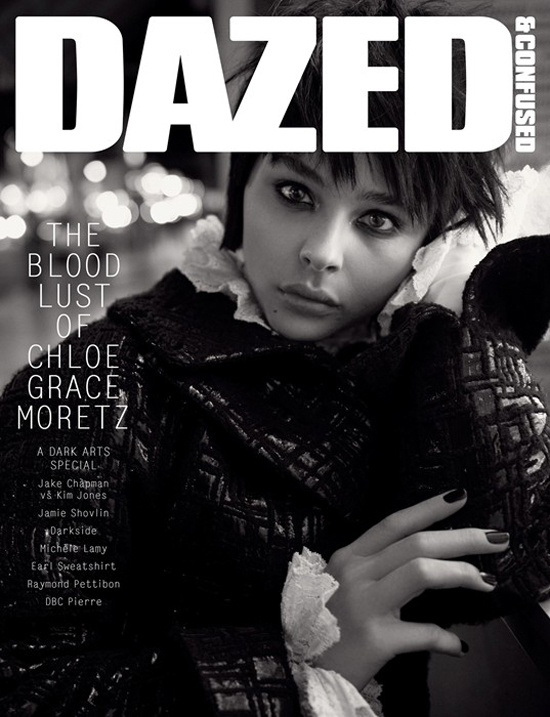 Chloe Moretz covers the November issue of Dazed & Confused. I usually enjoy her photoshoots because she has the ability to transform herself and play a role beyond "fashion girl" when promoting a movie. Remember her recent old-school spread in Glamour? It's so hard to believe this girl is really only 16 years old.
Chloe is promoting her lead role in the Carrie remake, which comes out this weekend. I wasn't impressed by the trailer, and most horror remakes are just awful anyway. However, this is really the only horror movie in wide release for the Halloween season, so it will probably do just fine at the box office. That would be great news for Chloe, who already has stinkers like Dark Shadows and Let Me In on her resumé. She's such a good actress too!
This Dazed & Confused shoot comes by itself without any excerpts, so I've cobbled together some bits and pieces from other outlets: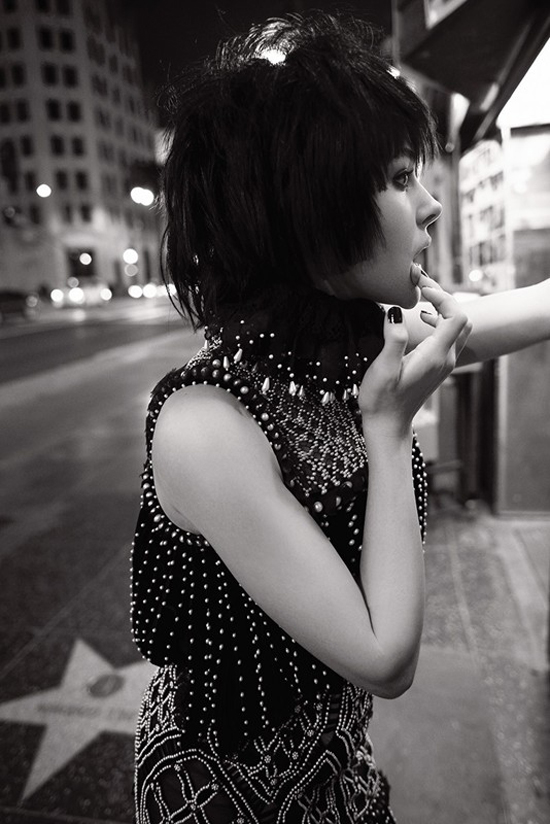 Chloe on Julianne Moore: "She is probably my favorite, I mean, I learned so much from her. She has everything. She has everything you want, she's beautiful, she's smart, she's funny, I mean it's like why can't we all be Julianne Moore?"

Julianne on Chloe: "She's so delightful. I mean, she was 15 when we shot this and she's very professional, really talented, very engaging and wants to do well and great work. I love her. I loved being with her. She was a great partner and I wanted to make sure that she felt safe with me and that anything could happen and that I was not going to hurt her and that we could kind of explore this relationship together."

She never watched the first Carrie: "I deliberately haven't watched the original movie. I'm sure what Sissy Spacek and Brian De Palma did was phenomenal, but I didn't want to end up copying any performances. I wanted to make my Carrie come to life and not steal someone else's Carrie."

On scary movies:" I was never traumatized by a movie. I would get terrified and then I would get really excited, and I was like 'what is this feeling?!'"
[From E! Online, Empire & EW.com]
I agree with Chloe about horror movies. Most of them aren't scary at all and make me laugh, which is part of the fun. Sinister still scares me a little bit if I don't draw the shades at night. I know that's a pretty lame admission. We're all scared by different (usually silly) stuff.
Can you believe Chloe never watched the original Carrie? That seems gutsy.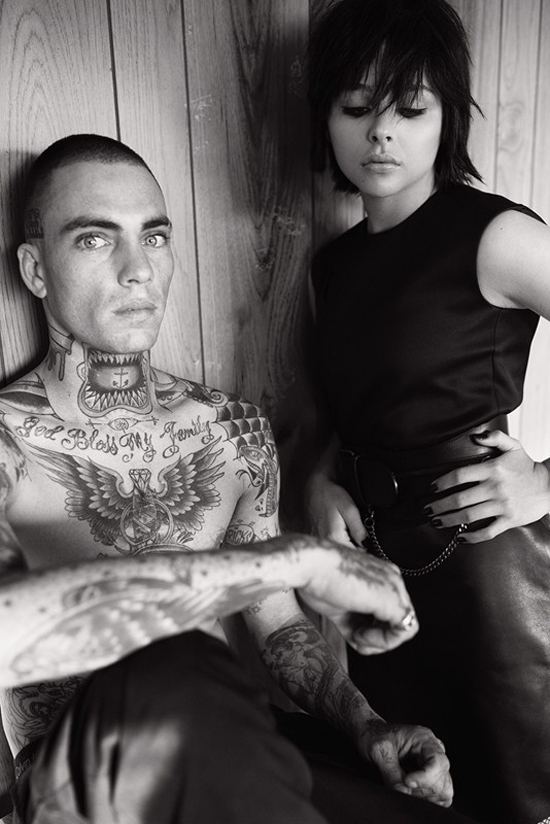 Here's Chloe outside Jimmy Fallon last week. She seems so mature but in a good way.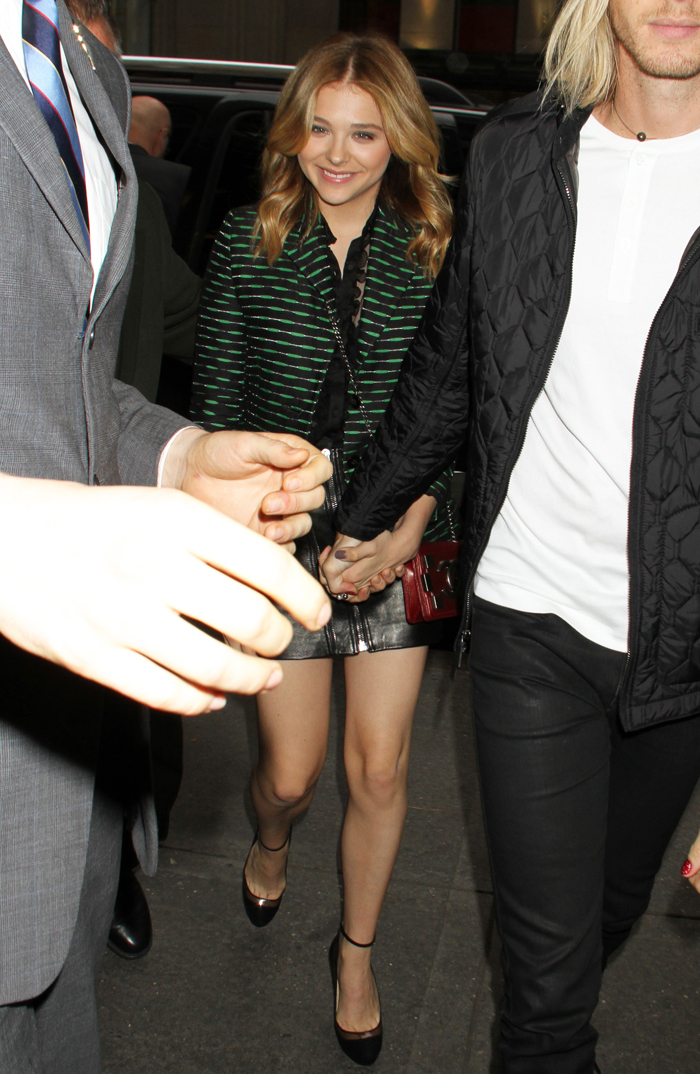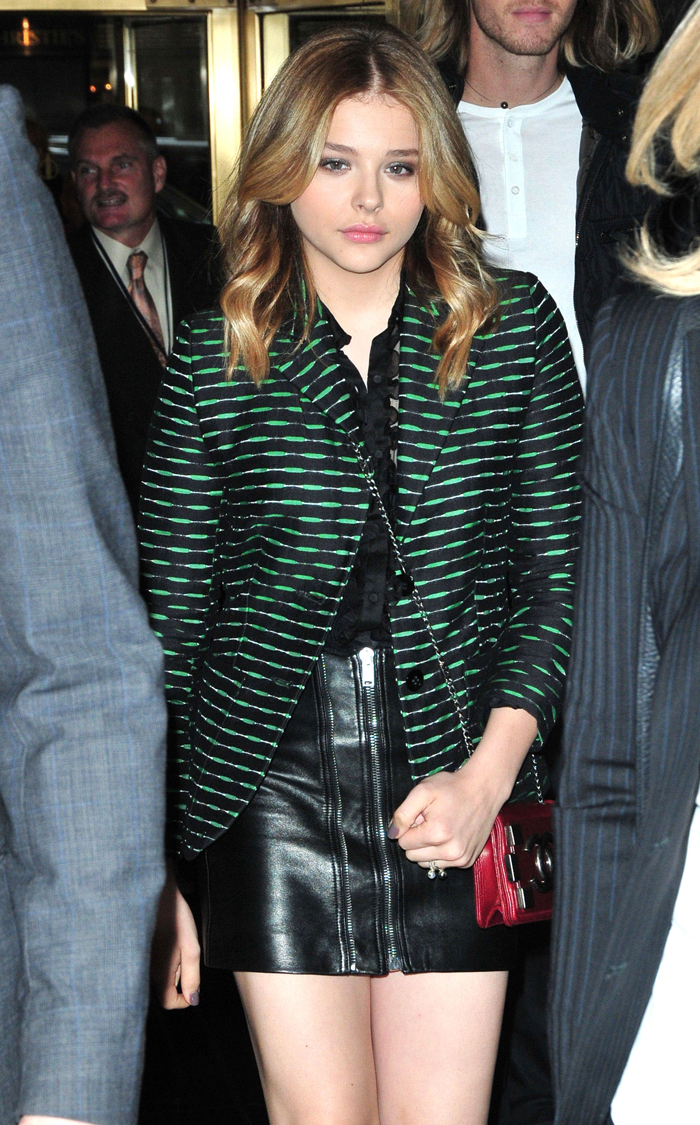 Photos courtesy of Fame/Flynet and Dazed & Confused