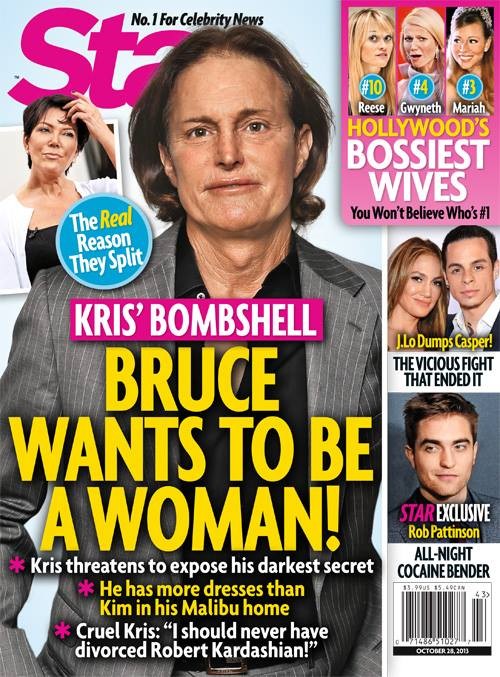 Back in early 2012, the late Robert Kardashian's widow, Ellen, started selling details to the tabloids about Kris Jenner and the Kardashian family. She revealed the alleged story that Bruce Jenner loved to cross dress and would regularly wear women's clothing, shoes (in his size) and lingerie. Ellen heard this second hand from Bruce's first wife, Chrystie Crownover. According to what Ellen claims Chrystie told her, Kris Jenner was tolerant of her new husband's proclivity for women's fashion and did not seem to mind it.
In the wake of Bruce and Kris Jenner's very calculated split announcement, Star Magazine is running a cover story claiming that Kris is blackmailing Bruce to stay on the show by threatening to reveal his crossdressing secret if he dares stand up to her. To me this begs the question: has Kris really threatened Bruce like this or is Star just opportunistically recycling old news? Here's more, thanks to Star Magazine:
When Bruce and Kris Jenner announced their separation last week, it didn't come as much of a surprise. After all, the former Olympian had admittedly moved out of the Kardashian home into his own Malibu beach house, and Kris was caught multiple times partying with younger men. However, an insider tells Star that there's even more that went into the breakup than just that!

"Bruce has a feminine side," our source reveals. "He likes growing his hair out, likes getting manicures and pedicures and won't leave his house without his diamond earrings. And he's obsessed with plucking his eyebrows!"

To Star readers, the 63-year-old's feminine qualities are no surprise. Two years ago, we first reported his fetish with cross-dressing, and now, more sources are coming forward that echo our original report — including details about how he "borrowed" stepdaughter Kim Kardashian's lingerie!

"Kris has told Bruce that she will reveal his secret if he doesn't go along with her plans about their split or their show," the insider adds.

Pick up the latest issue of Star, on newsstands now, for more exclusive details about Bruce's big secret!
Of course this is potentially humiliating to Bruce, but Kris doesn't care about that. My philosophy about anything that is embarrassing to an ex partner but does not otherwise hurt you or others, particularly bedroom stuff, is that you should not betray that trust. It doesn't matter what happened in the breakup, you keep quiet about an ex's secrets because you would want the same courtesy. In no way am I saying that Bruce should be ashamed of being transgender, if that's what he considers himself, or of being a cross dresser. (I think that Star is confusing the two.) I'm saying that it should be his decision, if this is true, whether to go public with that. It sounds like a bedroom kink that Star is blowing out of proportion, but I could be wrong.
There are several related stories about these two, particularly one in Radar that reveals how calculated a move this separation and divorce is. Radar claims that Kris won't divorce Bruce until after the final episode of their show airs and their contract runs out, in 2015. The idea is to keep viewers tuning in to see the Jenner's marriage unravel. That's some cold, manipulative sh*t, and it also suggests to me that Star's story could be true – Kris could be keeping Bruce in line by threatening him.
Radar also claims that Kris's poor treatment of Bruce, and her constant ambition, contributed to the demise of their marriage. Also, Kris is said to be jealous of Bruce's relationship with his second wife, Brody and Brandon's mom, Linda Thompson. That sounds like pure spin to me. I doubt Kris gives a crap about Bruce except to ensure that he goes along with her master plan.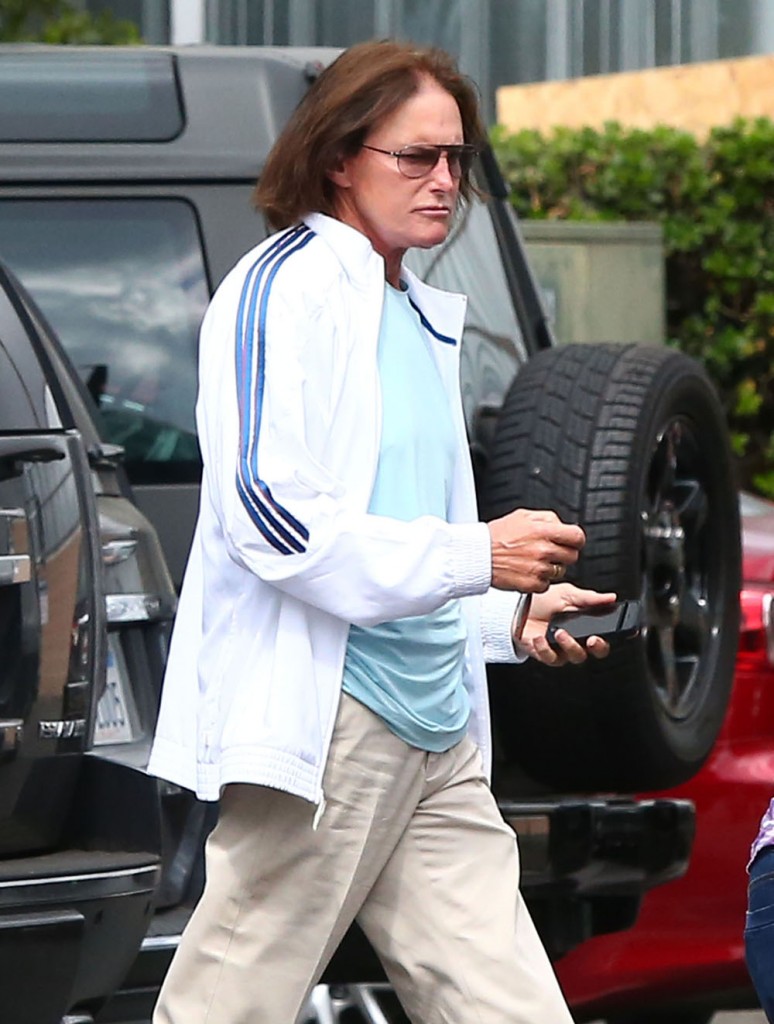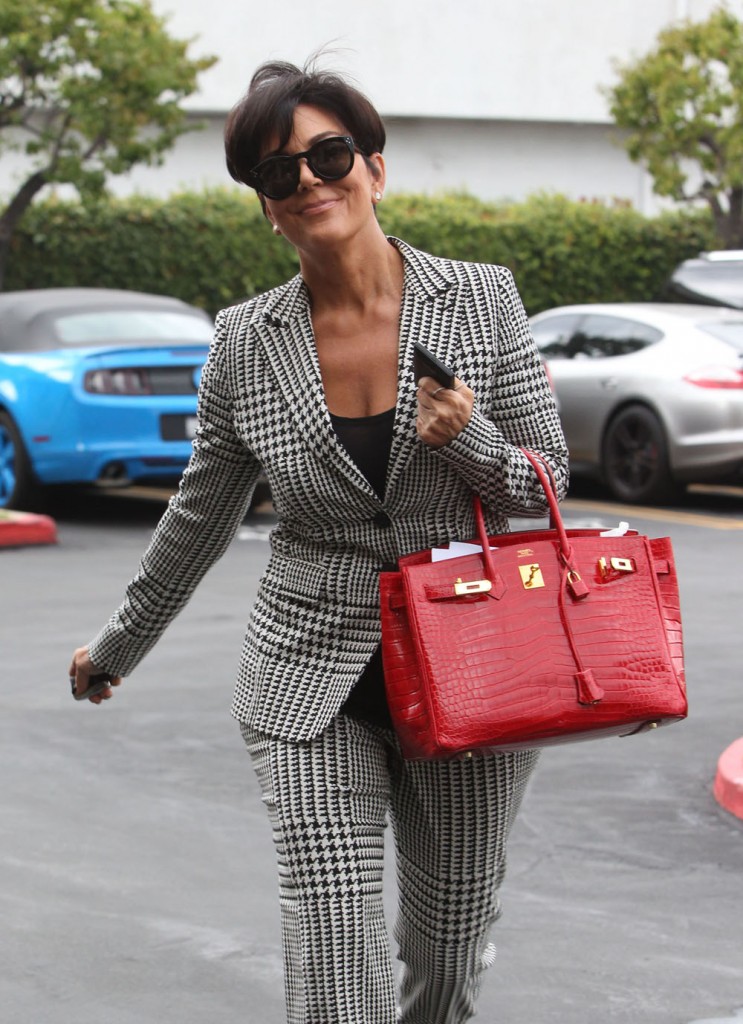 These photos are of Kris and Bruce headed to a meeting separately on 10-9 and of Kris out on 10-10. Credit: WENN.com