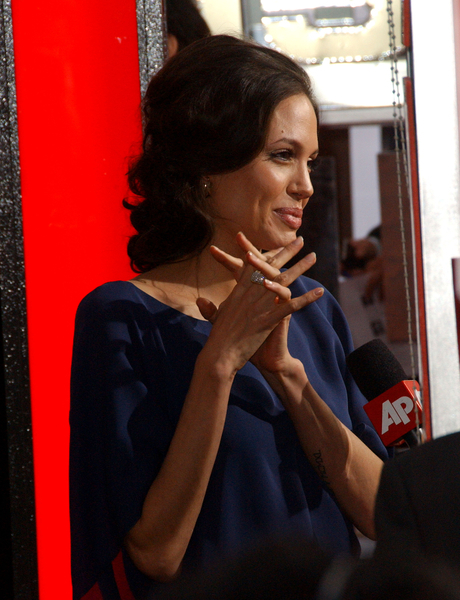 One of the things I've noticed about Brangelina news is that they could have just made some throw-away comment on a random red carpet, and nearly every celebrity news site covers it like it's gold. So it goes with these two little nuggets of Brangelina gossip, condensed for your reading pleasure. OK! has quotes from Angelina about their film-promoting duties in Japan, and People has information about Angelina's SAG card.
[Brangelina] — and their six children — are jetting off to Japan Monday morning, only hours after Brad and Angie put in appearances at the Screen Actors Guild Awards on Sunday night.

"Our kids are always packing," Angelina told Entertainment Tonight about globetrotting with six young children. "They like to pack; it's a game in our house."

However, all that back and forth across time zones can wreak havoc with a family's daily routine. "It can get very hard trying to find 20 minutes to close your eyes if you've been up since four in the morning," revealed Angie. But rather than trying to use sleep to make up for all the time differences they experience, she says, "We travel so much, we never have to adjust. We change school time to four in the afternoon in we have to!"
From OK! Magazine
Oh, Angelina. I wish I was her publicist, I would make her stop saying this stuff that freaks people out. She should have started her sentence with "lately", as in "Lately, our kids are always packing…" because they have been moving around a lot lately. I bet those kids are looking forward to a long film shoot with Salt, though. Angelina also talked to People magazine last night about her mom and her SAG card.
Angelina Jolie likes to please her fans, but respect from her peers is just as important, she says.

"It means a great deal," the actress told PEOPLE Sunday night of the SAG Awards, "especially because it is the people you respect and your fellow actors. You know they really understand your work when they watch it. They don't look at it just as a movie. They understand the technique behind performance."

Jolie was nominated for her leading role performance in Changeling, but Meryl Streep took home the Actor for Doubt.

The actress has an almost wistful devotion to her Screen Actors Guild card, she adds, because of her mother, Marcheline Bertrand, who passes away two years ago from ovarian cancer.

"My mother was an actress and didn't get to have a big career, but she was so proud to be a member of SAG and so proud of her card and her union."

As a young actress starting out, she recalls, "I was so happy when I finally got my card!"
From People magazine
That's actually one of my favorite parts of the SAG awards, getting to hear actors talking about the start of their careers and how they got their union cards. Most of red carpet interviewers asked that question, and it's fun to watch respected actors pretend they can't remember that they got their cards on a Doritos commercial, or doing some guest spot appearance on some basic-cable soft-porn show. I believe Angie's first movie was Cyborg 2, in case anyone's interested. So she probably got her card by playing a robot. Classic.
Photos are from yesterday's SAG Awards. Credit: PRPhotos