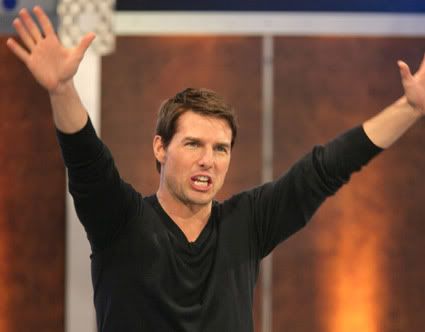 Tom Cruise opens up about his painful childhood in an upcoming interview with Parade magazine. He could not rely on his father, who was unpredictable and abusive:
Tom reveals that his father was also someone he was unable to turn to. "He was a bully and a coward," he says frankly. "He was the person where, if something goes wrong, they kick you."
The headline-making celebrity says the poor treatment actually taught him a lot. "It was a great lesson in my life — how he'd lull you in, make you feel safe and then, bang!" he says. "For me it was like, 'There's something wrong with this guy. Don't trust him. Be careful around him.' There's that anxiety."
Tom said that he felt like an outcast as a child and had "no really close friend." His battle with dyslexia served to further isolate him and was "an absolute affront to my dignity."
We feel sorry for Tom, and have some insight into his character. It's still not a good enough excuse for him to serve as a spokesperson for the cult of Scientology.
Liz Smith points out that it doesn't matter if Tom gets bad press – as long as he continues to get press. Tom made a fool of himself while promoting War of the Worlds on Oprah and The Today Show. War of the Worlds was a big hit though, and Smith predicts MI3 will be, too.
Tom seems to realize this, and has even pledged to go back on the Today Show with Matt Lauer!
Smith also provides insight as to why Cruise would be sharing stories of his dysfunctional childhood at this point in his career:
Could it be Tom actually engineers these little scandals as a way of hyping his films and generating sympathy among his fans? Of course not! But cynics may think so.
Meanwhile press-hungry Tom has confirmed that he plans to marry his pregnant fiance Katie this summer. He may not have have much time to spend with his new bride while he's promoting Mission Impossible 3.