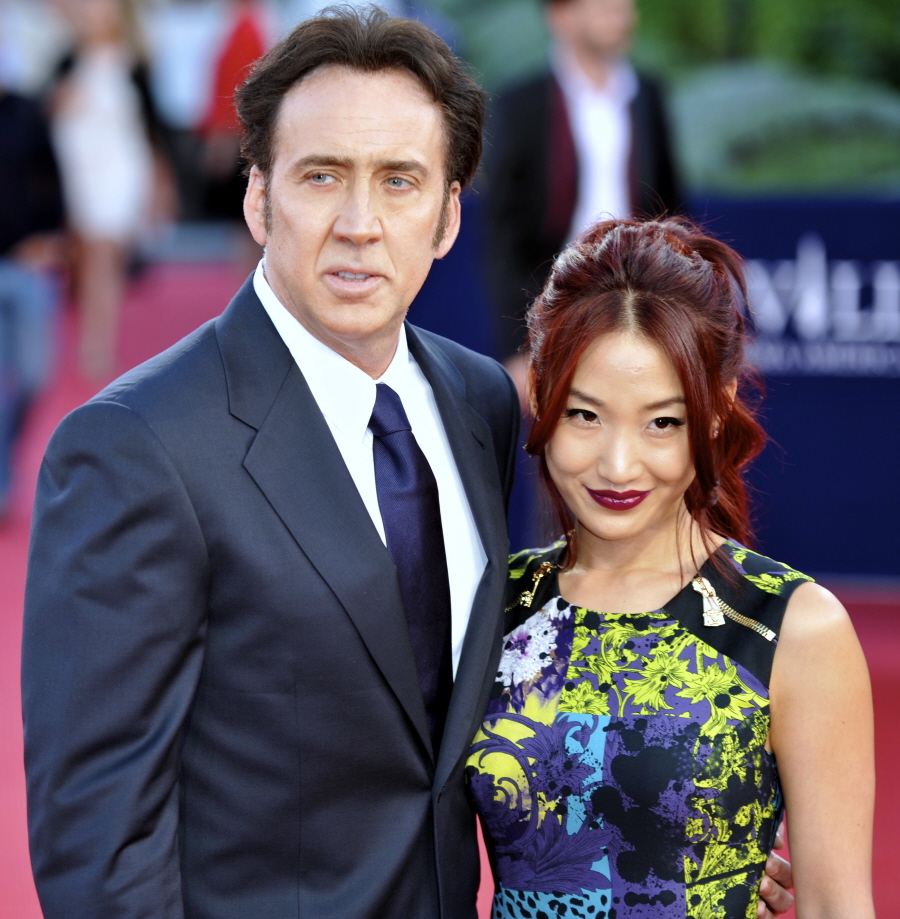 I always forget two things about Nicolas Cage: one, he's still with his wife Alice Kim (even though they had some marriage problems in the past) and two, they have a son together, Kal-El Coppola Cage. For real. Nic Cage named his son Kal-El. Because of course. Anyway, what's important to remember is that Nic is married to a Korean-American lady and their son Kal-El is mixed race. Which means that when Nic was recently in Beijing to do some press for his new film, he answered questions about diversity in Hollywood with a surprising amount of depth and racial transcendence. OMG, I kind of love Nic Cage now. WTF?
Nicolas Cage just wrapped up shooting on location in China for British director Nick Powell's upcoming period drama Outcast, co-starring Hayden Christensen. But before Cage left the country, he gave an interview to Chinese state broadcaster CCTV, in which he reveals a few things about his role in the film, discusses his acting methods and speaks out against the dearth of lead roles offered to male Asian actors in Hollywood.

Answering a question about his experience working with the Chinese crew on Outcast, Cage took the opportunity to briefly turn the interview in a more serious direction.

After praising his female co-star Liu Yifei's performance and saying how much he enjoyed working with the Chinese industry, Cage added: "I hope that we will see more Chinese actors in American cinema too. We do see Gong Li, Zhang Ziyi and Chow Yun Fat, but it's very rare to see the Chinese male actor in Hollywood movies, which is something I take great umbrage with. You know, my son is Asian. He may want to direct one day; he may want to be an actor like his father — and I want that to be open to him. So I want to make some kind of effort to see more of that happen in Hollywood."

Cage's wife Alice Kim is Korean-American. He said their 8-year-old son, Kal-El (named after Superman's birth name on planet Krypton), came along with him to China.

"He was here with me for the first few weeks, but he had to go back to the States to go back to school," he said. "Selfishly, I wanted him to stay with me the whole time, but the teachers said he had to go back to school, so he went home."

Outcast is the first film Cage – whose filmography spans some 75 films – has shot in China. He described the experience as positive and noted that he has "no doubt" China will soon surpass North America to become the world's largest film market, as many analysts have forecasted.
The film is a co-production between China's Yunnan Film Group and U.S.-Australian outfit Arclight Films.

"I do want to come back, and I want to work with a Chinese director and Chinese actors," Cage said. "If there's something that makes sense for a white guy like me, I'd like to do that here in China."

He said he views Tony Leung (In the Mood for Love, Lust, Caution) as one of the world's great actors.

"I would like to make a movie with Tony, but I don't know how to do it," he said. "I want to do it."

Last month Cage attended China's Huading Awards, an awards show that honors talent across all categories of the arts. At the time he told The Hollywood Reporter that he hopes to soon move to Hong Kong.

He reiterated that desire in the CCTV interview, saying, "One of my goals is to have a base near mainland China. I think Hong Kong would be a good match for me. I like being in Hong Kong."

Near the end of the segment, CCTV's anchor gently challenged Cage on his recent filmography, noting that some critics have questioned his choice of projects.

"You can't make your choices based on what critics think. You have to make your choices based on what's honest for you," Cage replied.

He added: "I can't let it bother me. I'm happy. I'm making movies I want to make. Something is working."
Right? Nic comes across as a nice, decent guy here. I do wonder about his insistence on moving to Hong Kong though… it feels sort of like a complicated tax dodge? The IRS knows where Nicolas Cage lives, so maybe he is thinking of setting up a homebase outside of the US. I hear Ireland is the newest corporate tax dodger haven, but I'm not sure if it's the same deal for individuals. As for Nic's love of Tony Leung… well, I mean, who doesn't love Tony Leung? And of course it goes without saying that Nic is dead-right about the lack of substantive parts for Asian and Asian-American actors in Hollywood.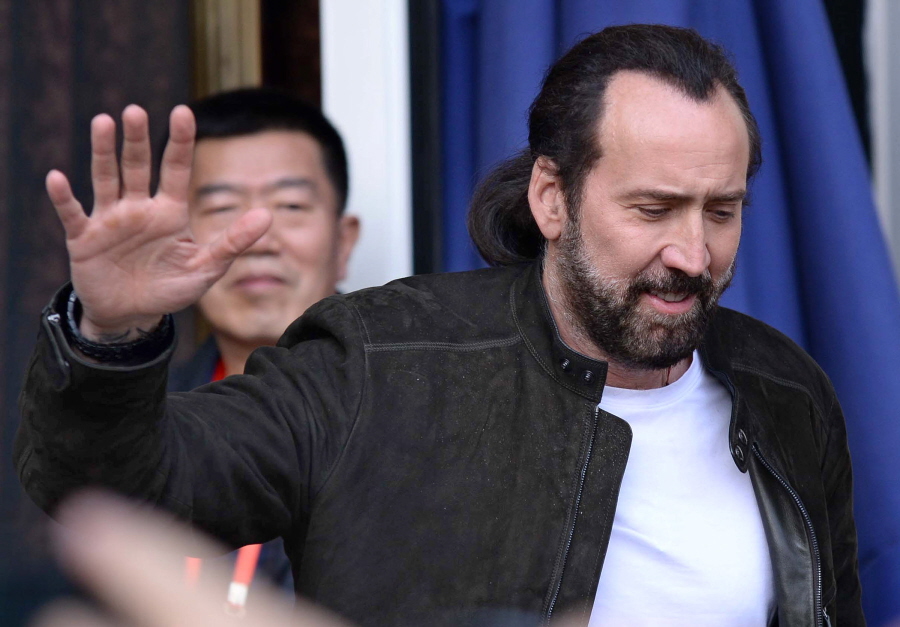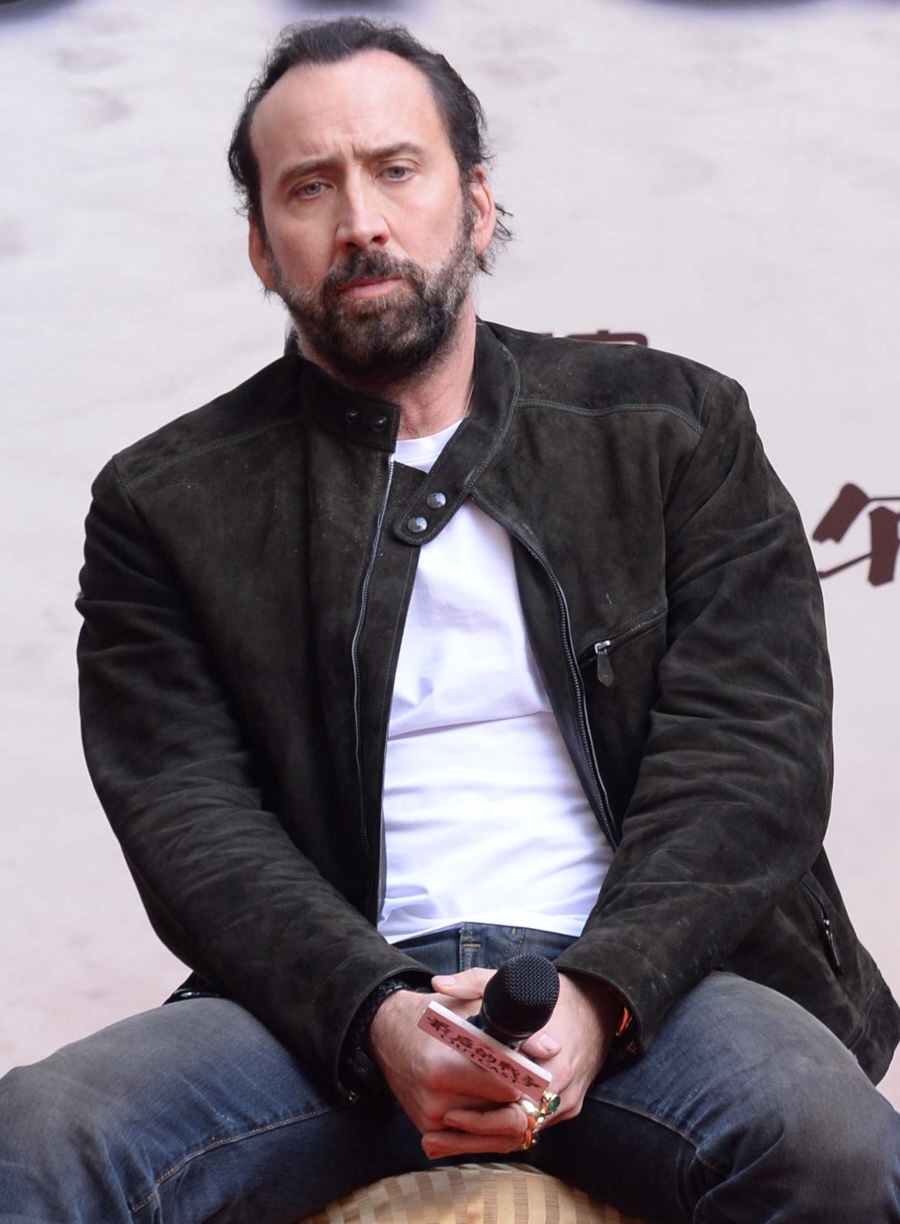 Photos courtesy of WENN, Fame/Flynet.