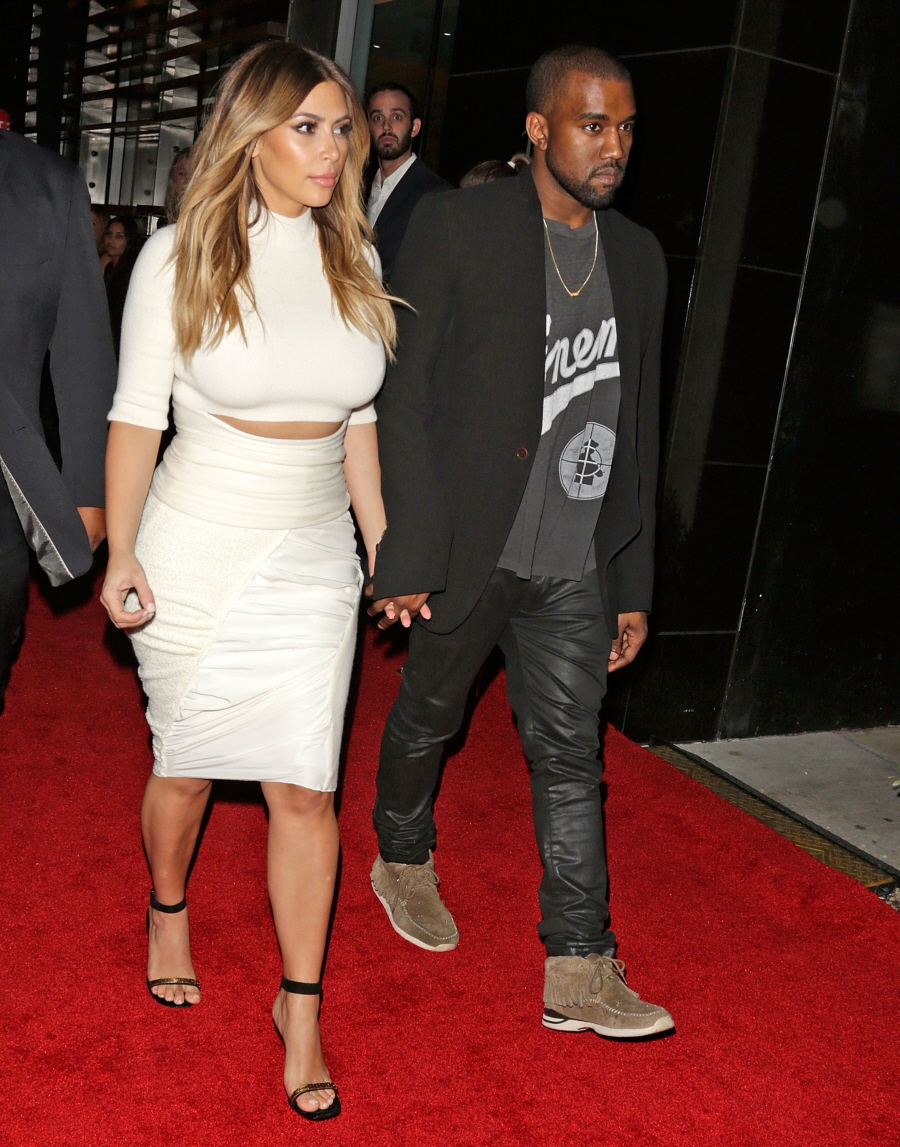 Here are some new photos of Kanye West and Kim Kardashian at "Gelila & Wolfgang Puck's Dream for Future Africa Foundation honoring Vogue Italia Editor-In-Chief Franca Sozzani at Spago Beverly Hills" according to WENN, plus some bonus pics of Kanye in LA yesterday (in the leather pants and flannel, photos in the gallery). So grumpy. If you didn't want the attention, why did you propose to your reality star girlfriend, Yeezus? As for Kim… I'm actually surprised by her slender legs. Remember how big her legs and ankles were during the pregnancy? She lost so much weight very quickly. That being said, this outfit is the opposite of flattering. I'm sure Kanye picked it out.
Yeezus has been doing press for his album and his upcoming tour, and he ended up giving some very interesting quotes about Kim and their relationship in a recent radio interview:
'I have never loved any girl, other than my mother, as much as I love my girlfriend,' he said of Kim, 33, during an interview on Monday with San Francisco radio station KMEL.

Kanye's mother died in 2007 due to plastic surgery complications. The hosts Sana and Kimmie also asked the rapper whether he was going to marry Kim – mere hours before he proposed – but he dodged the question.

'I just feel so blessed,' before adding, 'I'm not answering those questions.'

Kanye also revealed he is in it with Kim for the long haul – the very long haul.

'I'm so happy to be with her, to live this life together, and – with our relationship with God – to be able to live forever in heaven together, and also to raise a strong family that communicates truth and beauty.'

He also had nothing but praise for his new fiancée, who is the mother of his four-month-old daughter North.

'This girl is one of the No. 1 designers in the world. I don't know exactly what her numbers are, but Sears does something like 300, 400 million a year,' he said. 'She's been spending her whole check on clothes since she was 16, just like me.'

And showing his signature lack of modesty, Kanye also boasted that he and Kim were the biggest power couple of them all.

'That's the reason why both of us are the most influential,' he continued. 'I think me and my girl are extremely influential… Nah, me and my girl are the most influential.'

He went so far as to liken Kim to music mogul Jay Z.

'One of the reasons I did Watch the Throne with Jay wasn't just to do a dope album, which we did. It was because Jay Z has the best social skills of anyone that I knew at that time,' he said.

'And I wanted to learn from him. I wanted to learn how to move in a room full of vultures… just to knock the edge off and learn from Jay. And God has now given me another master of the social skills, my girl. She's like the No. 1 socialite in the world.'
Do you hate-respect the way Kanye defends his lady? It's a stretch to find something to praise about Kim, so I guess we're going with her Sears clothing line (300 million? Not really) and Kim being "the number one socialite in the world." I feel like Kanye thinks he deserves the best. The best ride, the best clothes, the best music, the best food. And he's got to make Kim be "the best" at something, so he sets the bar pretty low. As for their relationship with God… well, I imagine Lucifer's Homegirl will have something to say about that. Someone, somewhere made some kind of Faustian bargain in regards to this family, so let's just see what happens when Lucifer comes a calling.
Also – there are some reports that Kim wants to take Kanye's name. As in, she wants to be Kim West? That will really mess up her branding, right?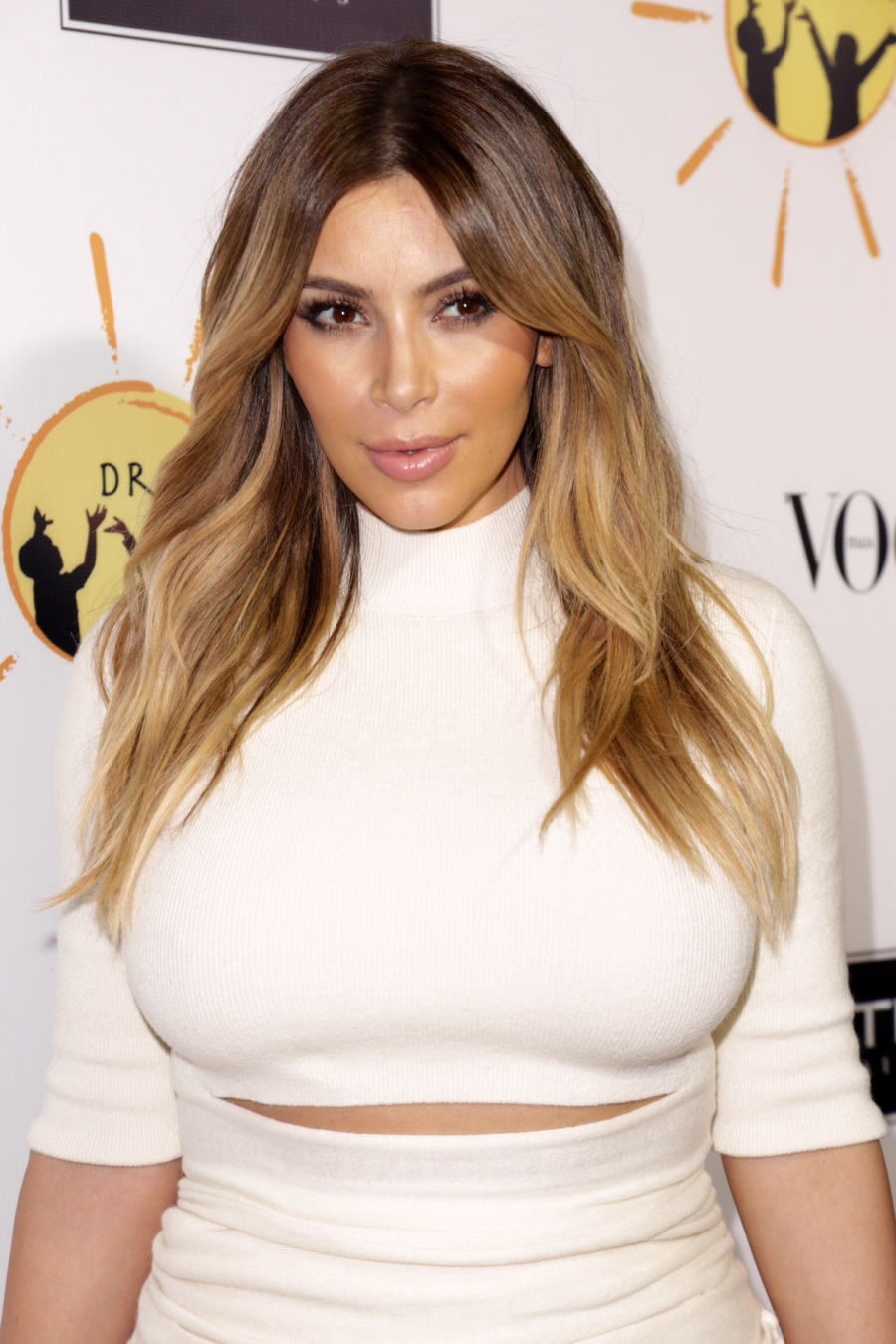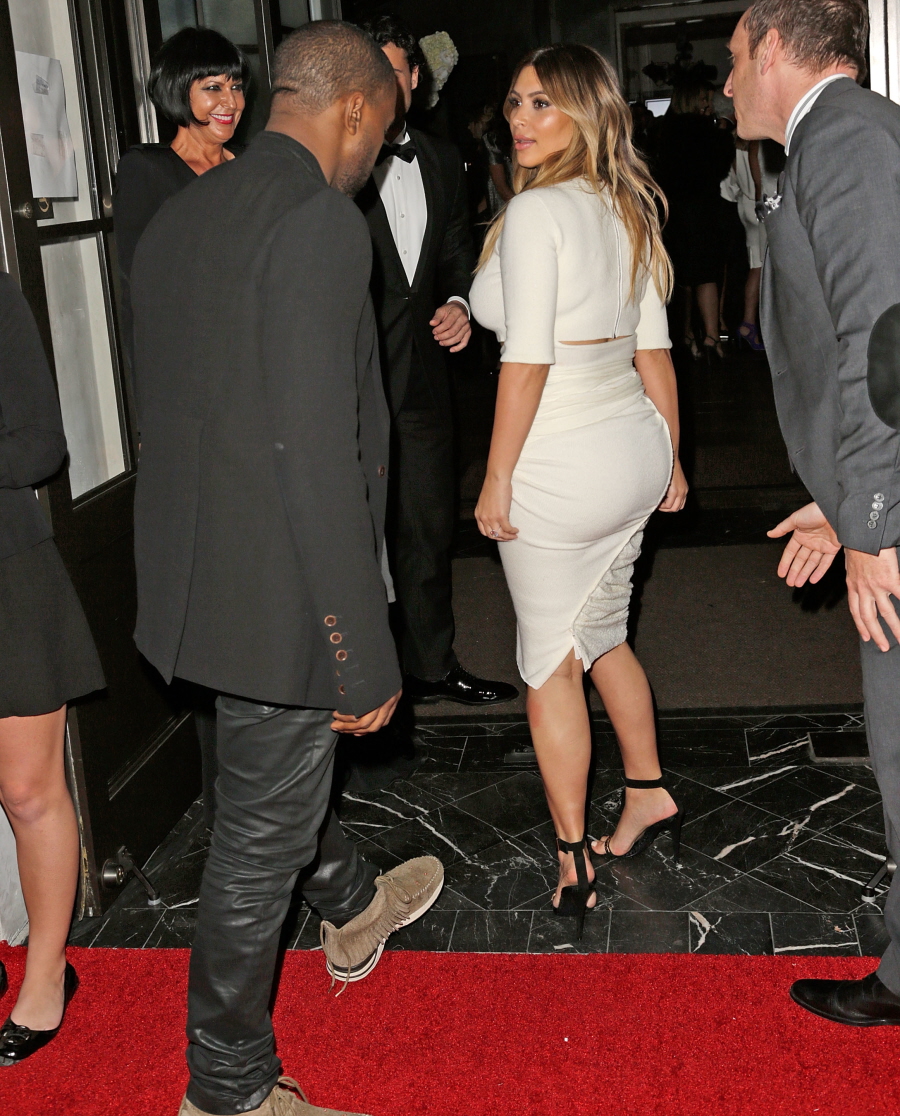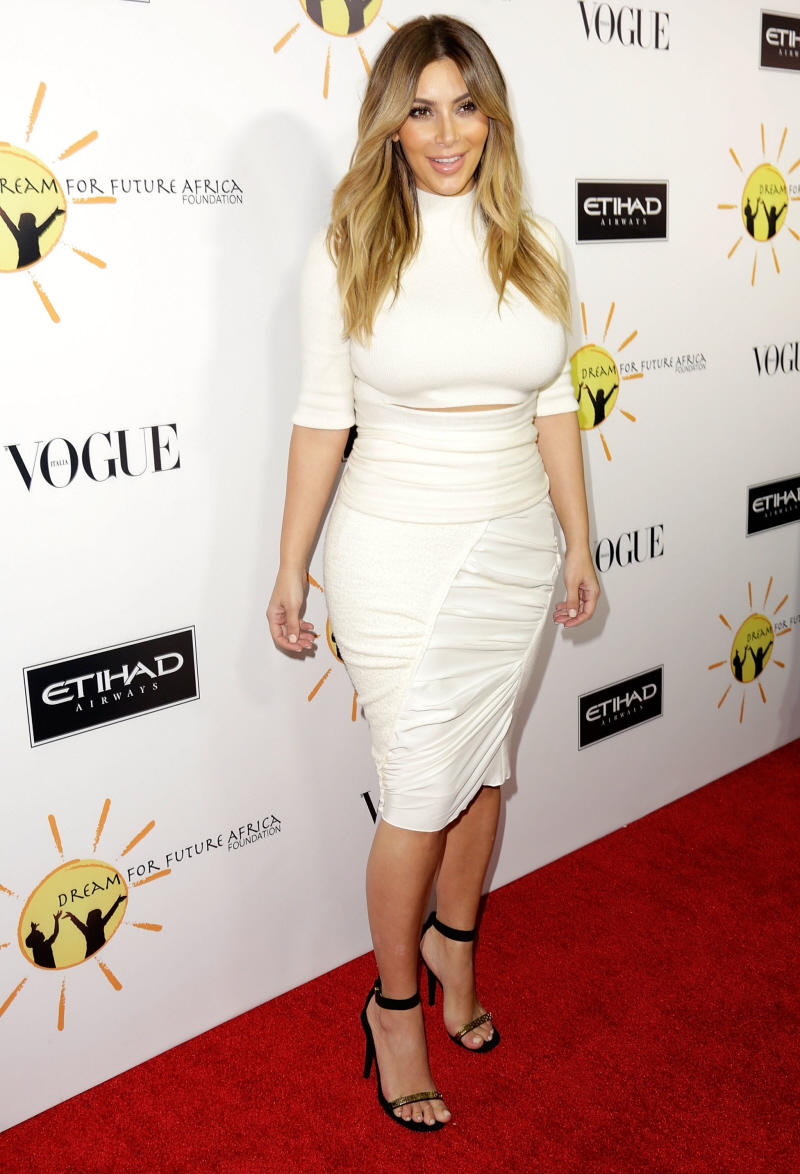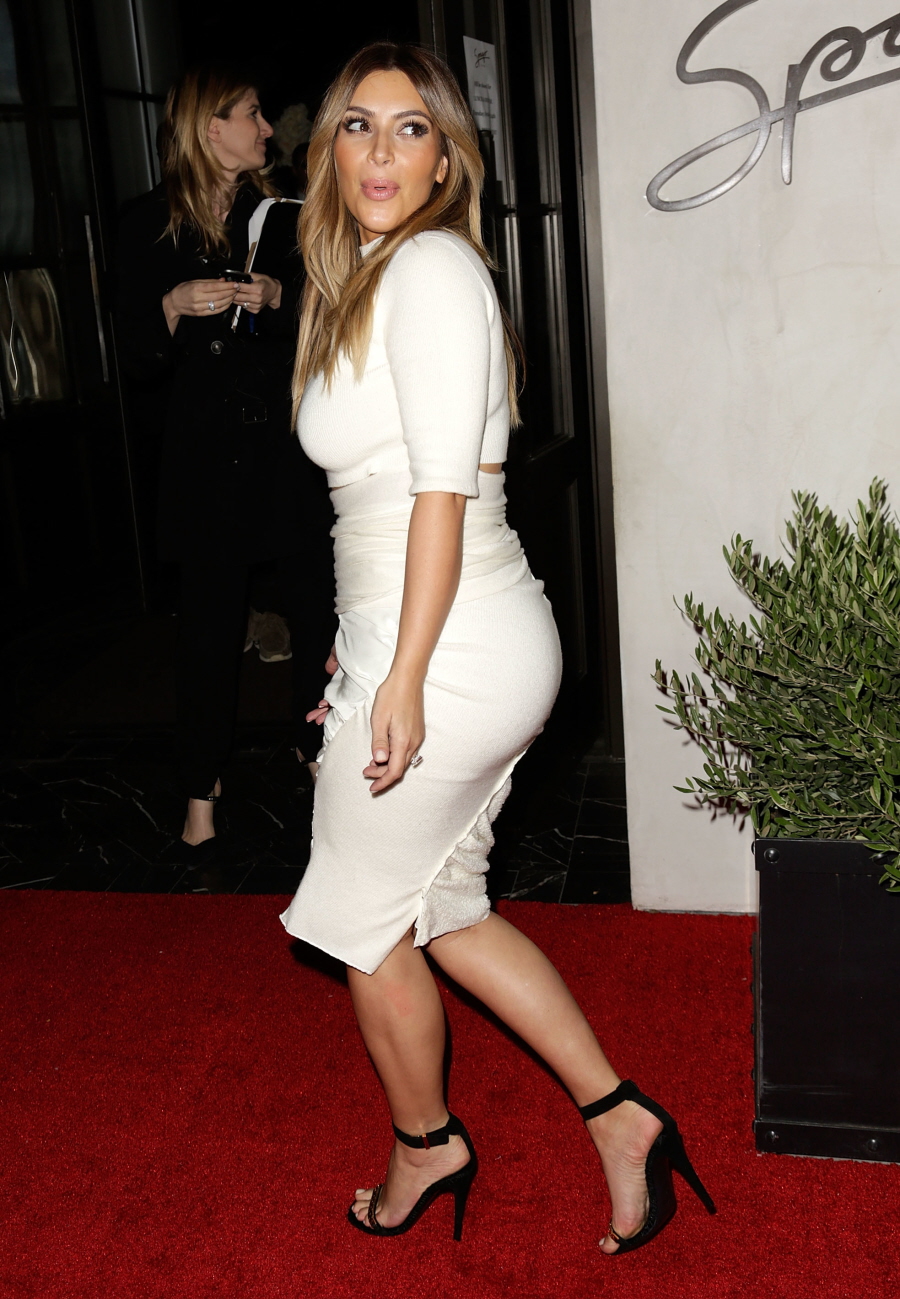 Photos courtesy of WENN, Fame/Flynet.