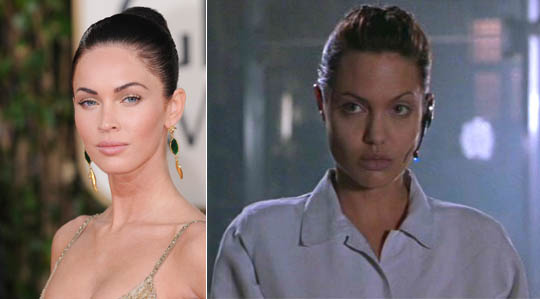 British tabloids are reporting that action heroine Lara Croft is about to get her third film. The first two Lara Croft films starred Angelina Jolie, but Jolie is reportedly not being considered for the latest installment. Instead, producers are looking at Jolie-look-alike Megan Fox. Even though it's not being reported, I remember Angelina saying several years ago that she had no interest in returning to the Lara Croft character, though I can't find the quote now. Instead, the tabloids are making it sound as if Angelina 1.0 is being replaced against her will by Angelina 2.0. UK's Metro has more details.
Megan Fox is being considered to take over the Tomb Raider franchise from Angelina Jolie, according to new rumours. Insiders have claimed that the stunning brunette is a "strong candidate" for the role of the sexy action heroine.

The two Tomb Raider films were panned but both were solid moneymakers, which could explain why Paramount are keen to make a third one. Jolie played an English archaeologist in search of ancient treasures – kind of like a female Indiana Jones.

The first film Lara Croft: Tomb Raider debuted at number one with $48.2 million in 2001 and is the most successful video game adaptation to date, grossing $300 million worldwide.

The sequel Lara Croft Tomb Raider: The Cradle of Life didn't fare as well but made a decent profit internationally. Jolie was awarded a Golden Raspberry Award for Worst Actress for her performance in the films and critics queued up to savage her acting.

Brian Mckay from eFilmCritic.com said: "Like her gaming counterpart, she's all pretty eye candy without much of a soul or even an interesting personality."

There's been no official word yet from the studio on the possibility of another film based on the video popular game series.

Fox, 22, has already proved her action credentials in the live-action adaptation of Transformers. She will also be appearing in the sequel, which is released in the UK on June 26.
From Metro-UK
I'll probably get in trouble with film aficionados, but I really enjoyed both Tomb Raider films. They're fun, silly and the action sequences are half-decent. Plus, it's always a bonus when a woman is helming the multi-million dollar action film, rather than some grunting man with a sidekick damsel in distress who just runs around, begging to be rescued. La Jolie pulled off her task as Lara Croft with aplomb, but I doubt Megan Fox will be able to do the same. She just doesn't have Angelina's… well, anything. Fox is pretty enough, but we've already seen the original.