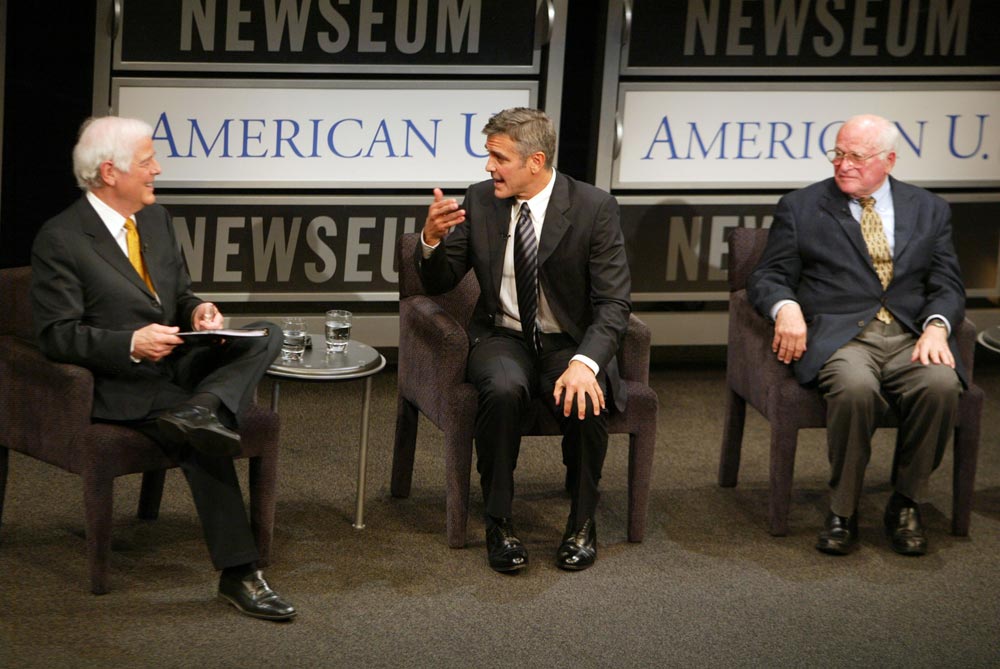 You can't deny that George Clooney adores – nay, worships – his father. Nick Clooney is a former Ohio television journalist and current TCM host/film archivist/activist. Nick is part of the Reel Journalism program, which aims to expose students and regular people to the myriad ways journalism and journalists are shown on film. Of course, George Clooney's Good Night and Good Luck was an obvious choice, and George joined his father on the stage to introduce the film.
As People reports, the two engaged in some witty banter, some of which is lost on me. George keeps on making jokes about how he's looking for a new daddy. At least, I think that's the gist of it. You decide:
George Clooney has made an offer few can refuse: He has placed himself up for adoption.

"I always wanted to be adopted, but I couldn't find anyone," said the star, speaking at a Newseum event in Washington, D.C., with his father, former Ohio news anchor Nick Clooney, and veteran journalist Bill Small on either side of him.

"Will you adopt me?" George said to Small. "I'm very wealthy. I'll take care of you."

Talk of adoption started after Nick Clooney's observation that his son's 2005 film, Good Night, and Good Luck, about iconic CBS newsman Edward R. Murrow, is now being shown in journalism schools across the country.

"This film has legs," said the elder Clooney, who then asked his son for his opinion.

"I don't care for that," said the jocular George – prompting Nick to respond: "I never cared for this kid – his sister's great."

Walking off stage before the screening of Good Night, and Good Luck – as part of his father's Reel Journalism film program – Clooney, 47, then quipped that his father, 75, was an old man who needed a walker.

"You aren't my walker," Nick Clooney shot back. "But you are my retirement plan."

From the wings: "I was," George said. "I was."

After the movie, the Regis and Kelly-like banter continued. When George said that they made the movie for $6.5 million, his dad asked where the money goes. "Right to me," George said. "We shoot for $500,000, then I take $6 million …"

Nick Clooney then asked where that money goes. "To my new dad," George said. But Small turned down George's invitation. "I was hoping [billionaire entrepreneur] Mark Cuban would make an offer," Small said.

Looking stunned, George said, "Wow. I got a dump like that."
From People magazine
What's that again? Is that last one an insult to Mark Cuban or to his father? I couldn't tell. But this sounds like a really good program, there are lots of great films associated with journalism and journalists, and Good Night and Good Luck is one of them. However, whenever I hear the title, I always think of Jon Stewart's joke about it at the Oscars: "Good Night and Good Luck isn't just a movie, it's how George Clooney ends every date."
Nick Clooney, George Clooney and Bill Small are shown at the American University School of Communication on 1/26/09. There's also another photo of Clooney's father Nick from 2007. Credit: WENN.