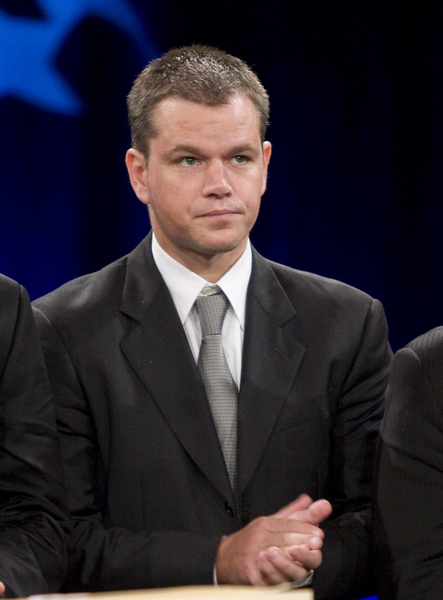 Last September, Matt Damon caused some controversy with statements in an AP interview in which he called Vice Presidential Republican candidate Sarah Palin "absurd… like a bad Disney movie." Many people thought that Damon was being disrespectful at the time, although after Palin's interviews with Katie Couric and Brian Williams came out there were more that agreed with him.
Damon, 38, gave an interview to his local newspaper the Miami Herald in which he typically strongly asserted his opinion on several topics. Damon is the star of the successful Bourne franchise, and had some choice words for his competition, James Bond:
"They could never make a James Bond movie like any of the Bourne films," Damon says scornfully. "Because Bond is an imperialist, misogynist sociopath who goes around bedding women and swilling martinis and killing people. He's repulsive.

"Steve [Soderbergh, who produced yet another of Damon's spy movies, Syriana] told me that years ago he was offered a Bond movie. He told them he'd do it if they gave him creative control. Absolutely not, they said. They have a formula, they stick to it, and it makes them a lot of money. They know what they're doing, and they're going to keep doing it."
[From The Miami Herald via The Huffington Post]
I never really thought of the differences between Bond and Bourne because they're both high-energy entertaining action movies to me. Bourne does have more of a connection to the deaths, though, and I remember Clive Owen's character's death in the first film as feeling particularly human and a little sad. There's usually some emotion and meaning attached to deaths in the Bourne films and they're not as slick or glossed over as the Bond series. In that respect you can see how Bond could be considered a sociopath. Bond is an old franchise and in a way is still stuck in old ways of thinking despite their successful efforts to revive it. Bourne doesn't seem to kill without reason and he had a steady girlfriend for the first two films. To many movie-goers, these films are violent action movies and you don't really consider the morality of the protagonists, you just root for Bond and Bourne while they do what they have to do.
In that same interview, Damon also called conservative NY Times columnist William Kristol an "idiot" and seemed to say that torture was warranted when civilian lives are at stake:
Instead, the small talk — if that's the right phrase — ranged from which New York Times columnist is the worst (conservative William Kristol, according to Damon: "He's an idiot — he wrote that we should be grateful to George Bush because he won the Iraq war. We! Won! The! War!") to the proper place of torture in American foreign policy.

"Look, the best line about torture I've heard came from [retired CIA officer turned war-on-terrorism critic] Milt Beardon," Damon says. "He said, `If a guy knows where a dirty bomb is hidden that's going to go off in a Marriott, put me in a room with him and I'll find out. But don't codify that. Just let me break the law.'

"Which I think is right. You can't legalize torture. But anybody would do it in that situation. You'd do it to me in that situation; you'd pull out my fingernails if you thought I knew something like that."
[From The Miami Herald]
Damon might want to temper his arguments if he doesn't want to alienate people, but he doesn't seem to particularly care. If this is how the guy is talking at 38, he's sure going to be a cantankerous old dude.
Damon also told a story about how he tried to score tickets to the inauguration after campaigning for Barack Obama and was informed that bleacher seats would run him $25,000 a piece. This is similar to something Scarlett Johansson said on The Tonight Show about how she would probably have to donate $50k if she wanted to attend the inauguration.
Matt Damon is shown at the Clinton Global Initiative on 9/26/08. Credit: PRPhotos