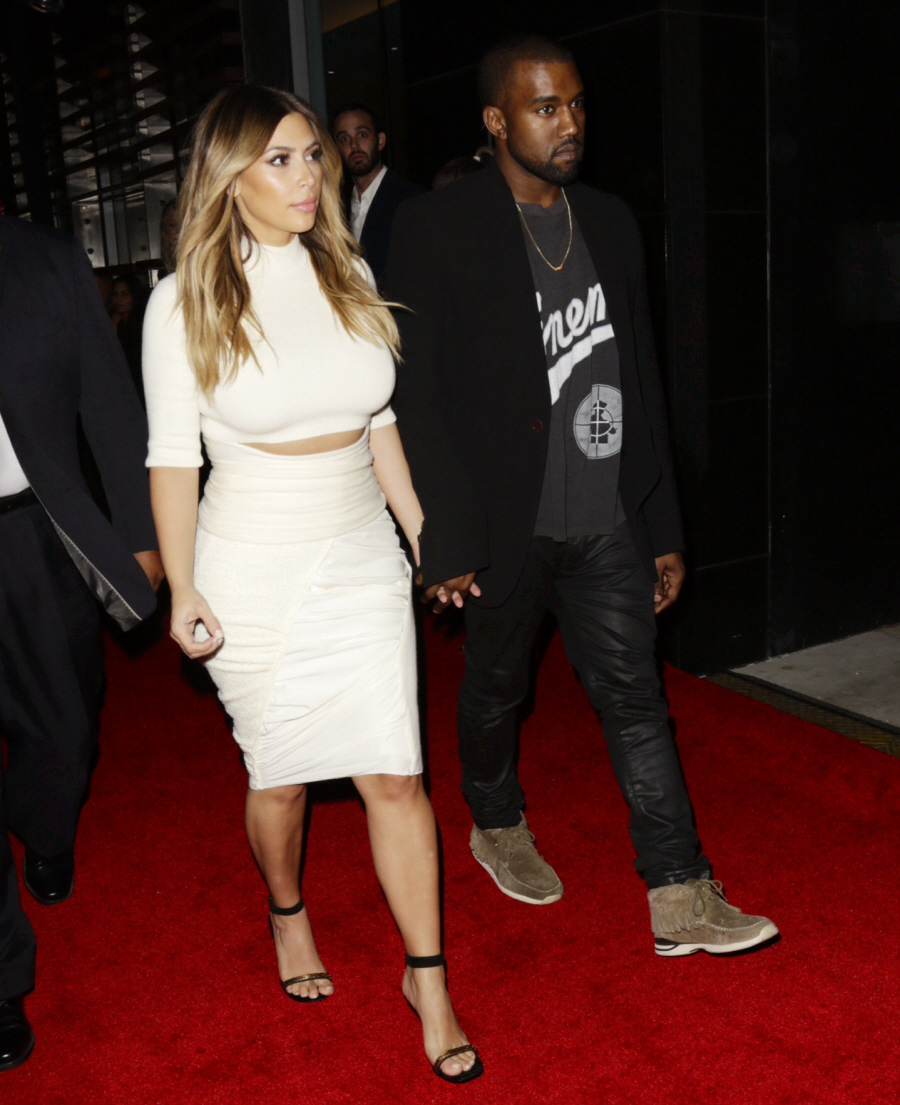 Yeezus will not stop talking. I'm being completely serious. I saw one story about Kanye West yesterday and I put it aside, thinking, "Oh, maybe I'll write about that tomorrow." Since then, about a million new Kanye stories have come out. I guess he's giving so many interviews to promote his Yeezus tour? Probably. But he ends up talking about Kim and their engagement and their wedding plans, to the point where it's like Kanye is the blushing bride who is just so excited to plan his dream wedding. It's kind of endearing. Kim is not going to have any say in her wedding, but maybe that's for the best, y'all. Don't you want to see what Kanye can come up with when left to his own devices? The bride will moonwalk down the aisle to "Blood on the Leaves" and Kanye will be wearing a Chanel kilt. COME ON. Now you want to see it. Anyway, here are some highlights from THE FULL YEEZUS:
His epic proposal: "I just thought of it. It seemed so all-American. I just love being American, you know, and I love you know, family … I feel so blessed. I feel God gave me exactly what I wanted, I have to do the right thing in God's eyes. Just follow what God really wants me to do it will come tenfold by doing the right thing."

He's a family man now: "I hang out with my girl and my daughter every day. No place I'd rather be. Not even when I'm thinking about things I'm creating in business, my biggest goal is to get home to family."

He wants to coach North's soccer games: "I want to figure out a way to do my work and be my daughter's soccer coach. I'm going to be a soccer coach and redesign their uniforms. I'll redesign the minivan," he said.

He says the wedding will be next summer: "Two words… Fighter jets."

More on the proposal: "I gotta apologize to the race of males for turning it up so much… I was nervous a little bit. But more about everything being on cue. They didn't have the lights exactly how I wanted them to be," he added, noting that he and the technician he'd hired had argued over how "romantic" the ambience should be.

Getting the ring right: "[Kim] knew I was eventually going to ask her to marry me. I just had to get that ring right. I worked with four different jewelers. Three rings were made and only one actually hit the finger…I actually changed the ring the night before. That ring was less than four hours old when I gave it to her."

He always knew Kim was The One: "I just knew I wanted her to be my girl for a long time. I remember I saw a picture of her and Paris Hilton … and I remember telling my boy … 'Have you seen that girl Kim Kar-dijon?' I wanted to marry that girl from the first time I saw her. I just had to wait through a bunch of relationships to finally get my chance…It's just patience. You know with certain things, you're like, 'Yo, this is what's right for me, and this is what I should be doing.' And you gotta be patient."

He still wants her to have a star on the Walk of Fame: "It's not the walk of singing … it's the Walk of Fame," he said, noting Hollywood's elitist use of "classism… We have our cool table … and there's no way Kim Kardashian shouldn't be on the cover of Vogue. Michelle Obama cannot Instagram a [bikini] pic like what my girl Instagrammed the other day."

On Kim: "It's an unfair level of awesomeness in one person to be that smart, to be that nice to be … blatantly fine as hell. Like, one of the most beautiful people of all time. She's not hard to wake up to."
[From Us Weekly, People Mag]
We can all laugh and form our eloborate conspiracy theories about the state of Yeezus, but just at face-value… this sounds like a man in love. Kanye loves his Perfect Bitch. He really does think she's perfect too. He thinks the sun shines out of that ass. It's sort of sweet. I mean, of course it's going to go to hell and it will be absolutely crazy when it does go to hell, but until then… let's just let him be in love.
Also – when asked about his wedding plans, Kanye mentioned, "I'd like to get the people who do the Chanel shows." I LOVE YOU YEEZUS. He's going to get the Chanel runway organizers to do his wedding? Never change, Kanye. Last thing: Kanye confirmed that Kim will change her name to Kim West when they're married. Lucifer's Homegirl will not be pleased.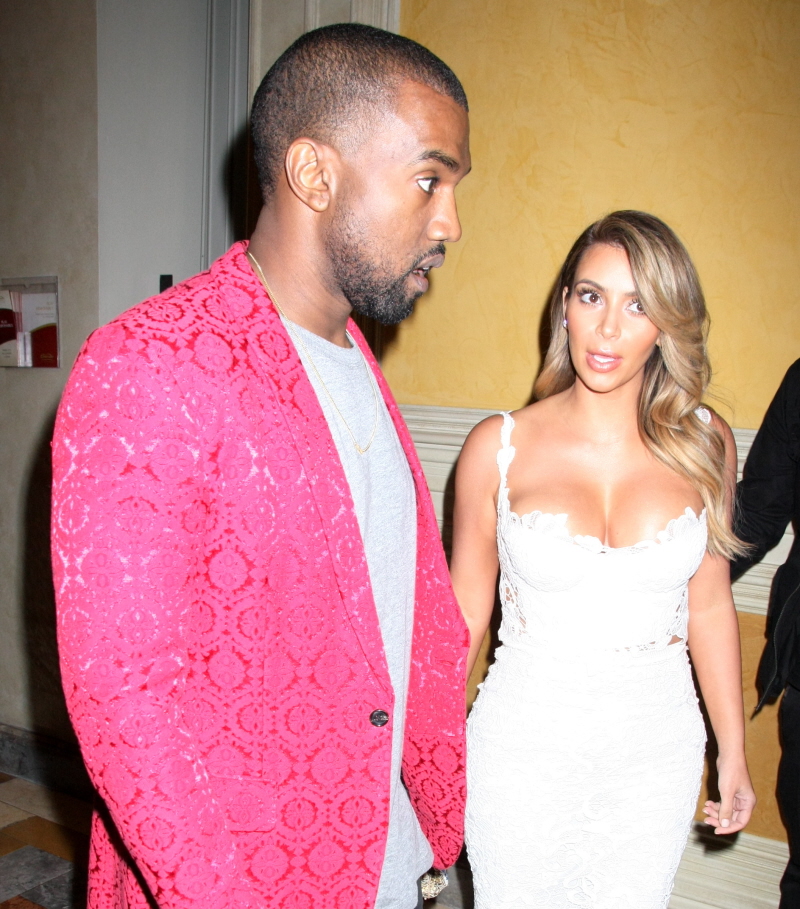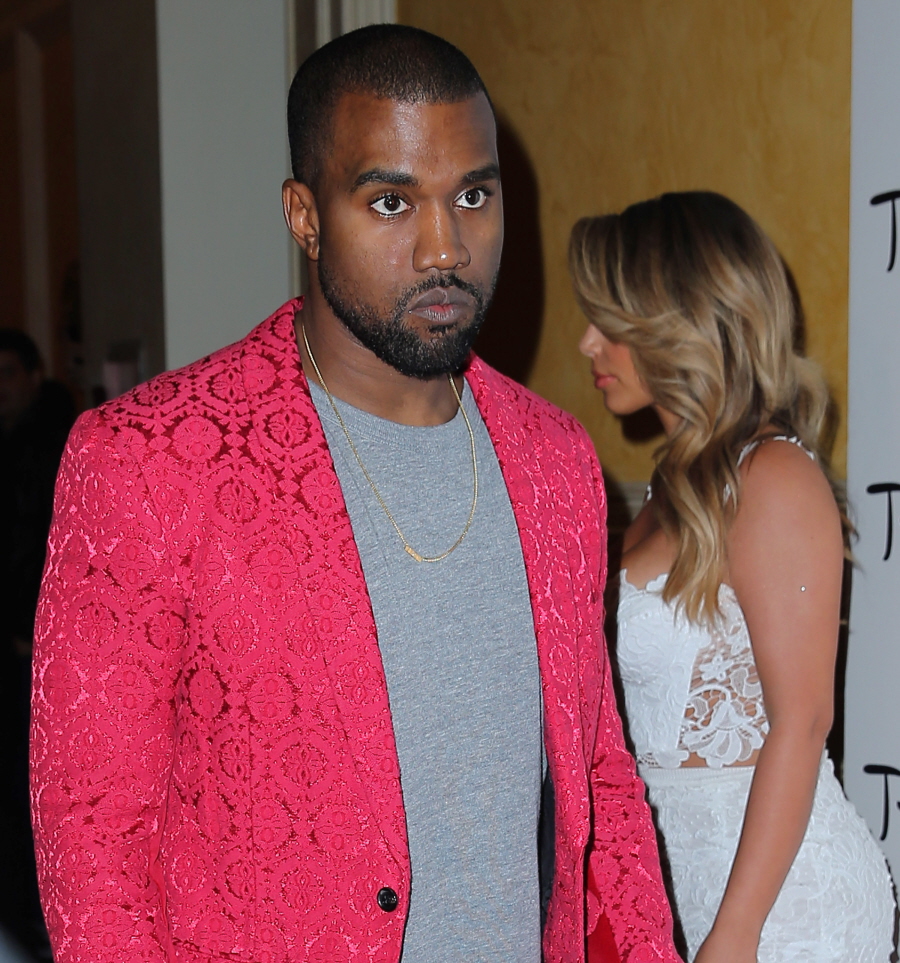 Photos courtesy of WENN.