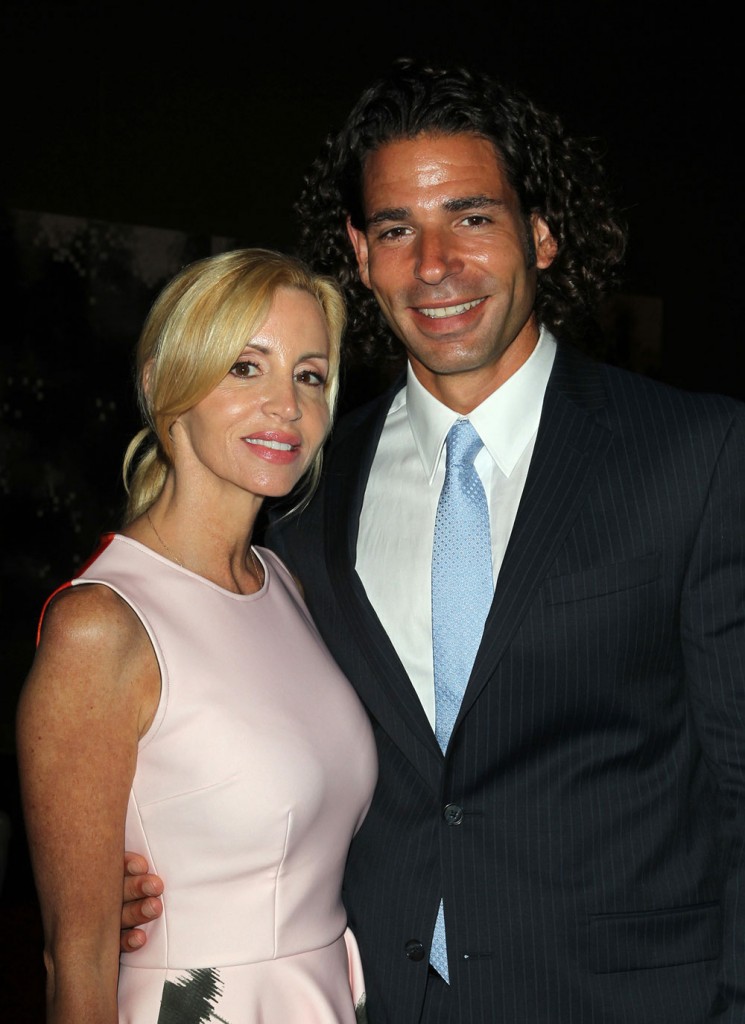 When domestic violence happens to a celebrity, as in the case of Rihanna and now Camille Grammer, it brings it home how prevalent and how serious it is, especially when there are shocking photos that show the extent of the abuse.
On Monday, Camille Grammer sent out tweets that hinted that she was physically abused, most likely by her longterm boyfriend, although she didn't name names at first. CDAN went through Grammer's tweets, and the way they interpreted it, she wanted to share her horrific experience, but she needed to be coaxed to do it.
The story is that Camille had surgery for early stage endometrial cancer two weeks ago. She had a hysterectomy, which is major surgery, not laparoscopic. About two days later, while she was recovering in a hotel room in Houston, her boyfriend Dimitri Charalambopoulos beat her up. Radar has photos, and they show Camille's battered face, her broken iPhone, and a clump of hair torn from her head in the struggle. Warning on those photos, but if you want to see them, go to the Camille Grammer category on Radar Online. (For some reason the direct link they give to the photos just redirects to their homepage.)
Camille has since sought and received a restraining order against Dimitri. In her court declaration, which Radar has in its entirety, Camille says that the fight started when she questioned Dimitri about a text message he received at 1:30 in the morning from another woman. That doesn't matter, because there's no excuse in the world for what happened next. Camille states that in an attack which lasted between 40 minutes to an hour, Dimitri repeatedly bashed her head into the bed's headboard, pinched her nose shut, pinned her down by sitting on her (remember she just had surgery) and threatened her. He then destroyed all her phones and told her that he would "knock her out" if she left the room after he did.
About three minutes after Dimitri left, Camille went down to the hotel lobby to seek help and contact the police. The police came and took a statement. After that, she returned to her surgeon at the hospital to get an emergency examination to check for internal bleeding, particularly to her surgical site.
This makes me wonder how long this has been happening to Camille. She's been with Dimitri for about two years. Were there signs and did he use physical intimidation for a while before he attacked her so horribly? ("Allegedly") I was reviewing old stories to see when they first started dating, and in early 2012 Camille called Dimitri "a wonderful boyfriend who is kind and even tempered." Sometimes people turn on a dime. I hope Camille is ok and that she has friends and family around her. Radar claims she's hired 24/7 bodyguards to protect her from Dimitri.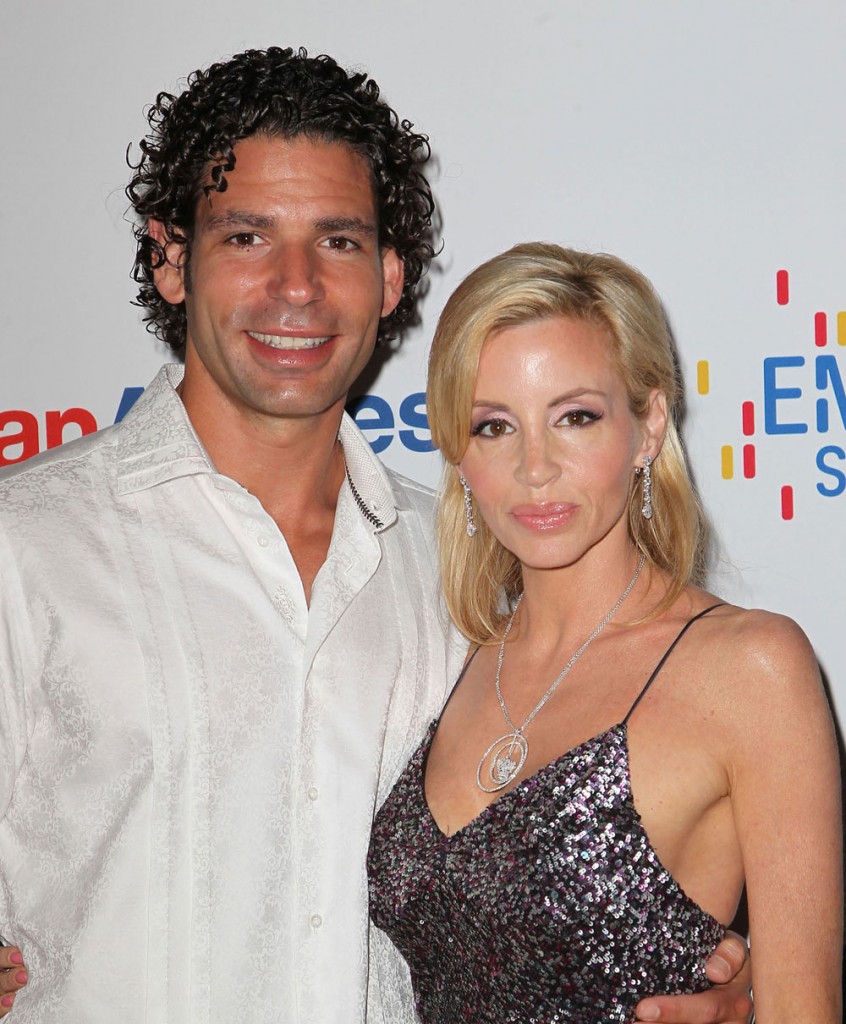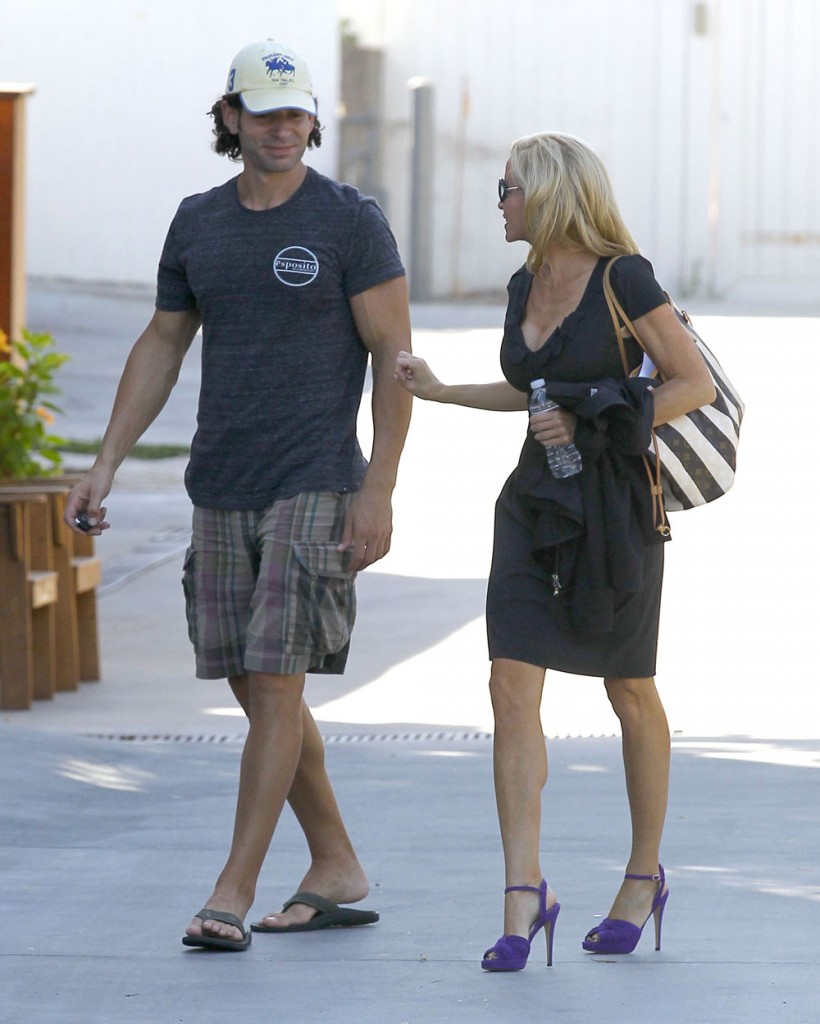 Camille and Dimitri are shown above on 9-20-13. They're also shown at evens in May, 2012 and in candids in September and October, 2012. Credit: WENN.com and FameFlynet