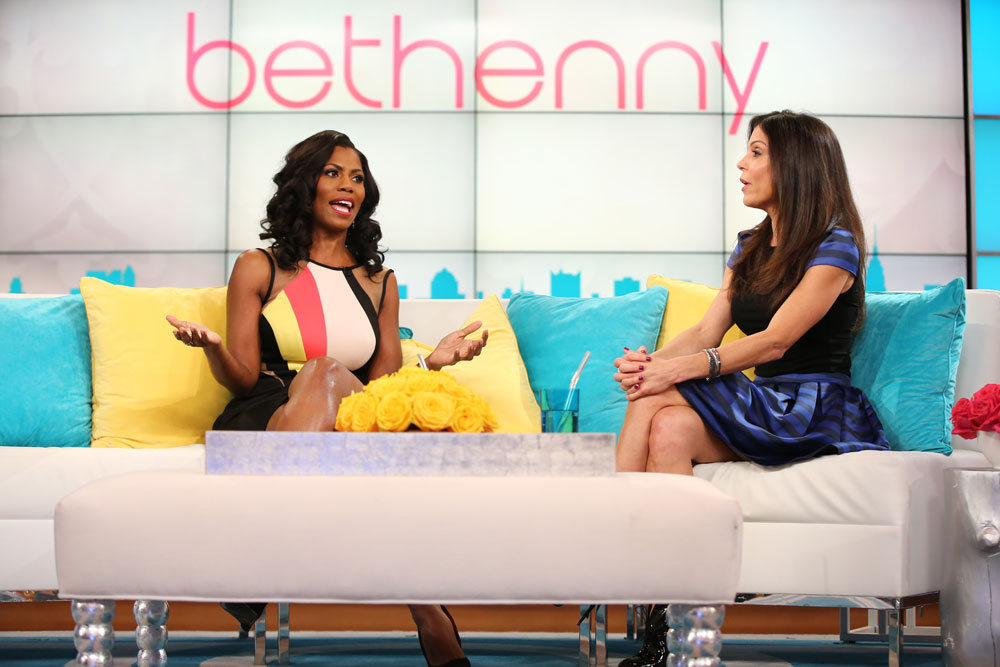 Bethenny Frankel is desperate for ratings. Her show is tanking, and she's trying to drum up controversy. I guess that means I should ignore her, but she's like a train wreck of Disney villains. You want to look, and you get a perverse pleasure out of looking. Earlier this week, Bethenny had on adult film star and Teen Mom Farrah Abraham. Farrah of course later trashed Bethenny and complained bitterly about being asked questions regarding her current career choices.
On yesterday's show, Bethenny had on her rival, fellow reality show staple Omarosa Manigault-Stallworth. Omarosa went off on a tirade about her career and her religion or something. I don't really know what she was talking about except that she was trying to grandstand and Bethenny was hating it.
When Omarosa Manigault appeared on her archrival Bethenny Frankel's talk show on Wednesday, confrontation was expected – and viewers weren't disappointed.

The pair – who've been feuding for more than three years since Frankel dismissed The Apprentice star as nothing more than a reality TV villain – didn't hold back. In the segment, Manigault suggested that the reason why Frankel had been successful was because she was white.

"It's different for you and I," she told the talk show host. "I am an African-American woman. You get to walk around and be mediocre and you still get rewarded with things. We have to be exceptional to get anything in this business."

But the 39-year-old quickly backtracked, pointing out that clearly Frankel was doing well because she had her own talk show, which prompted Frankel to say that Manigault was now $10,000 richer thanks to her appearance fee.

Manigault then explained that she was just as successful as Frankel – saying that she had her own brand.

"I don't think you have a brand," Frankel said.

"You make cupcakes, I worked in the White House," Omarosa snapped back. "Get a grip."

She then tried to explain what her brand is. "I am a smart businesswoman who celebrates being smart and there is a brand in being smart," she said.

"Your brand is smart?" Frankel queried. "That's in your business plan?"

"Absolutely," Omarosa replied. "I have an accomplished career. I teach young people … I hope they don't get discouraged from watching two women who have an opportunity to put things behind us. We have a chance to turn this thing around."

To which Frankel replied: "No, we don't."

Frankel then took to Twitter to share her feelings about the interview. "I haven't experienced anything like it since Real Housewives," she Tweeted, later explaining why she invited Omarosa on the show: "I like talking to controversial people. I'm intrigued by human behavior. More interesting than 'celeb gossip.'
Here's the thing. While producers may have told Omarosa to be confrontational with Bethenny, that's Omarosa's default setting. Omarosa is popular on reality TV because she plays a nasty person who takes offense at every perceived slight. I'm basing my opinion on her first-ever reality show gig on The Apprentice, I watched that season in 2004. She was a piece of work before she had a chance to hone her reality show personality. That's probably just how she's always been. So Omarosa being rude and grandstanding with Bethenny isn't so far from the truth.
Radar is questioning whether thos whole thing was staged for ratings, and I believe it could have been, but I also think that Bethenny was taking it personally regardless. In the video clip of the show below, Bethenny's eyes get all narrow like she's mentally stabbing Omarosa in the throat. While Omarosa is blabbing on about her brand and using her religion as an appeal to authority, you can see Bethenny struggling with homicidal urges before she tells Omarosa she's full of it.
Bethenny's brand is being controversial in a way that's much sneakier than Omarosa, and she plays it much more subtly. She doesn't like competition, either, hence all these desperate bids for publicity.
Here's the video clip of Omarosa insulting Bethenny and Bethenny trying to call her out on her BS. The $10,000 reference is about a bet Bethenny made with Omarosa about whether or not Bethenny made a specific rude comment to Omarosa on their joint Celebrity Apprentice season. It turns out Omarosa was right and Bethenny said that (I can't figure out what it was and there's no way I'm watching more than this clip to find out.) Omarosa is now complaining to media outlets that Bethenny hasn't yet paid up.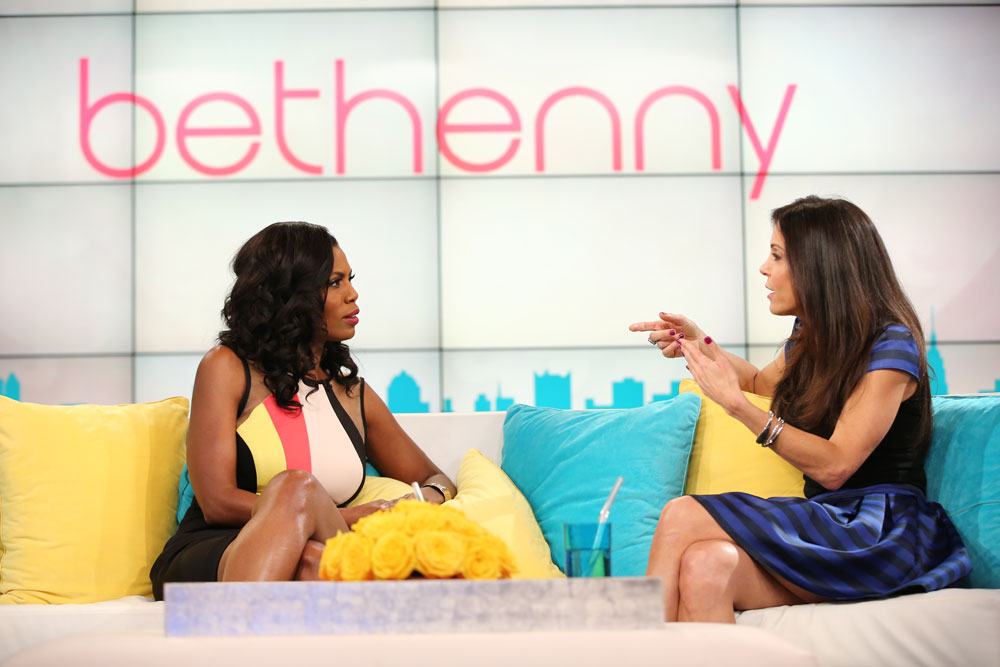 Here are photos of Bethenny Frankel's two Halloween costumes. Ummm… maybe she did it for her daughter?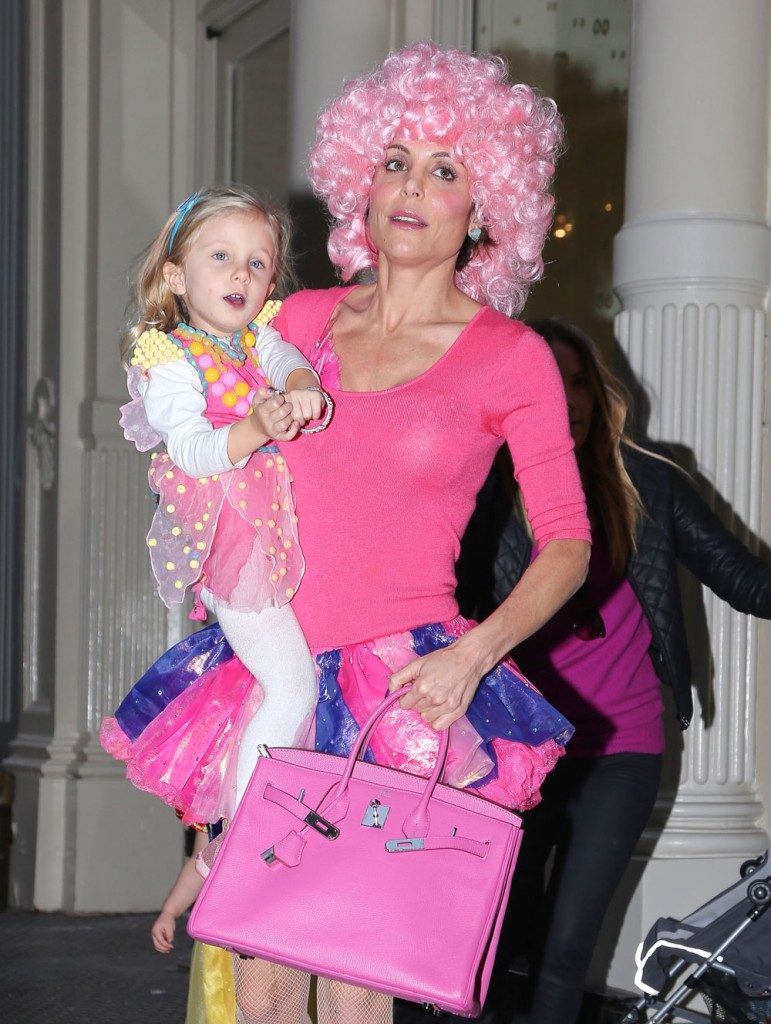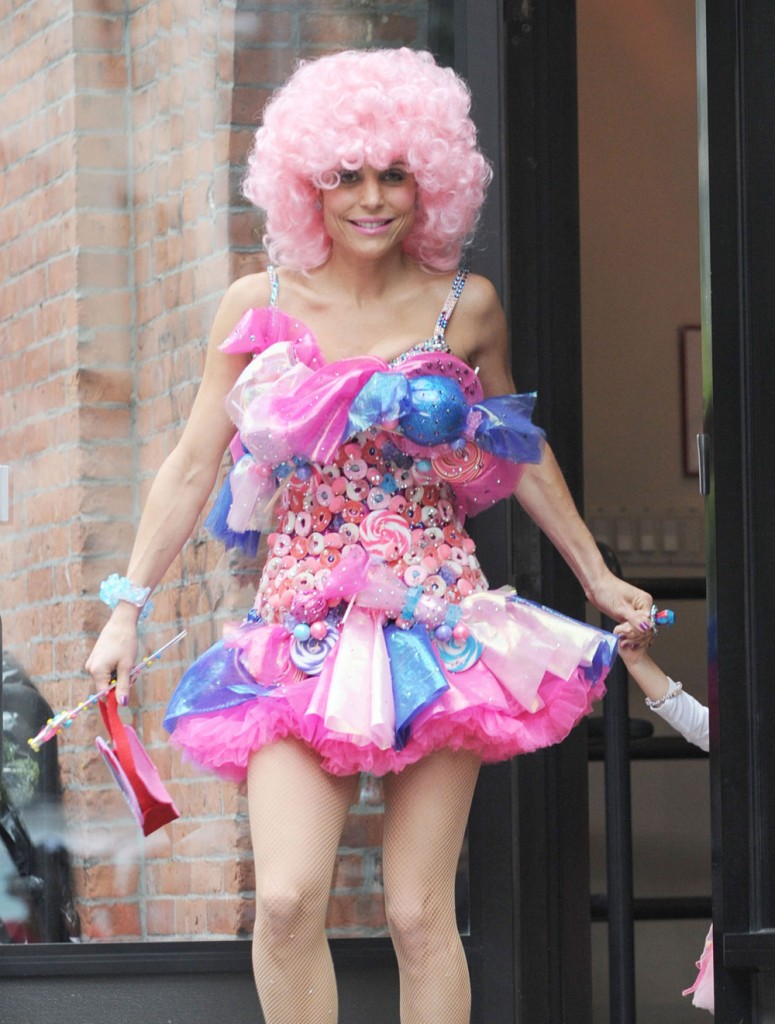 Photo credit: The Bethenney Frankel show and FameFlynet