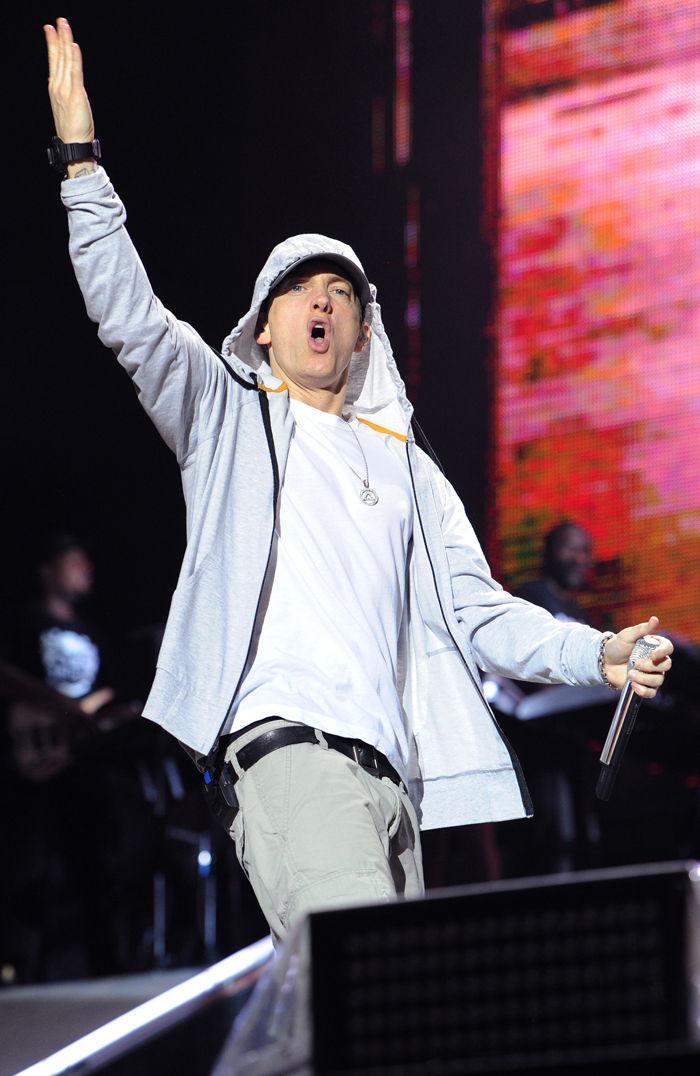 It's an understatement to say that Eminem doesn't get papped very often. Most of the photos our agencies do have show Em onstage and doing what he does best. I did scrounge up a 2011 street picture of him, which is included at the bottom of this post. Right now Eminem is doing the rounds to promote Marshall Mathers LP 2, which came out at midnight/this morning. Will he top Katy and Miley's recent releases? I sure as hell hope so, but he's not exactly pimping himself all over the place, so we'll see.
Eminem did appear on this weekend's episode of SNL (the one with Kerry Washington). You can see some skit clips at Pajiba or view the full episode here. TMZ is riding Eminem hard with claims of lipsynching during his "Berzerk" song. They have a brief clip which is "evidence" that Em was phoning it in Milli Vanilli style. This is such a non-controversy. The song contains a lot of sampling, and Em moves the mic from his mouth during most of the Beastie Boys/Billy Squier moments. He occasionally mouths along with their brief lyrics. That much is obvious. His own lyrics, however, are coming straight from his mouth. TMZ is full of it. This was the sixth time Em appeared in SNL, and he brought it like he usually does.
Eminem also has a new interview with Rolling Stone that discusses his use of anti-gay slurs in his lyrics. This is a tough issue because Em has endorsed gay marriage and has become BFF with Elton John, but he continues to use the "f" word and other such gay slurs … especially in his new "Rap God" song. Here's what Em said in defense:
You've made it clear again and again that you don't actually have a problem with gay people. So why, in 2013, use "f—-t" on that song? Why use "gay-looking" as an insult? "I don't know how to say this without saying it how I've said it a million times. But that word, those kind of words, when I came up battle-rappin' or whatever, I never really equated those words …"

To actually mean "homosexual"? "Yeah. It was more like calling someone a bitch or a punk or a-hole. So that word was just thrown around so freely back then. It goes back to that battle, back and forth in my head, of wanting to feel free to say what I want to say, and then [worrying about] what may or may not affect people. And, not saying it's wrong or it's right, but at this point in my career — man, I say so much sh-t that's tongue-in-cheek. I poke fun at other people, myself. But the real me sitting here right now talking to you has no issues with gay, straight, transgender, at all. I'm glad we live in a time where it's really starting to feel like people can live their lives and express themselves. And I don't know how else to say this, I still look at myself the same way that I did when I was battling and broke."

I kind of thought you were doing it because when you're rapping as Slim Shady, part of your mission is to annoy people. "Well, look, I've been doing this sh-t for, what, 14 years now? And I think people know my personal stance on things and the personas that I create in my music. And if someone doesn't understand that by now, I don't think there's anything I can do to change their mind about it."
[From Rolling Stone]
Sigh. I can't and won't defend Em's use of gay slurs. I've been a huge fan of his ever since he clawed his way out of Detroit and onto the rap scene, but it seems weak for him to defend his use of the words as part of his "Slim Shady" persona. Eminem goes after everyone with his lyrics. Everyone! No one is immune from criticism in his lyrical stylings. His rhymes are also constantly "on the rag," but that doesn't mean he hates women. Am I making an excuse for his borderline-homophobic lyrics? No. Em is just a classic equal opportunity offender. Still … he has no excuse for the gay slurs. It's time to wrap up that shtick, Em.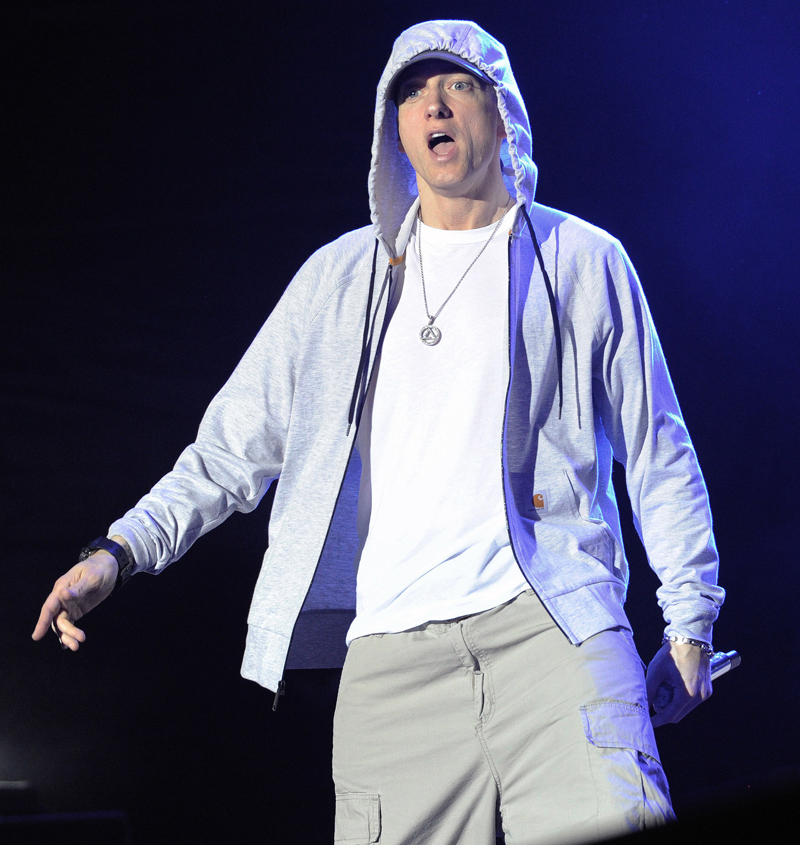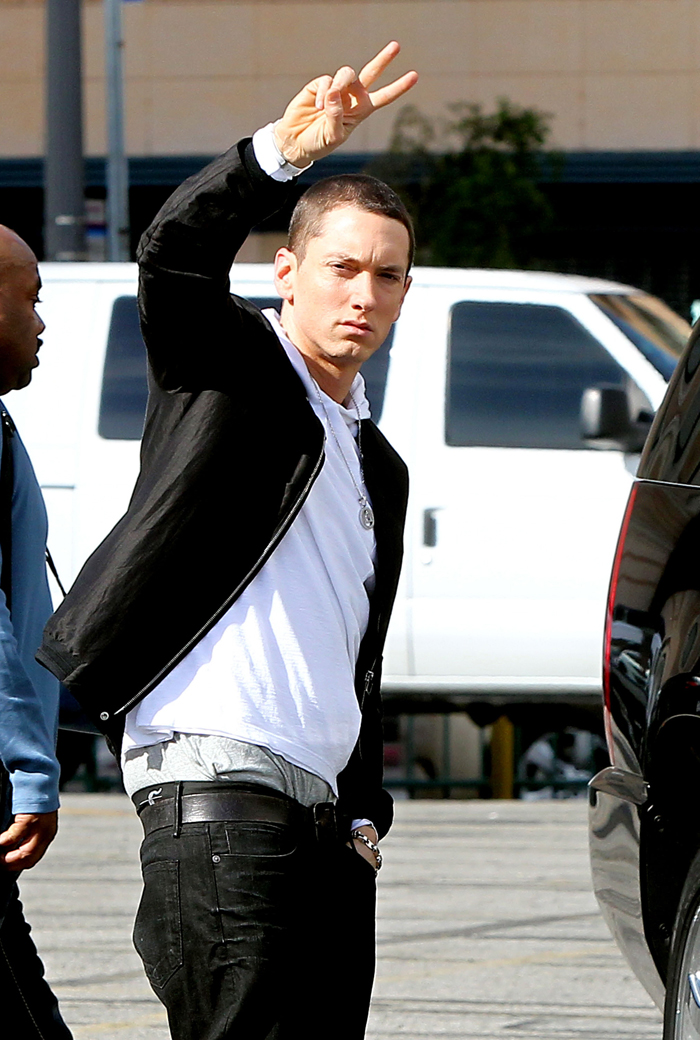 Photos courtesy of Fame/Flynet & WENN