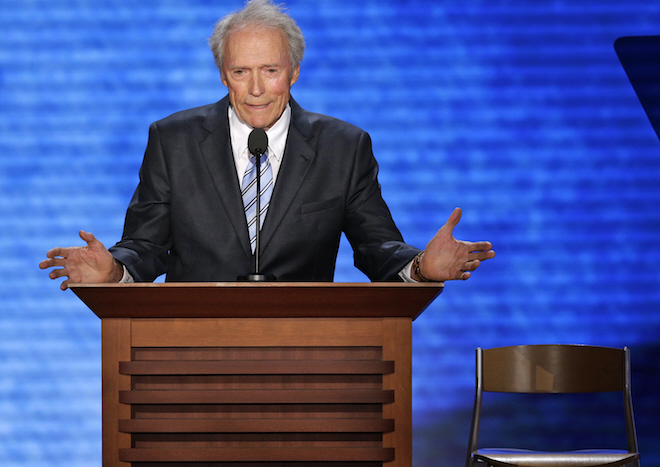 Last year, in the heat of the presidential election, Mitt Romney met Clint Eastwood and Clint's then-wife Dina for dinner. Apparently, Mitt was starstruck, and he invited his new friend to speak at the Republican National Convention. What happened at the RNC during Clint's speech will go down in history as one of the biggest political miscalculations in modern history. Clint was basically given permission to say whatever he wanted, so he YELLED AT A CHAIR for about 20 minutes and it was terrible.
So, how exactly did this happen? The two men who literally wrote the book on the 2008 election (Game Change), Mark Halperin and John Heilemann, have written a new gossip-filled book about the 2012 election. The book is called Double Down: Game Change 2012. They've been teasing the book for the past two weeks, and I'm totally buying it. Anyway, here's the behind-the-scenes story on what happened with Clint:
"Double Down: Game Change 2012," Mark Halperin and John Heilemann's follow up to "Game Change," answers one of the more perplexing questions of the 2012 presidential campaign: Why did Mitt Romney's team give carte blanche to Clint Eastwood to say whatever he wanted in the final hour of the final night of the Republican National Convention? That's when Eastwood famously spoke to an empty chair, in which the actor went well over his alloted time and left most of the audience baffled.

Romney's senior strategist, Stuart Stevens, was backstage with Romney watching Eastwood, and while the Republican nominee "seemed to think it was funny — at least at first," the authors write, Stevens was so upset by the "disaster occurring on stage" that he "excused himself, went into another room and vomited."

Eastwood's imaginary conversation with Obama instantly generated a storm of Twitter quips and a few parody handles, but the real damage may have been that much of the aftermath focused on the incident and not Romney's speech later in the evening. Halperin and Heilemann give a simple explanation for how Eastwood came to be invited in the first place: Romney was "starstruck."

A month before the late August appearance, Eastwood and his wife, Dina, had dinner with Mitt and Ann Romney in Carmel, Calif., and it soon led to the candidate asking for his help. Eastwood showed up at an Aug. 3 fundraiser in Sun Valley, Idaho, where he gave a shorter speech to donors that was enough of a hit with the crowd that Romney instructed his staff to try to get him for the convention.

According to "Double Down," some on the Romney staff had reservations about Eastwood, then 82, and that his remarks weren't being vetted beforehand. Other convention speakers ran their remarks by the campaign. Russ Schriefer, in charge of programming the convention for the Romney campaign, tried to give him suggestions for what he should say. But Schriefer was confident that Eastwood could wing it without a script.

In his hotel, Eastwood was listening to an oldies station and heard Neil Diamond's "I Am…I Said," which features a line about talking to a chair, the authors write. Just before making his entrance on stage, Eastwood asked a stage hand to put a stool on stage to the left of the podium. The result was a mixture of standup and surrealism, and while Eastwood recovered somewhat by the end of his speech, campaign aides were fuming.

Eastwood later said, "If somebody's dumb enough to ask me to say something, they're gonna have to take what they can get." As it turned out, Diamond had a role in the 2012 campaign, too, but for Obama. He performed for California volunteers two days before the election. "Double Down," published on Tuesday, has been optioned by HBO, just as the network did with "Game Change." Halperin and Heilemann's book also features passages on Donald Trump's flirtation with running for president, and Romney's efforts to keep him in check yet still draw his support.

Jeffrey Katzenberg is mentioned as one of the few deep pocketed Democratic donors to step forward early to support an Obama SuperPAC, Priorities USA Action, even while other progressives remained circumspect.

He eventually rounded up nine Hollywood and tech figures to attend an October, 2012, lunch at his home with Obama and former President Bill Clinton. At the time, the campaign billed it as a "thank you" event to the president's supporters, not a fundraiser, and while the donors' identities were kept secret, the authors said that Seth MacFarlane, Steven Spielberg, Sean Parker and Eric Schmidt were among the donors present. After they left, at Katzenberg's home Clinton gave advice to Obama about how to come back from a shoddy debate performance just days earlier.

The authors also make mention of the movie that Romney's running mate, Paul Ryan, watched in his hotel room the day of his convention speech. It was HBO's "Game Change," which focused on John McCain's selection of Sarah Palin as his running mate. "Ryan was riveted, but soon regretted it," the authors write.
That's an interesting detail about Paul Ryan watching Game Change (which is an excellent movie). I hope Ryan was too freaked out – he's a lot smarter than Sarah Palin, although that's setting the bar pretty low. As for the Clint catastrophe… I really do think it was a turning point for the election. Maybe it wasn't the BIG turning point or whatever, but the fact is that Romney's people just had an awful convention and Clint's chair-yelling was the arsenic icing on the dung-cake. The whole thing made the Romney campaign look half-assed and unserious, which is probably why that dude had to go throw up.
Here's Clint's speech at the RNC again. OMG. This is even worse more than a year later.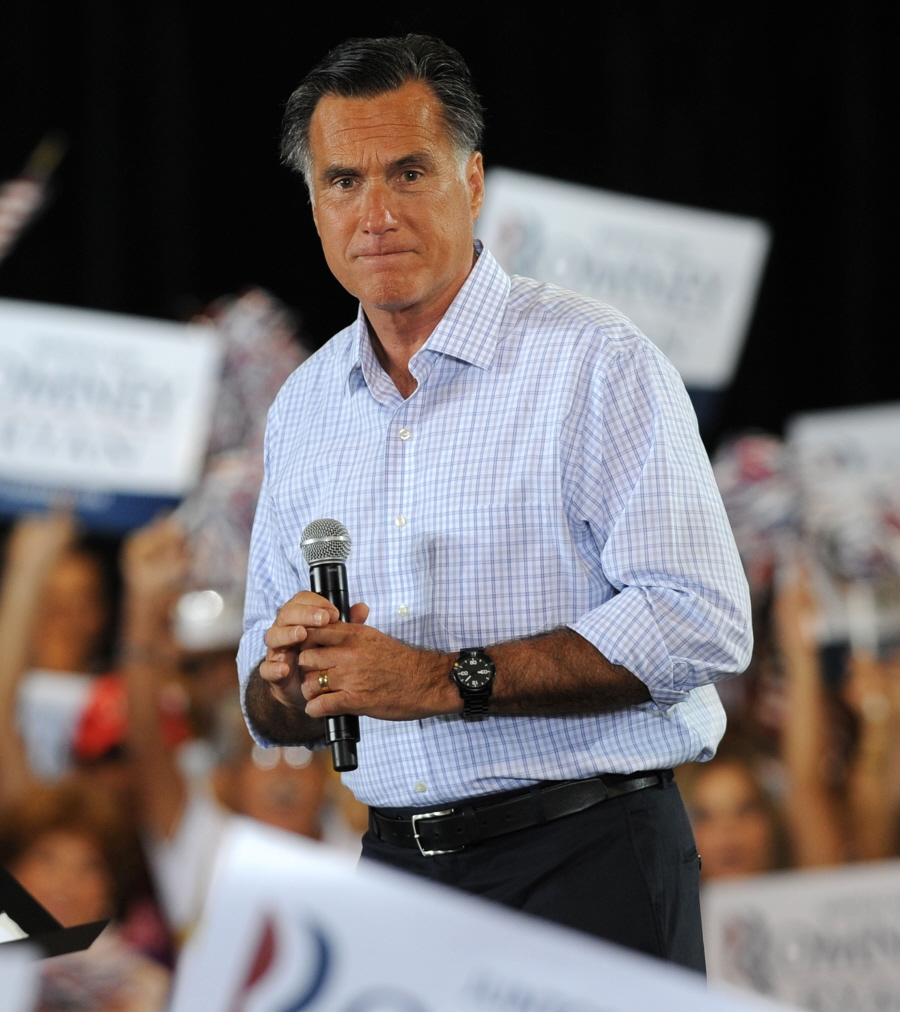 Photos courtesy of WENN.