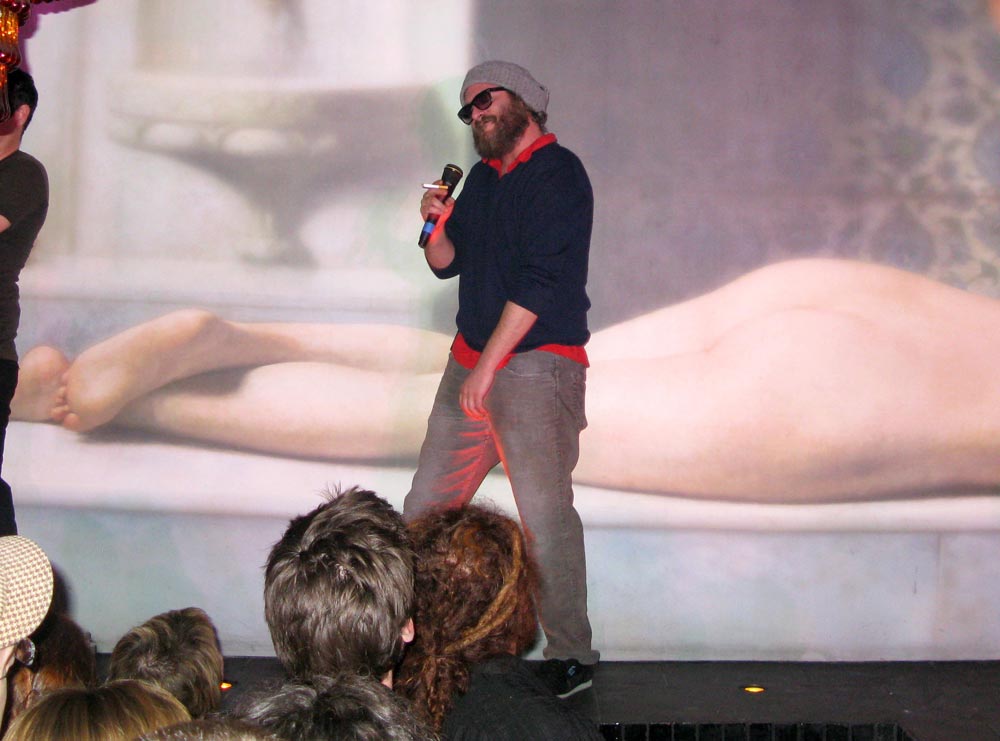 Joaquin Phoenix has received only criticism for his fledgling rap career. Not even achieving mixed reviews, his premiere performance was branded an epic fail. So what is a man to do in this position? Turn a career change into an elaborate stunt to avoid embarrassment.
Following his widely panned three-song debut as a rapper at a Las Vegas nightclub on Jan. 16 — a shambling performance that concluded with the actor falling off the stage — two competing theories emerged: Either Phoenix is perpetrating an elaborate Andy Kaufman-style hoax (with an assist from his friend and brother-in-law Casey Affleck, who's ostensibly shooting a documentary about his career transition), or he's truly lost his marbles. The truth, it seems, is closer to the former. "He said, 'It's a put-on. I'm going to pretend to have a meltdown and change careers, and Casey is going to film it,'" says one source who recently worked with Phoenix.

Though Phoenix's interest in music is sincere (he earned Oscar and Grammy nominations for his turn as Johnny Cash in Walk the Line and has directed several music videos), with this supposed career reboot he is evidently trying to both lampoon pompous actors and punk the media that covers them. Whatever his motivation or ultimate endgame, don't expect him to break character anytime soon. "It's an art project for him," says a source. "He's going full out. He probably has told his reps that he's quit acting. Joaquin is very smart. This is very conscious. He has a huge degree of control."
You know, maybe it is an elaborate hoax, from the 'Bye, good' on his fists, to the falling off stage, it does seem like stunt failure. His beard also seems a little too much like a costume, adding to the stunt element. I love the beard though, I love a hairy man, but I think I'm alone in my admiration. Rap music also seems a suspect choice – Joaquin has in the past directed music videos, presumably for bands he likes, which were of the more indie rock/electronic persuasion.
Joaquin Phoenix is shown performing on 1/17/09. Credit: WENN