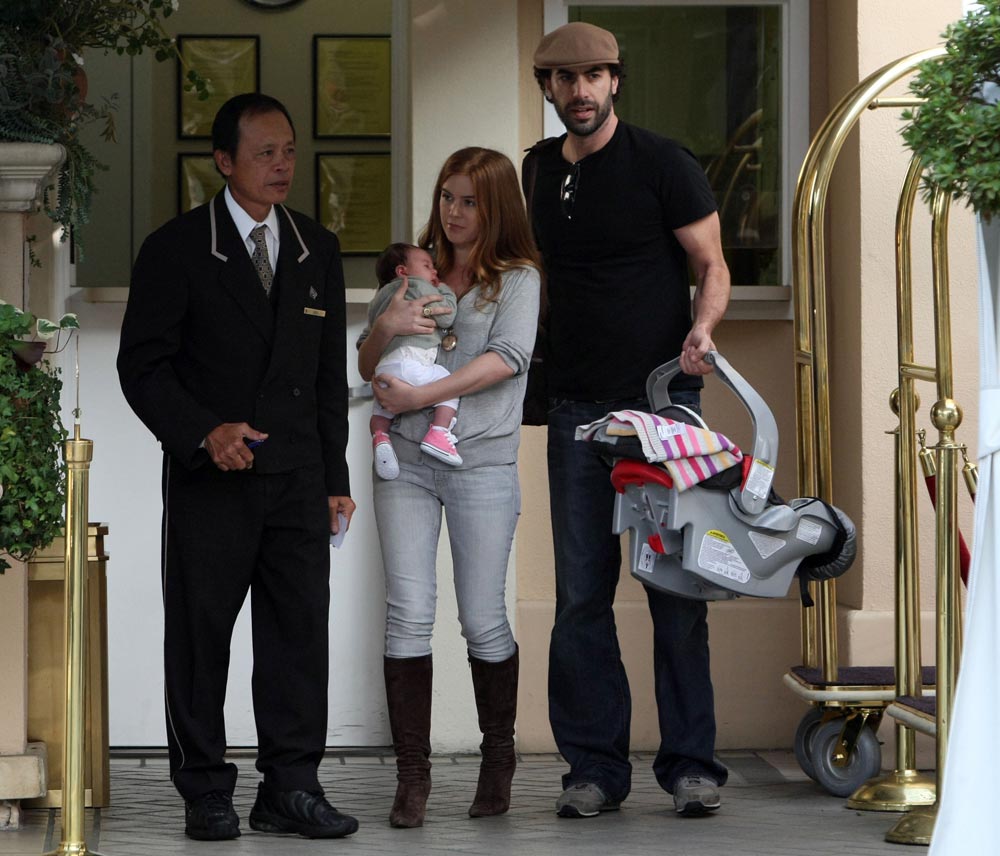 I love hearing about celebrities behaving like normal people. Sure, diva behavior and outrageous spending are fun, but there's something about rich and famous people doing average things that warms my heart.
Isla Fisher and Sacha Baron Cohen aka Borat are one of the most normal Hollywood couples, and their little girl is so cute. It's nice to hear that despite their long engagement they still celebrate their anniversary seven years on.
ISLA FISHER and SACHA BARON COHEN planned to celebrate their anniversary by seeing hit movie SLUMDOG MILLIONAIRE – but had to leave the theatre when they couldn't find seats together. The engaged couple, who are parents to one-year-old daughter Olive, headed to the cinema to check out the critically-acclaimed film, which is nominated for 10 Academy Awards at next month's (Feb09) ceremony.

But they were forced to improvise another romantic date after realising the venue was too crowded to find seats.

Fisher recalls, "They only had two seats apart and, as it was our seventh anniversary, it didn't feel right to sit away from each other. So we just walked around in the New York snow."
I can just imagine any old couple doing this to celebrate their anniversary, and I like it better than the elaborate stunts pulled by some celebrities. Not that building your girlfriend an igloo to propose isn't a beautiful gesture, but every time I tell my husband about these kind of things he just rolls his eyes and says 'another grand gesture I can't compete with? I'm going to give up and buy you a toaster this year'. He sort of has a point. Most of us can't afford to get crazy romantic, but what we can afford is to go for a walk with your partner, and maybe catch a movie.
Recently Joe Biden and his wife Jill went for a date night and were turned away from sold out sessions of The Curious Case of Benjamin Button. Like Isla and Sacha, they mulled over their other film choices before leaving, without demanding special treatment.
Isla Fischer and Sacha Baron Cohen are shown kissing in 2004 and out with baby Olive, now one, on 11/21/07. There are also some more recent photos of Isla and Olive at the park on 10/14/08. Credit: Fame Pictures