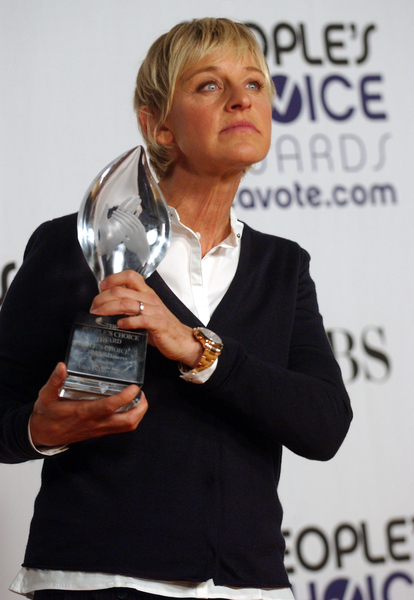 Ellen DeGeneres has an interview with People Magazine in which she talks about her beloved pets. Ellen and her wife, Portia de Rossi, have two dogs and three cats. She talked fondly of her animals, and told the story about how she rescued her poodle-Maltese mix, Wolf, from a man who was abusing him. It sounds like a homeless person, but it's hard to tell. People Magazine is launching a new section of their website dedicated to pets, where they posted this interview with the talk show hostess, who is promoting a line of organic dog food through QVC.
Q: And Wolf, you said you rescued him, when you first saw him, what was that connection like when you saw the dog and knew, that one's for me?

A: Well, he was being mistreated. That's how I knew. I wasn't looking for a dog. I happened to spot a man that was not completely balanced. He was a guy that was mistreating the dog. He was swinging the dog around and doing things to it and I went over to him and offered to give him some money. It was a long, long story but the guy was very strange and had smuggled the dog in from Mexico and was not planning on doing things to it, so it took me hours to get that dog from that guy. Anyway, Wolf was in pretty bad shape. He was tiny … he was [malnourished], he couldn't stand up. His back legs couldn't support him because he had never been put down and maybe damaged on the way in, being smuggled in. It's just the craziest story. But he's just the craziest, sweetest dog now. Just a love!
[From Peoplepets.com]
In her People interview, Ellen said that she had dreams of becoming a veterinarian as a child but that she learned more about the profession and realized that she couldn't go through with it.
It sounds somewhat questionable to convince a homeless person to give up their pet, but if Ellen witnessed the man swinging the poor dog around, then it was the right thing to do. Wolf surely has a much better and longer life than he would have had with his previous owner.
Ellen caused some controversy in the fall of 2007 when she spoke emotionally on her talk show about the plight of a little dog, Iggy. Ellen adopted the dog from an agency and then decided to give it up to her hairdresser's family in violation of her adoption contract, which stipulated that animals cannot be transfered as all families are carefully evaluated. What's more is that the new family had children under the age of 14, which was not allowed under the agency's rules. Iggy was forcefully taken from the family Ellen chose after the little dog lived with them for two weeks, which was traumatic for their children. He now lives with another family chosen by the agency.
Ellen DeGeneres and Portia de Rossi are shown at the People's Choice Awards on 1/7/09. Credit: PRPhotos