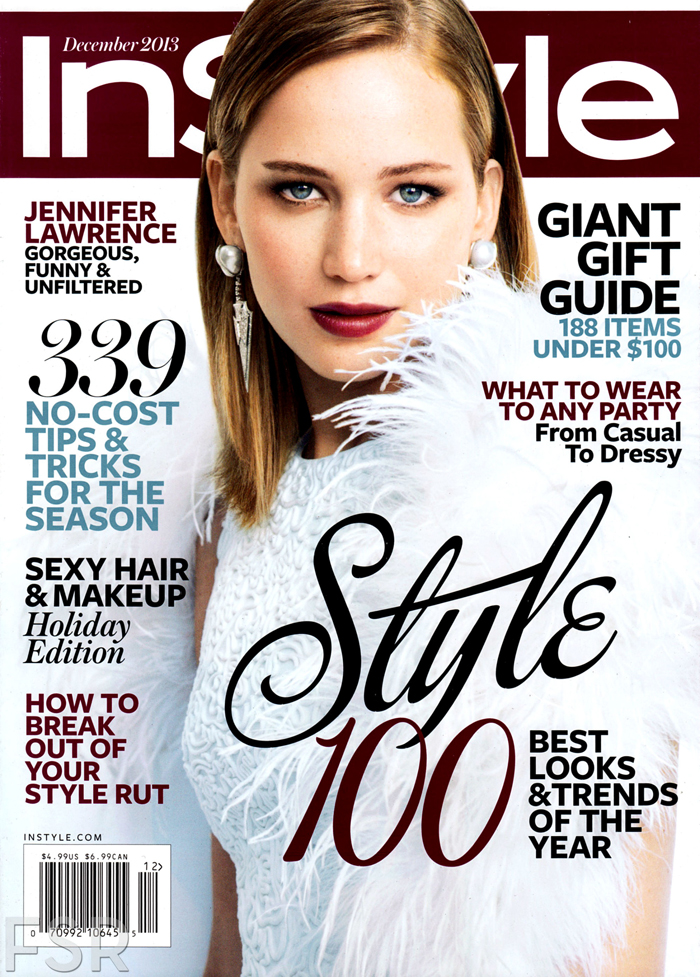 Jennifer Lawrence covers the December issue of InStyle to promote Catching Fire. I'm not crazy about the actual cover, but I'm in awe of the editorial. Jennifer is wearing all-white throughout, this is pre-pixie cut, and someone finally got her makeup right. For those of you who are prone to JLaw burn out, get ready because she's gonna be everywhere for a few weeks. Oscar season should be good too. Jennifer is very conscious that not everyone likes her. More on that later, which is food for thought.
Speaking of food, Jennifer ordered eggs benedict again during this interview. She talks of her love of french fries, baby back ribs, pizza, cheesecake subs, Funfetti cake, and so on. Yes she's talking about her body again. We've covered her statements on this topic many times, but now she's actively claiming that she doesn't exercise. Do I believe her? I buy that she eats "normally," but the girl works out. She has to work out as part of her training for roles. We've even seen her drenched in sweat while leaving the gym. Maybe JLaw means that she wouldn't exercise for the sake of burning calories. That sounds about right for her. Let's do this again:
She hates diet and exercise: "Nothing can motivate me. During Hunger Games, when I was eating ungodly amounts, I used to tell myself, Stop eating — people are going to see this. This is going to be around forever. But nope! I was like, I still want candy, and I still want a hot dog! And then X-Men started and I thought, Oh, definitely — I'll be naked, I'll make myself work out and diet. But nope. Not me!"

On the future: "After I wrap Hunger Games, I'm going to calm down for a while. A real life is starting to look pretty appealing."

She doesn't own a house yet: "Everyone says I'm the richest couch-jumper ever. But I just feel like I'm not ready to own property. I don't think I would take good care of it. My tastes are changing so much that I would buy something, then hate it in a few years. It's like, right now I have the money but not the mental capacity."

She's glad she had brothers: "My brothers and I would scream at each other and we'd be like, 'I hate you! You're stupid! You're ugly!' And then five minutes later it would be, 'I love you.' I got thrown down stairs, I got punched, It's not like I had a superior childhood because I had brothers – I was crying just as much. But you could see my wounds. Girls are so imaginative, so good at getting to the warped place and really just taking someone apart surgically. A girl will tell you: 'Your arms are flabby.' Oh my God! Don't go for the arms!"

Will she marry? "I don't want to talk about it."

Will she have kids? "I love kids, and I hope I have kids someday, but not now," she says is a calm tone.

Her hair problems: "No more color after Hunger Games. It'll all fall out! This isn't how Katniss is going to look in the next movies, don't worry. I'm wearing a wig."
[From InStyle]
I like how JLaw shuts down the personal questions without batting an eye. She didn't have her publicist give a preemptive warning, but it's clear that Jennifer won't play the marriage and baby game with her audience (unlike another Jennifer). As for the body stuff, I see what JLaw is trying to do here. She's telling her young fans to stop worrying so much about looking a certain way. If they want cupcakes, then have cupcakes. She doesn't want them to become that girl interviewed by Seventeen magazine who confesses to eating a chocolate chip and staying up all night doing jumping jacks.
Some more Jennifer tidbits:
* JLaw is very aware of her status as a cog in the Hollywood publicity machine. She appears carefree, but she notices things and is pretty sure that everyone will get sick of her very soon. She recently told HuffPo that "Everybody is very fickle. They like me now, but I'm going to get really annoying really fast. Just watch." As to her affable front, she stated, "I'm just afraid that everybody's going to just stop believing it at some point. They're just going to think it's this genius act designed by my publicist. These are the paranoid thoughts that I have."
* Joan Rivers is one person who no longer loves JLaw. I guess Joan didn't enjoy Jennifer calling out the Fashion Police for saying people are fat. Here's Joan's response on Twitter:
It's funny how Jennifer Lawrence loved @E_FashionPolice during Awards Season when we were complimenting her every single week…

— Joan Rivers (@Joan_Rivers) November 12, 2013
But now that she has a movie to promote, suddenly we're picking on all those poor, helpless actors.

— Joan Rivers (@Joan_Rivers) November 12, 2013
WAIT! It just dawned on me why Jennifer Lawrence fell on her way up to the stage to get her Oscar. She tripped over her own arrogance.

— Joan Rivers (@Joan_Rivers) November 12, 2013
* Speaking to the BBC, JLaw says she wants to be a positive body role model: "We have the ability to control this image that young girls are going to be seeing. Girls see enough of this body that we'll never be able to obtain … It's an amazing opportunity to rid ourselves of that in this industry. And also, I think, it's better to look strong and healthy. I feel like somebody like Kate Moss running at you with a bow and arrow wouldn't really be scary." Aaaand over to you, darling readers.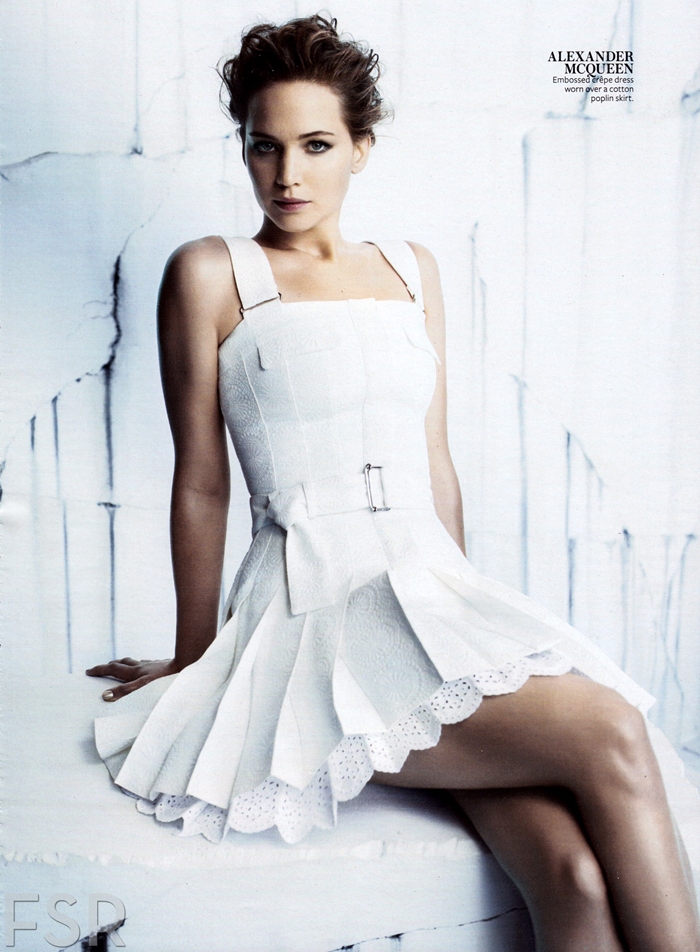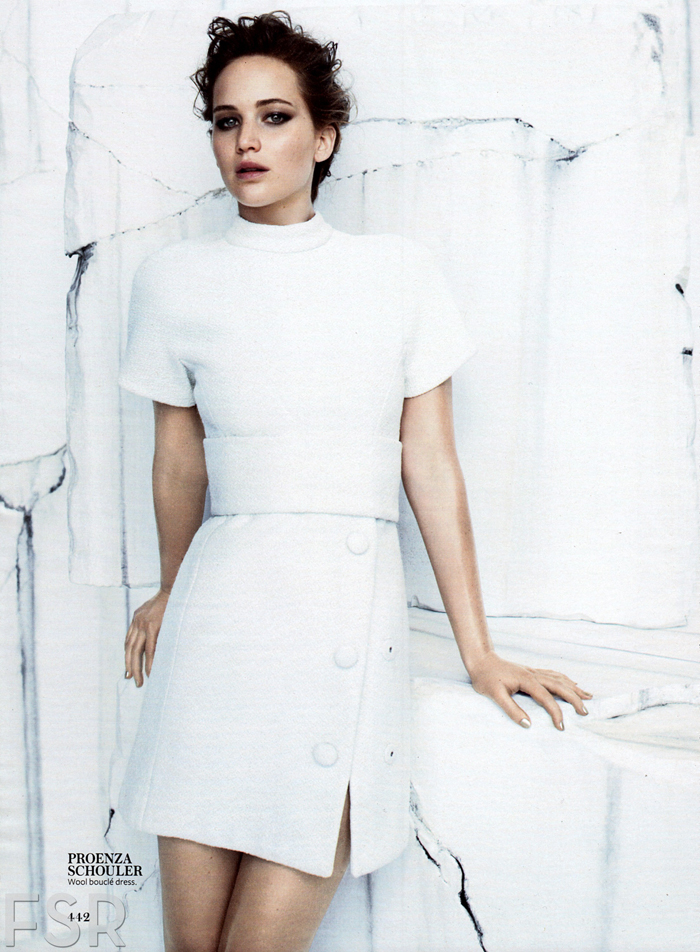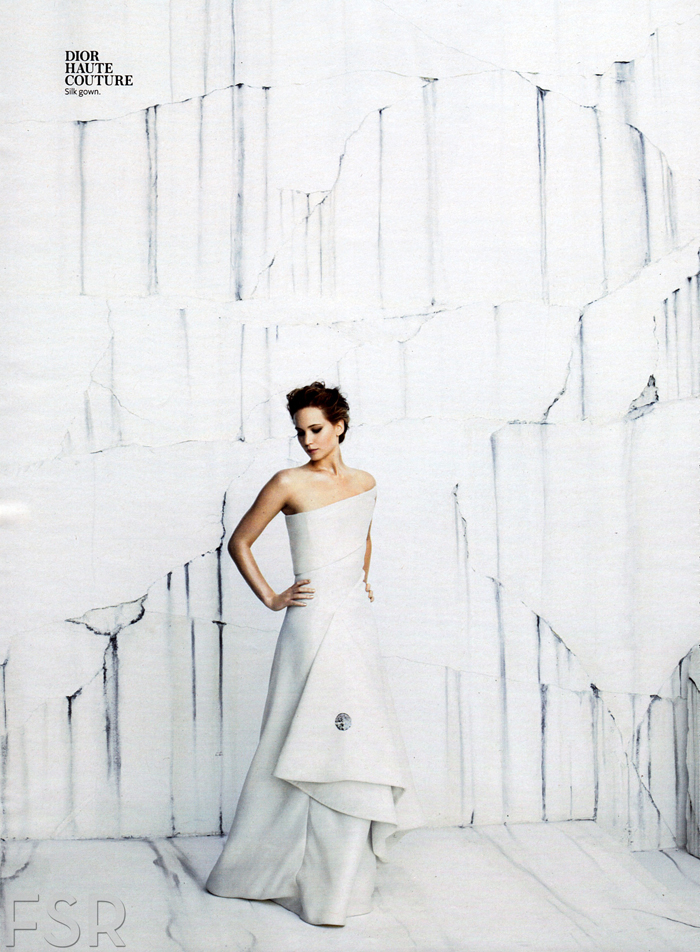 Photos courtesy of InStyle