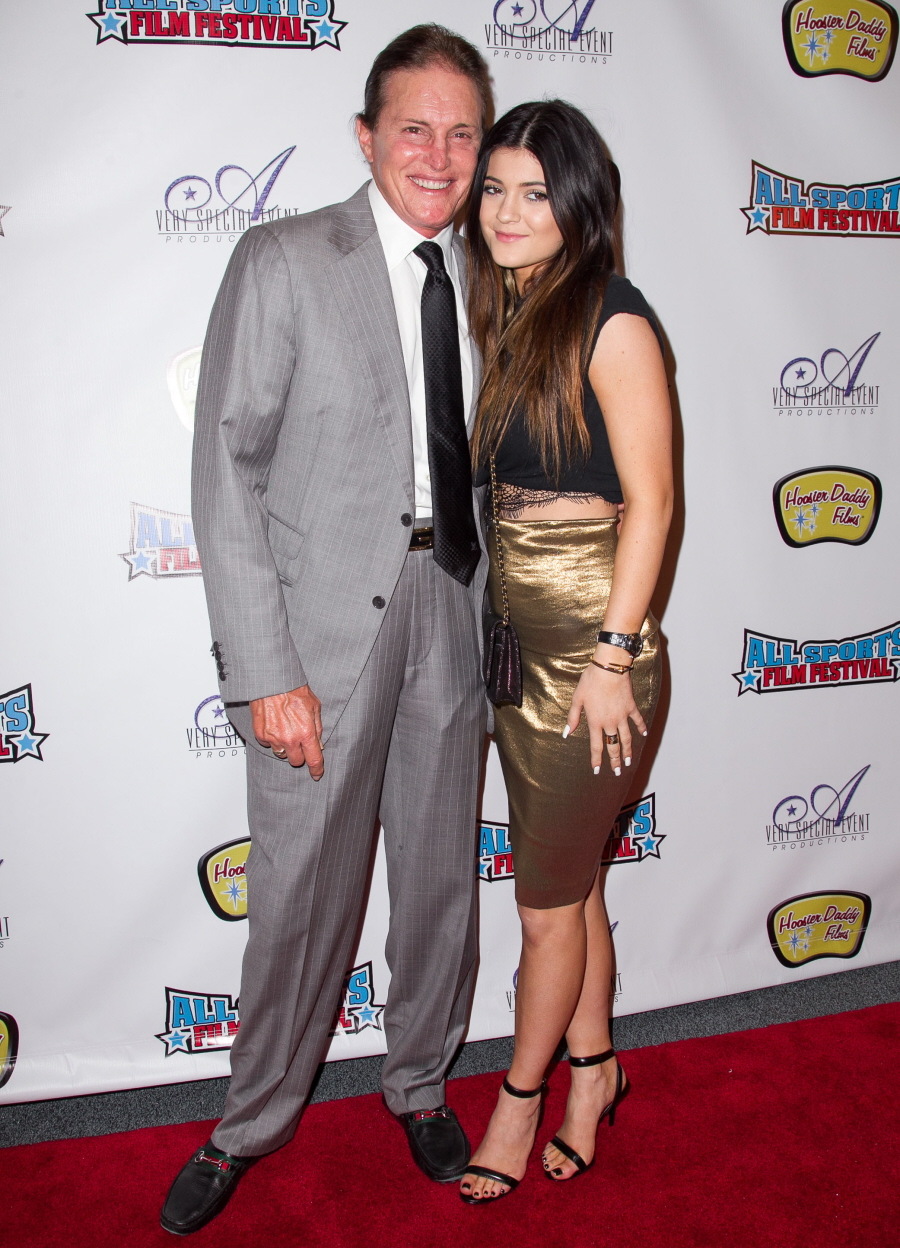 Here are some new photos of Kylie Jenner and her dad Bruce at last night's All Sports Film Festival in Hollywood. I usually avoid covering Kylie and Kendall at all costs – it's not any particular indictment against them or against the people who cover them, I just don't want to give in to Lucifer's Homegirl on this one particular issue. I will help Lucifer promote the older Kardashian girls, but not the little ones. That's my usual standard. That being said, I have followed the insanity of Kylie and Kendall's "education".
Several years ago, Kris Jenner began talking about taking the girls out of high school because… I don't know, she needed to get them trained for the stroll early, I guess. Then came word (in 2012) that Kris wanted them to "focus on their careers" as celebutantes and started homeschooling them. The rumors came back in September, with some sources claiming that the home-schooling issue is a big reason why Bruce Jenner walked out on Kris. Kylie, the younger girl (at 16) is still required by law to have some semblance as an education, right? Or is California's Department of Education all "#YOLO" too? Probably. So, Kylie was being interviewed by Ryan Seacrest and she admitted that she's only "in (home) school" for three to four hours a day:
As if being homeschooled isn't perk enough, Kylie Jenner admitted on Tuesday morning that she only does three or four hours of school a day, and RadarOnline.com has her interview.

The 16-year-old highschooler called in to Ryan Seacrest's morning radio show "from school" and told the American Idol host that her day consists of a little bit of education, and a lot of work.

"How many hours of school do you go to a day?" Seacrest asked.

"I do like three to four," she said, sounding less-than-enthused. "[Then] I usually work. I'm pretty busy all day."

As Radar exclusively reported in September, it was Kris Jenner's decision to let Kylie and sister Kendall drop out of high school and pursue home schooling that placed a wedge between the Kardashian matriarch and her estranged hubby, Bruce.

"[Kylie and Kendall] had been attending a very elite private school until last year. The girls were constantly missing school because of business commitments including promotional appearances, and photo shoots. Bruce was absolutely adamant that the girls not drop out of school in order to be home schooled," the insider told Radar.

"This all played out on the reality show, but what viewers didn't see was the fights between Bruce and Kris. Bruce always wanted the girls to go to college, whereas Kris doesn't place an emphasis on education. Kris has told the girls they are only young once and they could always go back to school later. She doesn't want them to miss out on lucrative deals because they are in school."

While every state has different home schooling guidelines, most follow the rule that student attendance must be equivalent to public school student attendance — 186 days per year, at 1116 hours total. If Kylie and Kendall are schooled for the same number of days as a regular school year, then they are falling far behind with hours, only clocking in a maximum of 744 for the year.

However, the states that actually require that home school attendance, don't actually require anyone to keep track of it, which creates a large loophole for homeschooled students.
When I was 16… I had a part-time job, working 10-15 hours a week after school. I went to school all day, worked a four to six hour shift maybe, then came home and did homework. I was focused on getting into college. Plus, I remember really liking my classes that year (AP English, AP American History, stuff like that). I think my GPA my junior year was like 3.75. My point? I don't know. We can debate the "padding" in typical high school education, but I highly doubt that three to four hours a day is enough for Kylie Jenner to be a well-informed member of society. Of course, I highly doubt that she's even telling the truth about those "three to four hours". And that's not on her – that's on Lucifer's Homegirl. Kris will not stop until all of her daughters are the most vapid, trashy famewhores in the world.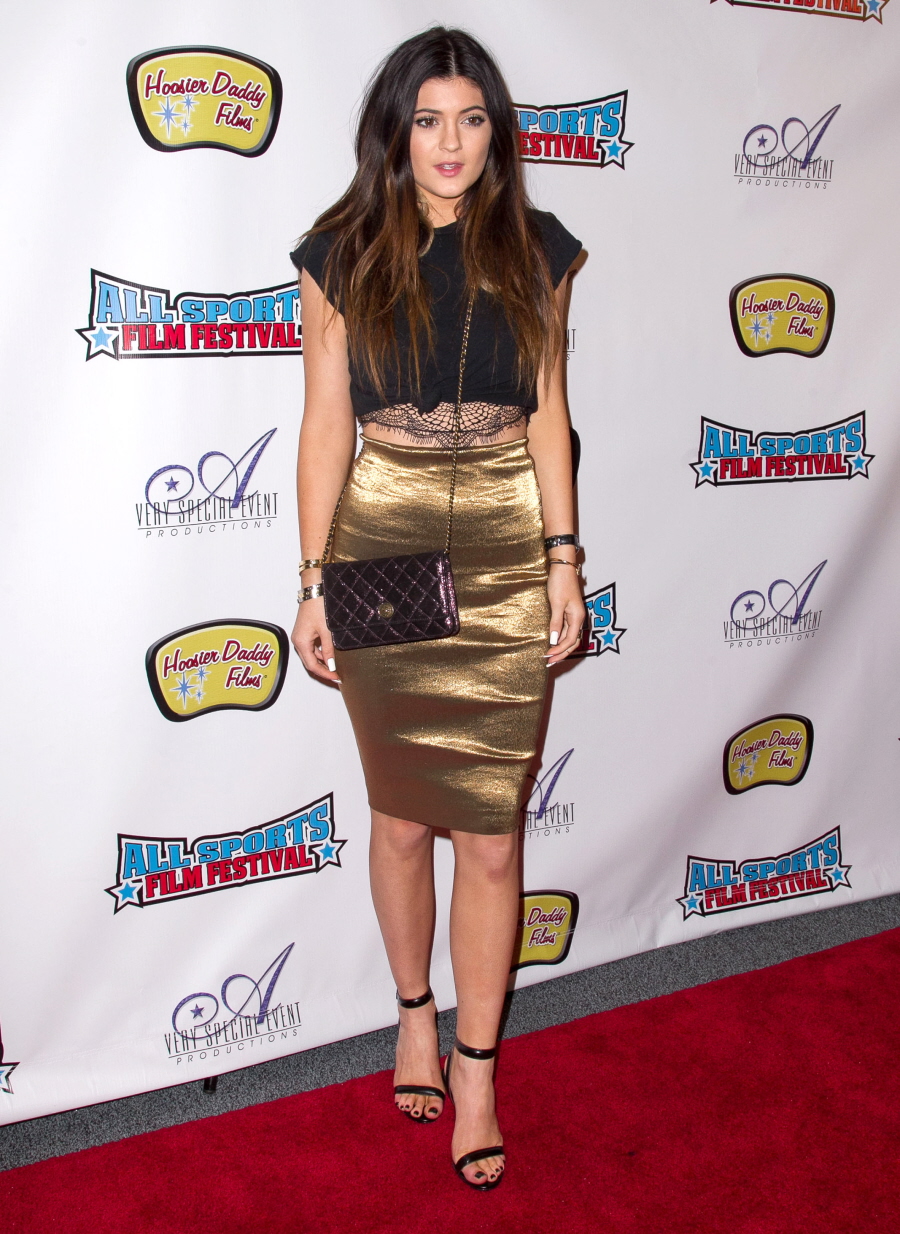 Photos courtesy of Fame/Flynet.