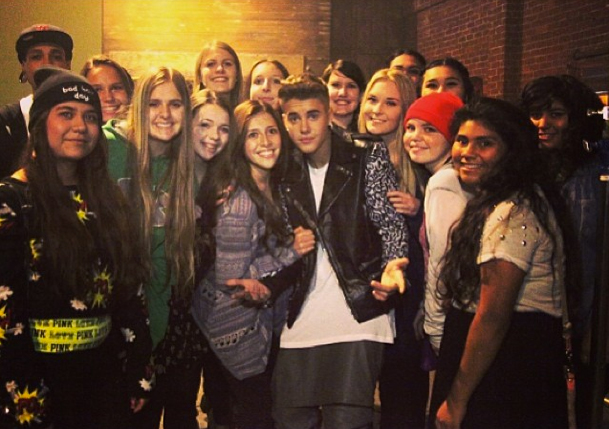 This is almost delicious news. The long and dubious reign of Justin Bieber as the tantrum-throwing King of Pop might soon come to a close. Really! Like Miley Cyrus, Bieber has been steadily working on alienating his fanbase of teenager girls. Bieber insists that he's a "swaggy adult" and has engaged in a lengthy series of bad behavior over the past few months. It's starting to show where it matters most — ticket sales.
Between Bieber's nightclub tantrums and his tendency to show up hours late to concerts (thereby making his fans cry), parents were starting to wise up. Now that he's peeing in restaurant buckets and sneaking out of brothels in his spare time, the powers that be (and their wallets) have had enough. The proof? Scalpers can't even begin to sell tickets to Bieber's concerts on eBay and other resale websites. Usually scalpers make a killing when it comes to Bieber, but it seems parents are finally closing their wallets. Excellent:
Justin Bieber may have been the hottest gig in town when tickets were released a few months ago, but fast forward to a week before his arrival Down Under and you almost can't give a JB ticket away.

Tickets on eBay for the teen superstar, who will kick off his eight-show Aussie tour next Tuesday are selling for almost half the price, with many failing to secure any bids at all.

It seems the 19-year-old singer's stocks as the world's most adored heart-throb are falling after a succession of controversial headlines and incidents in recent weeks.

The tidal wave of bad press in recent months hasn't done him any favours with news of hotel romps with pr0n stars, visits to brothels and strip clubs and a growing penchant for risqué behaviour dominating the headlines.

Beliebers are tiring of his antics if his ticket prices are anything to go by.

Alex Levenson, the head of Asia Pacific at viagogo, the world's largest ticket reselling marketplace, says people have lost interest in Bieber since buying their tickets back in July.

Levenson says their website which operates in 50 countries, has recorded 187 per cent more Justin Bieber tickets for resale in Australia than One Direction at the same point in the tour last month.

"With their squeaky clean image, One Direction is popular with fans and their parents alike," Levenson told news.com.au. "Bieber on the other hand is doing a very good impression of an enfant terrible, which seems to be putting off his fans and driving their parents to resell tickets.

"One Direction won the battle for hearts and minds and Bieber has been left trailing behind in the fan stakes. His new bad boy persona seems to be putting people off."

Less than a week out from kicking off his Aussie tour tickets are selling for an average 41 per cent cheaper than his last tour, he says.

C reserve tickets for Bieber's Brisbane concert are selling currently for just $54 on viagogo, almost half the $100.25 the ticket was bought for on Ticketek.

A reserve tickets at his Melbourne concert are going for as little as $65.56 – that same ticket is selling for $145.60 on Ticketek right now.

In Sydney, a multitude of A reserve tickets are going for $83, while on eBay tickets with a starting price as little as $50 are yet to attract a single bid with just a few hours remaining on the auction.

The prices are in stark contrast to Justin Bieber's first Australian tour in 2011, when the shows sold out within minutes of going on sale.

Extra shows were added, but fast forward to 2013 and tickets are still available in most categories a week before the tour kicks off.

Levenson says ticket prices have dropped 23 per cent on average since the story broke about Bieber hitting up a strip club on October 19th.

They then dropped a further 18 per cent since video of the star passed out in a hotel emerged on social media.

But while the Biebs is finding it hard to shift tickets, tickets to Beyonce just a month ago were selling at almost double, as were tickets to One Direction."
[From News.com.au]
Sooooo … the Beliebers are moving in a different direction now, as in One Direction. This makes sense because their parents are the ones buying concert tickets. I certainly wouldn't be shelling out money for my daughter to watch a brothel-goer as he refused to pull his pants up while dancing onstage. Harry Styles' pants might look uncomfortably tight, but at least they cover the necessary goods. At least Harry and Co. can behave themselves in the public eye. For those of us who have long wished for Bieber to go away, the time might be nigh.
I don't know the identity of this chick who is kissing Bieber's (face) cheek, but the Beliebers on Instagram are not happy about it.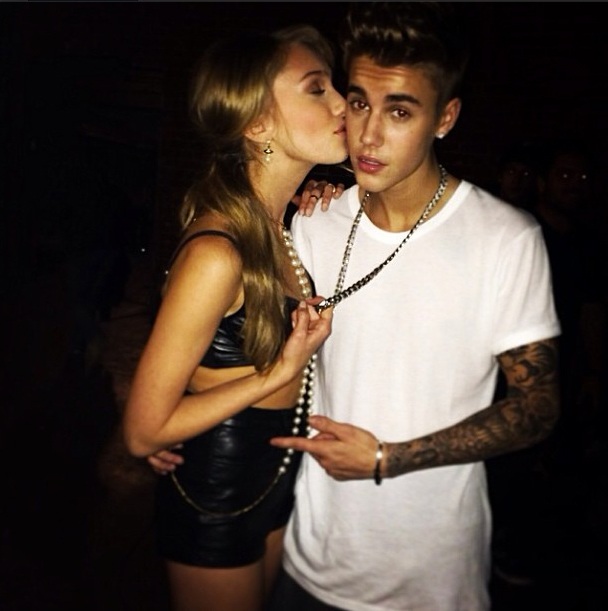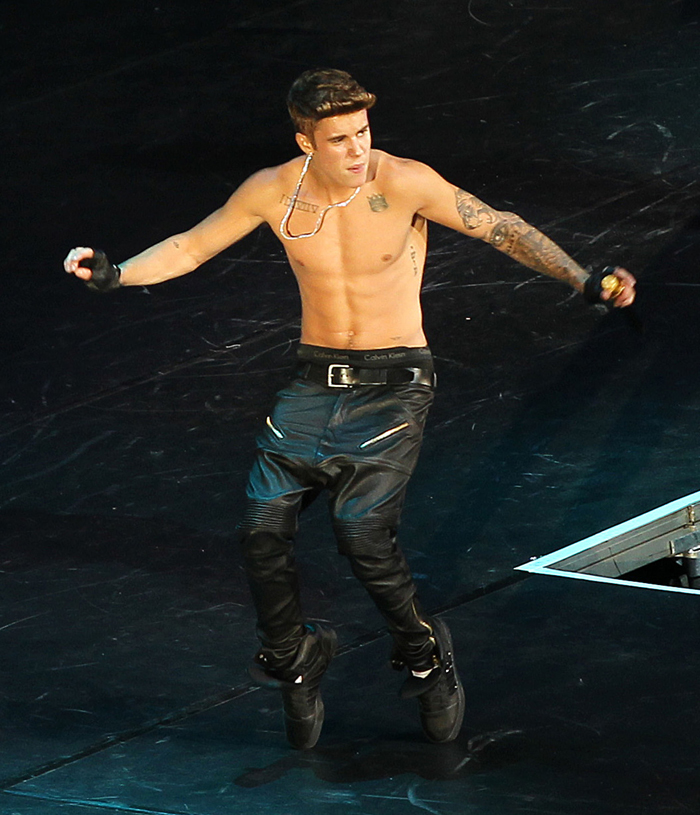 Photos courtesy of Fame/Flynet & Justin Bieber on Instagram