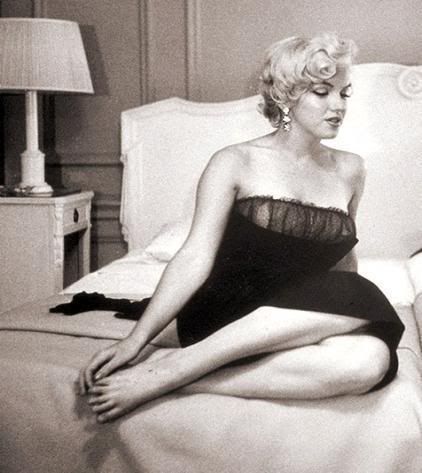 A three page FBI reported dated October 19, 1964, that was recently unearthed through the Freedom of Information Act claims the Bobby Kennedy conspired to set up Marilyn Monroe's August, 1962 suicide with the help of her friend the actor Peter Lawford, her therapist, and both her secreatry and maid. Kennedy was supposedly having an affair with Marilyn and she threatened to expose it if he didn't leave his wife for her. It's a bit too complicated and there are too many different people and factors that needed to come together to make ithis story believable:
The document, hidden among thousands of pages released under freedom-of-information laws last October, was received by the FBI on October 19, 1964 – two years after her death – and titled simply "ROBERT F KENNEDY".

It was compiled by an unnamed former special agent working for the then Democrat governor of California, Pat Brown, and forwarded to Washington by Curtis Lynum, then head of the San Francisco FBI. Despite a disclaimer that it could not be sourced or authenticated, it was considered important enough to immediately circulate to the FBI's five most senior officers, including director J. Edgar Hoover's right-hand man, Clyde Tolson.

The report was in effect buried for decades as a classified document, and even the released version contains censored sections. Never before mentioned despite thousands of articles, books and documentaries about her death, it details aspects of Kennedy's on-and-off affair with the movie star, including sex parties and a lesbian dalliance, as well as her emotional departure from 20th Century Fox and descent into depression.

Critically, it raises an alleged conspiracy, apparently overseen by Lawford, for Monroe to unwittingly commit suicide with the drug Seconal, a barbiturate used to treat insomnia and relieve anxiety. The document gives no precise reason why she would be killed but hints it may be linked to her threats to make public her affair with Kennedy, as other conspiracy theories have previously claimed. It states in part: "Peter Lawford, [censored words blacked out] knew from Marilyn's friends that she often made suicide attempts and that she was inclined to fake a suicide attempt in order to arouse sympathy.

"Lawford is reported as having made 'special arrangements' with Marilyn's psychiatrist, Dr Ralph Greenson, from Beverley Hills. The psychiatrist was treating Marilyn for emotional problems and getting her off the use of barbiturates. On her last visit to him he prescribed Seconal tablets and gave her a prescription for 60 of them, which was unusual in quantity especially since he saw her frequently. On the date of her death … her housekeeper put the bottle of pills on the night table. It is reported that the housekeeper and Marilyn's personal secretary and press agent, Pat Newcomb, were co-operating in the plan to induce suicide."

It goes on to say that on the same day, Kennedy had booked out of the Beverley Hills Hotel and flown to San Francisco where he booked into the St Charles Hotel, owned by a friend. "Robert Kennedy made a telephone call from St Charles Hotel, San Francisco, to Peter Lawford to find out if Marilyn was dead yet."

Lawford called and spoke to Monroe "then checked again later to make sure she did not answer". The document claims the housekeeper, Eunice Murray, who had been hired by the actress on the advice of Dr Greenson, then called the psychiatrist.

"Marilyn expected to have her stomach pumped out and get sympathy for her suicide attempt. The psychiatrist left word for Marilyn to take a drive in the fresh air but did not come to see her until after she was known to be dead."

Officially, the actress was found by Murray in the early hours of August 5, naked on her bed lying on top of her telephone. The others are now dead, too.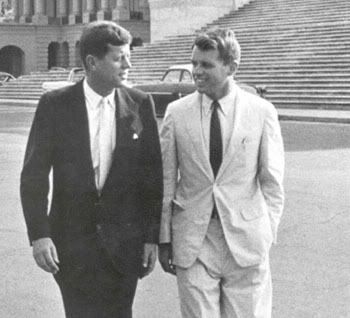 There have been rumors for decades that the Kennedys were involved in Marilyn's death as she was said to have had affairs with both John F. Kennedy and brother Bobby, and there were suspicious circumstances surrounding her death. It could be true that the Kennedys murdered her, but the whole scenario sounds a bit convoluted to me. Somehow her therapist gave her extra pills, the maid set them out for her, and then they counted on the fact that she would take them and just made sure to be scarce when she needed help. If all that is true, it relied on Marilyn to do the deed and no one actually killed her.
The origins of the report are suspect. It has no sources and is said to come from an "unnamed former special agent" in California but surfaced in J. Edgar Hoover's FBI office. Hoover hated Robert F. Kennedy and would likely have done anything to discredit him. Attorney General Kennedy forced Hoover to focus on organized crime at a time when he thought Communism was a bigger threat to society. Hoover was notorious for collecting incriminating information on people that threatened him, including civil rights leaders and rock stars. It seems a little too convenient for internal FBI documents to have pinned Marilyn's suicide on the younger Kennedy in a bizarre scenario that remained consistent with the facts at the scene.
The date on the FBI report further suggests a vendetta against Bobby Kennedy as it was was received on October 19, 1964, just a month after he stopped serving as Attorney General under Lyndon Johnson. (His brother the president was assassinated on November 22, 1963.) The Attorney General oversees the FBI. They must have been cautious not to put out such a negative report about Hoover's boss during his reign, but were quick to pin Marilyn's death on him after his departure.
Robert F. Kennedy was assassinated on June 4, 1968, after winning Democratic presidential primaries in South Dakota and California. Palestinian extremist Sirhan Sirhan was convicted of the younger Kennedy's murder and is serving a life sentence without parole. Sirhan maintains his innocence and evidence at the scene may suggest that another shooter was present. Suspicious circumstances surrounding the deaths of Robert F. Kennedy and his older brother, John F. Kennedy, have led many people to doubt the official versions of their deaths. Much like Marilyn's suicide, nothing about the deaths of the Kennedy brothers seems quite as cut and dried as reports make out.
We will probably never really know what happened to Marilyn or the Kennedys, and this might just be another conspiracy theory about the death of one of Hollywood's greatest legends.