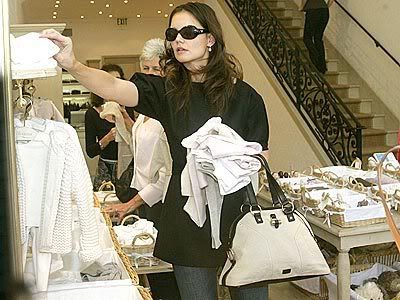 Have you wondered why we haven't seen dead-eyed Katie Holmes browsing through racks of high priced designer goods at Barneys lately? Her expensive habit, a vain attempt to escape her fishbowl life surrounded by Tom's family and cult cohorts, has been curtailed by the pint-sized movie mogul. Word has it that Tom's people are telling the boutiques that call with news of sales for Katie that she's "too busy" to spend her husband's money. No wonder they looked like they were fighting the other day:
Has My Favorite Alien forgotten his solemn Scientology marriage vow – penned by Xenu Guru L. Ron Hubbard himself – that decrees: "Now Tom, girls need clothes and food and tender happiness and frills… a pan, a comb, perhaps a cat. All caprice, if you will, but they still need them." That's your fearless leader himself speaking, Tom – so why can't YOU lighten up and pamper your pretty baby-momma? One saddened shop owner told My Spy: "Katie was first on a VIP list to be informed whenever anything new and exciting came in. We've called several times and been told she's 'too busy.'"
[From The National Enquirer print edition, Mike Walker's column, March 26, 2007.]
As author Mike Walker points out, even Tom's freaky Scientology cult preaches the benefits of keeping women placated with aimless shopping, so maybe he'll relent.
This could be a non story and the people from that store just might be bugging Katie by calling with news of sales or new shipments every few days. I know if I had the cash I'd be all over that though. Or maybe I'd just tell them to stop calling and to update their website if they wanted to get my coveted attention. A girl can fantasize about being a shopping VIP and wielding influence.
Update: photos removed by request.