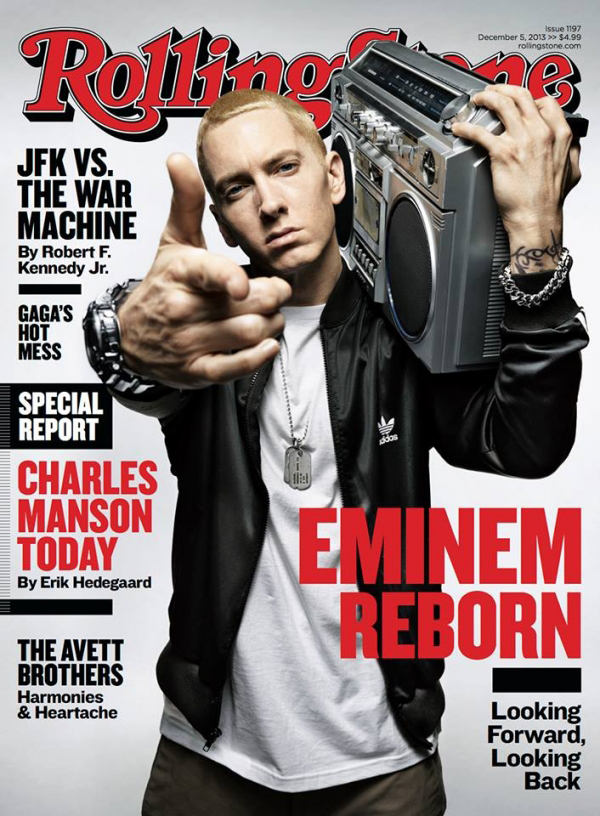 Eminem isn't doing so bad for himself lately. He covers the upcoming issue of Rolling Stone to support The Marshall Mathers LP 2, which has already sold like crazy. The album tallied up 792,000 units sold in its first week, which easily blows away the opening weeks of Miley Cyrus and Lady Gaga.
The full Rolling Stone interview hasn't arrived yet, and the released excerpts aren't too revealing. Eminem does claim that he was "intentionally spaced-out when he appeared alongside Brent Musburger on ESPN." Remember that weird video? Em was making his "Berzerk" face, so it's no big deal: "The whole song to me feels like vintage Beastie Boys. And you know the 'Pass the Mic' video where Ad-Rock is making that face, kind of not looking the camera? I was doing my own version." That explains a lot.
There's also another new story about Eminem that I hope isn't true. Radar Online says Eminem is considering remarrying Kim Mathers (one of her old mugshots is in the gallery) again. Again. They divorced the first time in 2001, and then Eminem re-wed Kim in 2006, but the second marriage only lasted three months. Kim said Eminem's songs about her drove her to suicide. She was specifically speaking about "Kim," which described Eminem choking her to death. Em also sang about emptying his gun so he wouldn't shoot her in "Cleaning Out My Closet." Their history together is a complete mess, but Kim's mom predicts wedding bells anyway:
Eminem could soon rekindle his famously stormy relationship with tormented ex-wife Kim Mathers, according to her mom.

Speaking from the home she is currently sharing with Kim, just outside Detroit, Eminem's former mother-in-law Kathy Sluck told RadarOnline.com that her daughter sees the rapper "all the time." The generous star is also building his first love a brand new mansion just five miles from his house.

Kathy revealed of the former lovers: "They get along better than ever. He's building her a new house on 22 mile right over there." She added of daughter Kim: "She has been clean all these years, she just takes care of her family. She's doing very well." Kathy also revealed the pair may get back together soon, explaining: "I think they might, they get on better than ever."

The new house currently being built for Kim is on Mile Road in Macomb, Michigan, a rural suburb of Detroit surrounded by fields and farms. It is just a five-minute drive from the house she is living in now with her mother. Although still in the early stages of being built, the house already looks to be a large, sprawling mansion.

Marie Hartter, the grandmother of Eminem's adopted daughter Whitney, also shared her opinion on Kim and Eminem's fiery relationship. She said: "As far as I know they're not together, but I think your first love they're always going to have that tumultuous back and forth thing going – always. They've been in love since they were 14 or 15 and that's not going to stop anytime soon."

Although they have two failed marriages behind them, she said: "They will probably grow old together one way or another, as much as he says he hates her in his music, he loves her that much too, I feel. I think it's kind of like throwing gas on the fire. I've always felt that that was each of their one true love. I think they met very young, they were together a lot of years, I don't think she's ever been with anyone for as long as she's been with him, whether it's off and on."

Asked if she thinks they are a dangerous combination, Marie said: "Oh man in a lot of ways, I think in a lot of ways. I mean how do you marry someone and then divorce them four months later? I think leading up to it I think they both knew it might be a mistake, but I'm guessing. I think at some point they could get back together, anything is possible when you've been in love with someone for 25 years."

Neal Alpert, the agent and former fiancé of Eminem's mother Debbie Mathers, said of Kim and Eminem's fiery relationship: "In my personal opinion they seem to have the type of relationship that will keep them coming back and forth to each other. I would say first loves always have a place in our hearts, I'm sure there's still feeling there, you can't just turn it off."

In addition to possibly reconciling with Kim, it seems Eminem may also be ready to publicly forgive his mother, who he made violent references to in his hit "Cleaning Out My Closet."

In the song "Headlights" from his latest album, Eminem has changed his tone, rapping: "You're still beautiful to me because you're my mum. I love you, Debbie Mathers."
[From Radar Online]
The source of this information certainly has a vested interest in Kim's financial well being, but I don't think Em will take too kindly to a planted story. I have no problem believing that Eminem is still financially supporting his ex-wife because he's very generous when it comes to his kids. He has one biological child (17-year-old Hallie) with Kim but also has custody of Kim's niece (Alaina) and Kim's other child (Whitney). I think Em's willing to give Kim whatever she needs to be comfortable as far as money goes, but that's probably the extent of their relationship. I hope.
Eminem told Rolling Stone in 2010 that he has trouble with the ladies and can't really date: "As far as going out, like dinner and a movie–I just can't. Going out in public is just too crazy. I mean, I'd like to be in a relationship again someday. Who doesn't? It's just hard to meet new people, in my position." Ahhh, the wages of fame.
UPDATE: Eminem's rep denies the story, which is what I suspected all along.
Yesterday Em Instagrammed this picture of himself and Rihanna on the set of their new "Monster" video. RiRi looks fantastic, and these two always make good music together.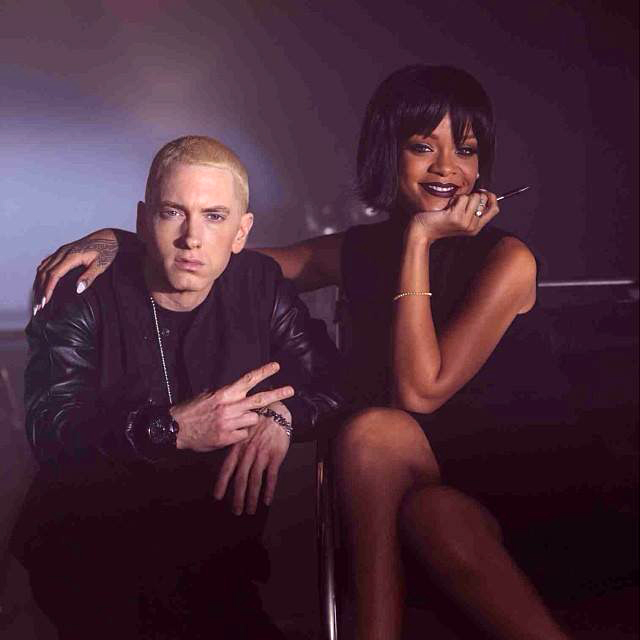 This is an Instagrammed Em pretending to run the NYC marathon. Don't ask.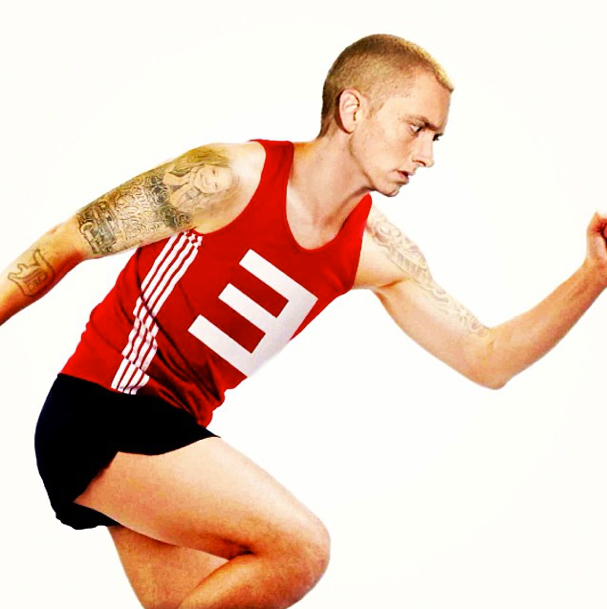 Photos courtesy of Rolling Stone, Eminem on Instagram, The Smoking Gun & WENN