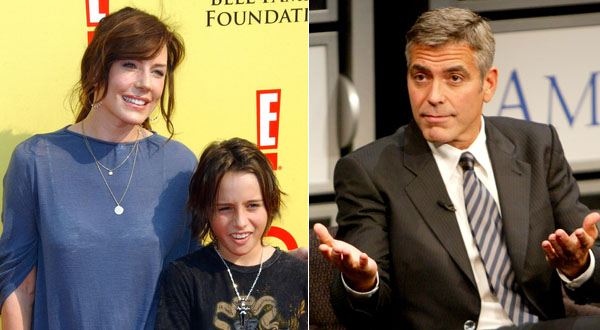 Krista Allen is either genuinely in love with George Clooney or the dimmest bulb on the Christmas tree of women Clooney has dated over the years.
Krista and George apparently reconciled (again) last year after Clooney's breakup with Sarah Larson, but the National Enquirer reports Krista dumped him (again) because, although he's been sending her hot text messages, she actually hasn't seen George since November, and even then they didn't go out.
On Nov. 11, the 47-year-old actor was in Los Angeles to make his latest film and dined with pals in West Hollywood. Then for his nightcap, he went to Krista's place in Beverly Hills, where he stayed the night, said the insider…. "Krista was furious and raged, 'What am I — just his friend with benefits?'"
[From National Enquirer, print edition, February 2, 2009]
George also reportedly broke a promise to spend time with Krista and her son at Christmas, then spent New Year's in Mexico without her.
Krista grew angry after seeing George with swimsuit model Estefania Kuester at a charity event in December and is jealous over George's relationship with Lost star Rebecca Mader, Clooney's leading lady in the upcoming film Men Who Stare at Goats.
I can't imagine the Paris Hilton hook-up rumors helped either.
It's possible Krista may just enjoy the fame of being linked to Hollywood's modern-day equivalent of Cary Grant, but the Enquirer says she's really heartbroken.
Concluded the insider: "George was the love of Krista's life. She was hoping to walk down the aisle with him — but now she's given up all hope."
[From National Enquirer, print edition, February 2, 2009]
It doesn't appear George is overly upset about being dumped. He will probably spend the rest of his life a happy bachelor, but Krista shouldn't give up all hope. Even Warren Beatty was eventually brought to heel.
Krista Allen and her son Jake are shown on 11/16/08. Credit: PRPhotos and Fame. George Clooney is shown on 1/26/09. Credit: WENN