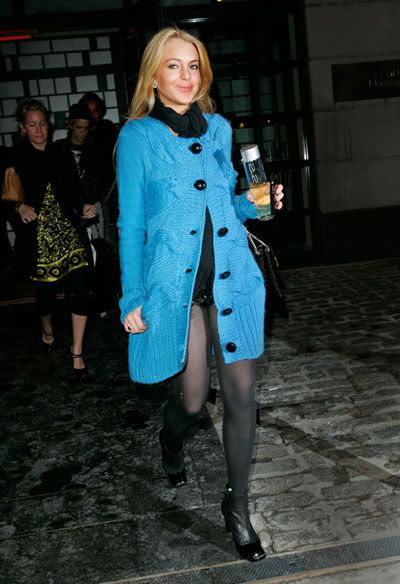 Lindsay Lohan was spotted out in New York yesterday in what would have been a cute outfit if she bothered to wear a skirt or pants. She paired a long turquoise cardigan with a shimmery black gathered leotard reminiscent of one of her Halloween costumes and black tights which didn't hold up for her throughout the evening. At one point there was just two small dime-sized holes in Lindsay's tights but later in the night she had several large runs in her stockings.
The water in her ever-present Voss bottle doesn't look so clear to me, and she's still sporting those pin-hole pupils that people like to attribute to too many flashes, but which don't seem to afflict other celebrities hounded by the paparazzi.
Lohan recently sold a Hollywood condo she purchased but never really lived in, turning a nearly $430,000 USD profit. She was said to have moved into the place in early December, and was pissing off her new neighbors by coming and going at all hours of the night. She lived for nearly a year in the Chateau Marmot and left amid reports that staff requested that she leave after repeated complaints from other guests.
Yet another person spotted Lohan pouring Vodka into her water bottle. This time while she was appearing a guest DJ at a New York City club on Thursday. She sang along to Amy Winehouse's hit "rehab" and yelled at photographers to stop taking pictures. She is said to have gone to extensive lengths to ensure her father, fresh out of jail and trying to persuade Lindsay to give religion a chance, did not gain entry to the club.
The 20-year-old actress, who was guest of honor at the NYC nightclub on March 15, was later spotted breaking her rehab run as she poured Grey Goose vodka into a water bottle and sipped from it all night, say sources inside the club.

"I saw waitresses carrying two Grey Goose bottle away at about 12:20 a.m. so her table didn't appear to have tons of alcohol, but she was spotted pouring another bottle of vodka into a water bottle and sipping from that while smoking," sources told Usmagazine.com. "She made little attempt to hide this."

Around 12:30 a.m., Lohan and her posse went up to the DJ booth with celebrity DJ Samantha Ronson who got Lohan singing and dancing to the Amy Winehouse song, "Rehab."

"Lindsay sang along, and ate up all the attention," sources said.

Lohan was such a crowd pleaser, Ronson finally had to stop the music and scream into the mic, "If you take any more f–king photos, there's going to be no more f–king music. Do you want to be in a f–king quiet club?"

Sources told Usmagazine.com that clubgoers jeered and the flashes stopped.
Lohan was said to be canoodling with Jude Law last week and was seen out with him twice at different clubs in NY.
Thanks to Gossip Rocks for these pictures.