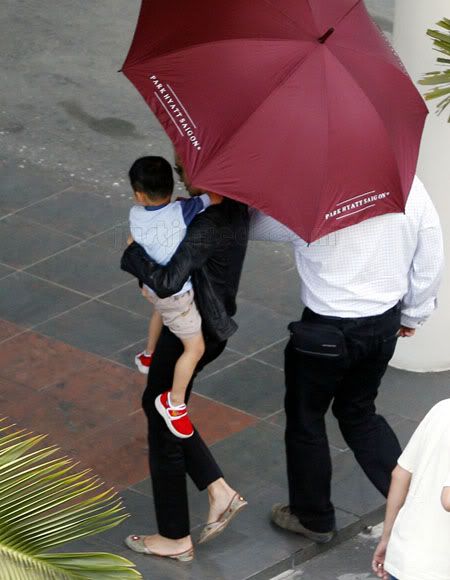 Angelina Jolie flew from Ho Chi Minh City, where she first picked up three and a half year-old Pax Thien at the Tam Binh orphanage, to the Vietnamese capital of Hanoi today, where she will obtain a Visa for the boy. She was said to be visiting the US Embassy on Friday to secure a passport for her newest adopted son, but that seems to have been delayed as she is now set to go to the Embassy on Tuesday. Maybe she delayed the appointment to give Pax more time to adjust.
Reports had Angelina whispering "no problem" in Vietnamese to a frightened and crying Pax at the orphanage, who was not told that he was being adopted until Angelina showed up to visit him. She is said to have spent 20 minutes with him in a side room calming him down after his initial shock at being taken from the only home he's ever known. Maddox was also there to comfort the boy, and was said to have held his hand.
Staff just told Pax he was going to play with a mother and father outside once Angelina was at the orphanage and he had no forewarning of her visit. At first I was shocked that they would spring it on the poor kid like that, but then I thought about it and realized that parents might have chickened out in the past when it came down to taking a child home. They must be trying to protect the orphans and not scare them or get their hopes up by telling them that they're about to be adopted.
Angelina has said that she's going to stay home with Pax for a while to help him get adjusted to his new life, and that's her priority. She says she's sorry for the media storm that surrounds her and that she's worried that it will upset him. She also says that she is fulfilling a child's need for a family:
"Everyone would agree that children need to have a family," the paper quoted the Oscar-winning actress as saying. "I have the ability to help children fulfill that desire. Why should I say no?"
The US-based adoption agency that arranged Angelina's adoption said the process was not fast-tracked at all despite Vietnamese officials half-admitting it was.
Some news outlets are still reporting that Angelina's daughters Zahara, 26 months, and Shiloh, 10 months, are with her in Vietnam, while others are saying they remain back in New Orleans with father Brad Pitt. Since there have been no pictures of the girls, it seems that they stayed at home and that earlier reports were mistaken.
Thanks to Just Jared for this picture of Angelina carrying Pax. Just Jared has more pictures of cute Pax. Angelina is also shown outside the Tam Binh orphanage with Maddox before they went to see Pax.