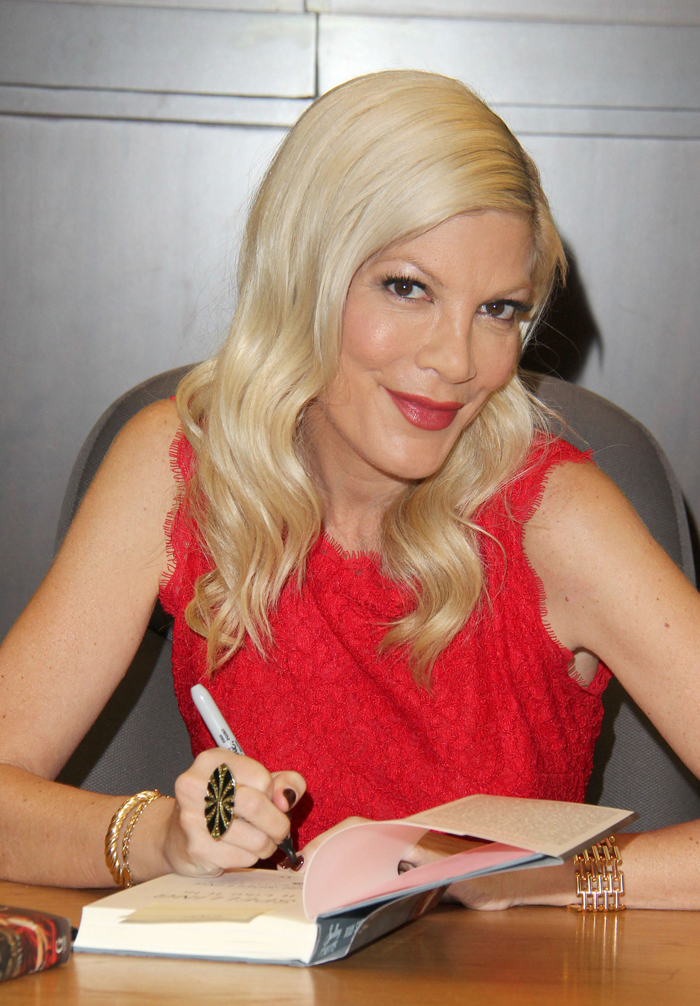 God, this story is just full of drama. Tori Spelling has been out and about for a few months promoting her latest book, Spelling It Like It Is. Tori has written a number of titles, but this one revolves around her family's financial straits. I still can't wrap my head around Tori's claim that she and her husband could justify vacationing in Cabo last summer but couldn't afford a vasectomy. In the grand scheme of medical procedures, a vasectomy is fairly low cost and is often even covered by insurance.
Tori is hungry though. Hungry for press. In this latest book, she revealed details of an adult film that "accidentally" ended up in the wrong hands. She also trotted out stories about former acquaintances. Tori branded Katie Holmes "a plastic robot" who "can't sing for sh-t." That story seemed particularly cruel because Katie was at a very unhappy point in her life (right before she divorced Tom Cruise) and had other things on her mind. Yet Tori was so offended that Katie didn't realize she had kids; maybe that's why Tori raked Katie over the grills. Whatever the case, Tori did not enjoy the media fallout after she trashed Katie. Radar Online says Tori was so upset that she checked herself into a hospital for days:
Reality star Tori Spelling was hospitalized last month in the midst of her tour to promote her tell-all book Spelling It Like It Is, RadarOnline.com has learned.

The 40-year-old mother-of-four was treated briefly and released, but legs of her promotional tour had to be cancelled after she missed a scheduled flight.

A source close to ex-90210 star Spelling told Radar that "she just wasn't feeling well and went to the hospital, but everything was fine."

But a second source explained: "Tori was hospitalized for stress and anxiety for a few days because she was receiving a lot of negative feedback about revelations she made in the book and she had no anticipation that it was going to hit a nerve.

"Tori didn't think making comments about a chance encounter with Katie Holmes would cause such a ruckus.

"She just grew very anxious about having to defend her actions in the book in media interviews and decided that she needed to go to the hospital."
[From Radar Online]
I don't mean to pass judgment upon anyone with severe stress and anxiety, but does it seem strange that Tori would check herself in for treatment because … she made fun of someone and got called on it. Tori deserved to be called out for what she said about Katie. Those were some cheap shots.
Maybe Tori actually felt really bad about the situation and couldn't face herself or the public, I don't know. This is definitely a weird twist in the story. It's weird how Tori and Dean could afford round-the-clock hospital treatment but not a vasectomy. Maybe they never really wanted the vasectomy.
Katie Holmes still refuses to acknowledge this story at all. Atta girl.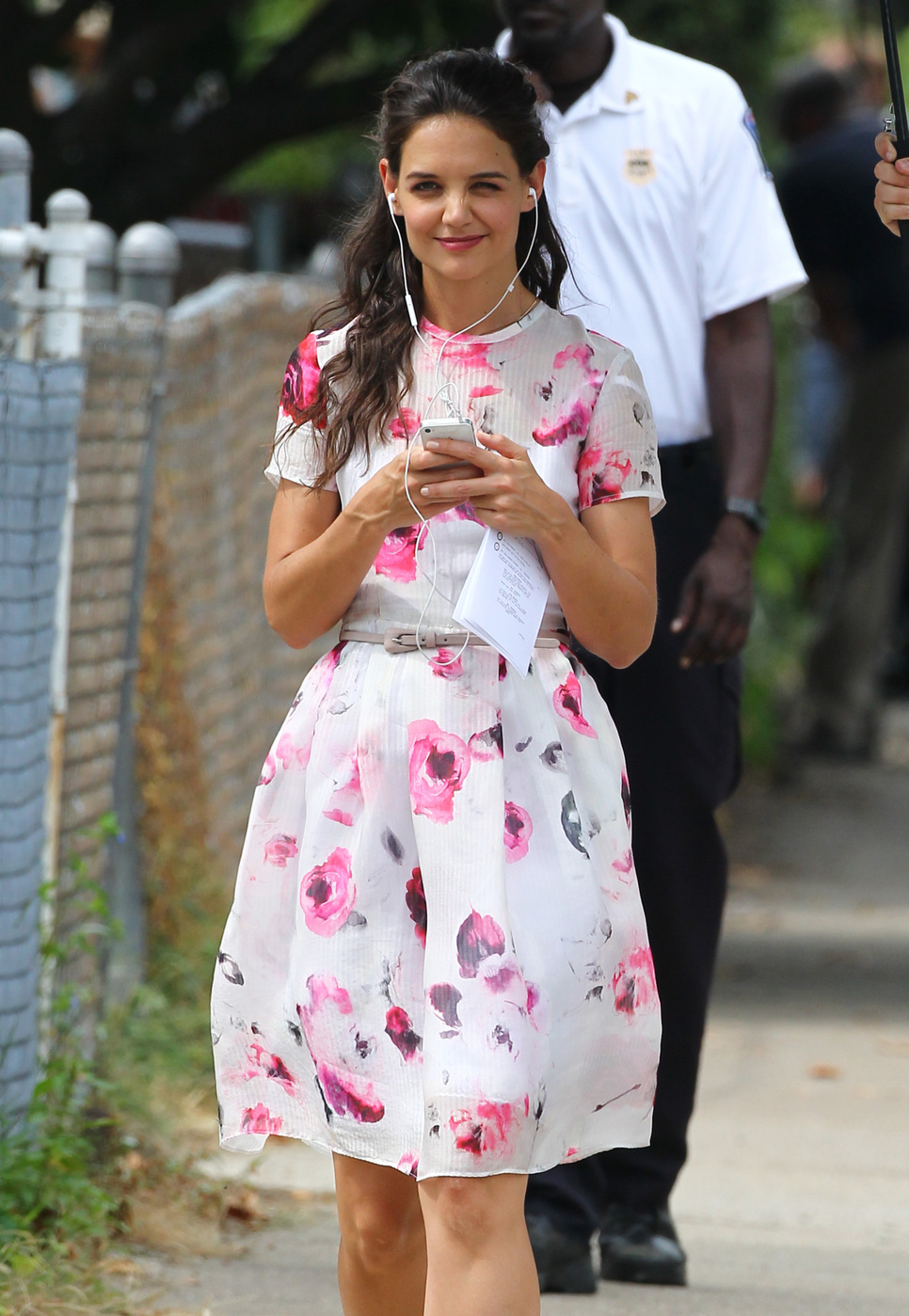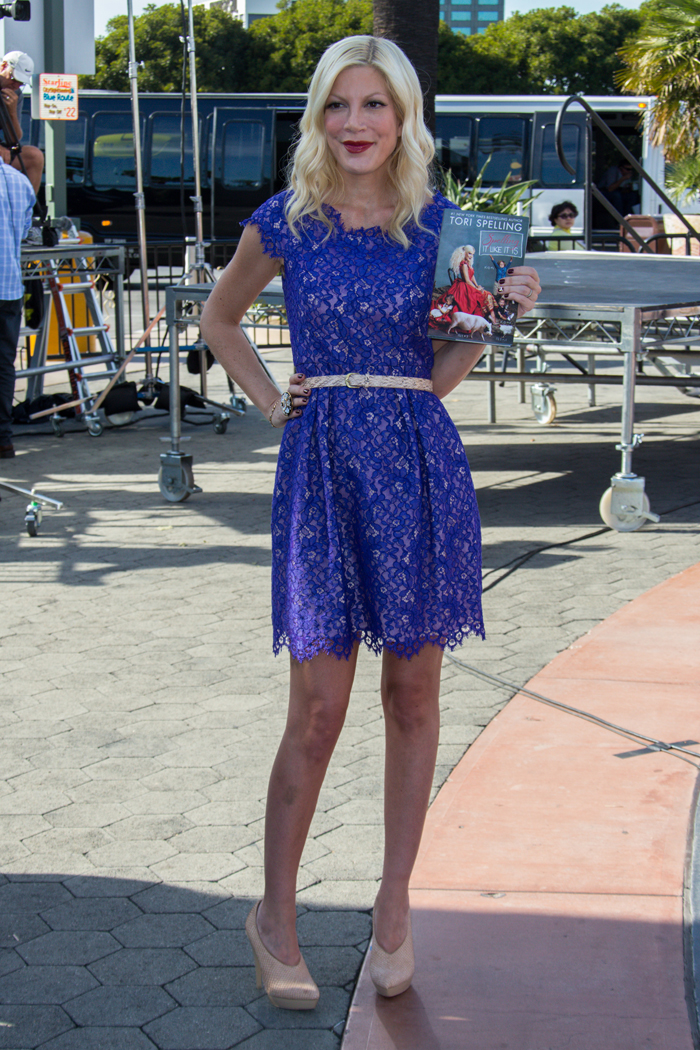 Photos courtesy of Fame/Flynet, Pacific Coast News & WENN