Jennifer Hudson says she's not a diva and she's upset at the media twisting her words and making her seem like she's ungrateful for her newfound fame. Both TMZ and Page Six have been making it seem like she's too haughty for her own good after she called American Idol "abusive" and a "stepping stone." Simon Cowell was pissed that she seemed to dismiss the role of Idol in making her famous, but her words may have been misconstrued and we reported that she was more than gracious and realistic about Idol in an interview with Diane Sawyer before the Oscars. TMZ even offered up some video of Simon Cowell praising Hudson, but was careful to cut out a rude comment he made about her weight right afterwards.
Hudson recently told Radio host Jawn Murray of the Tom Joyner morning show that all the negative press has hurt her feelings and that it's not true that she tried to ditch the Soul Train awards at the last minute: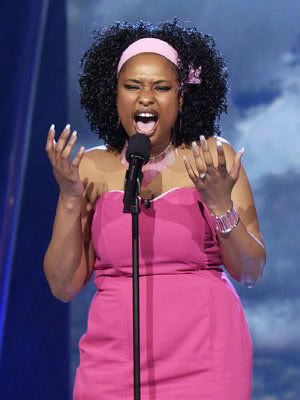 In an exclusive interview, she tells Jawn Murray of "The Tom Joyner Morning Show" that she's been "hurt" by the backlash since her Oscar triumph, especially allegations that she tried to ditch the "Soul Train Music Awards" and that she demeaned "American Idol" as a mere "stepping stone." Page Six reported last week that Hudson tried to back out of the "Soul Train " show, where she received an award. "Why would they dog me out after I was one of the only people to show up on the show?" asks Hudson.

And as for her calling "Idol" a stepping stone — to which Simon Cowell made a pointed and sneering reference on a recent episode — Hudson acknowledges that she did, but says, "I didn't mean it in a bad way … 'American Idol' is a stepping stone because had it not been for them, no one would have known of a Jennifer Hudson to call to audition for 'Dreamgirls.'" Hudson adds that she's actually met this year's "Idol" contenders and taped a segment with them — all at her own request.

Hudson is clearly learning that getting famous as meteorically as she has ain't no dream, girl: "It's like everything I say referring to the show gets twisted around and makes me look like I'm being arrogant and a diva."
Hudson's Golden Globe acceptance speech seemed kind of haughty to me, but she came off better in her tearful Oscar speech (links leads to video.) I do think she's not entirely down to earth and she's got a kind of holier-than-thou personality, but she also speaks her mind and seems to be getting a bad rap she doesn't deserve.
Hudson is rumored to be planning to marry her long term boyfriend, a maintenance engineer, by the end of the year. She calls him her "childhood sweetheart," and he was the first person she thanked in her Oscar acceptance speech.