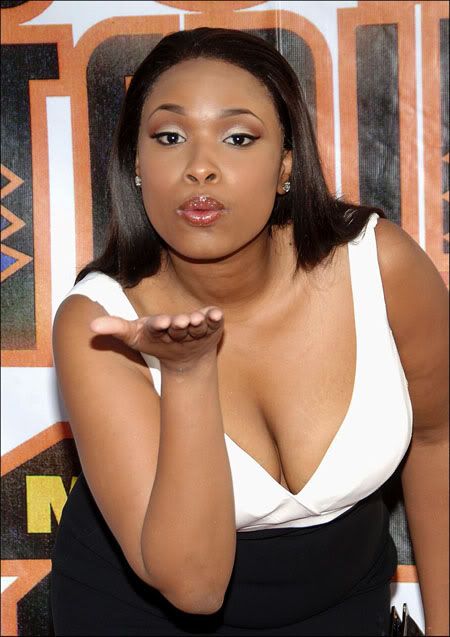 25 year-old Jennifer Hudson has a boyfriend from her hometown who has patiently stood by her throughout her skyrocketing career. She calls James or "Jamie" Payton her "childhood sweetheart" and says "He's seen it all and been through it all with me. I'm the dreamer, and he supports my dreams – always has. He's happy to be my rock and let me fly and I couldn't ask for anything more than that."
Hudson is said to have promised Payton that she would marry him if she won an Oscar, and now these two may tie the knot by the end of the year.
The Academy Award winner made a vow to James Payton – her boyfriend of eight years – that she would marry him if she captured the Oscar for best supporting actress.

The down-to-earth star has agreed to walk down the aisle with the Chicago maintenance engineer by New Year's.
[From The National Enquirer print edition, March 12, 2007]
I bet she will marry him. Most young women would move on to Hollywood types after hitting it big, but Hudson tries to remain true to the people she loves and to herself. She recently turned down a movie role paying $3 million because the film featured nudity – but not from her character!
Someone is out to get Hudson. People are up in arms over TMZ's negative portrayal of Hudson. Some say they're trying to smear her by continually reporting that she's ungrateful to idol and by only showing Simon treating her well on the show when he in fact criticized her weight in a clip they cut off to just show the positive parts. Hudson is also said to have praised American Idol in a Diane Sawyer interview, and to have credited her career to Idol despite Simon dissing her for supposedly downplaying it. [via Oh No They Didn't]
Now there's a doubtful quote from Hudson saying she didn't thank Burger King for her career, so why should she thank American Idol? Since there was just a story about how Hudson chatted with Burger King workers and told them she used to work there, too, I think someone made up that quote. It doesn't sound like her at all: "If I'd been any better at my job when I was at Burger King in my middle teens I wouldn't be here either, so should I thank them too?"
Here's Hudson at the Soul Train Awards on 3/10. [via]