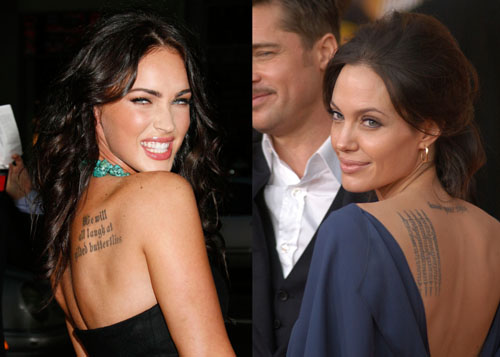 Megan Fox won't be the next Lara Croft – but it sure seems like she wants to be the next Angelina Jolie. Photo credits: WENN.
It looks like Angelina Jolie wanna-be Megan Fox will not be taking over the "Lara Croft: Tomb Raider" franchise after all. Multiple sources, including Variety and The Hollywood Reporter, are confirming that Fox hasn't been offered anything and her shooting schedule may not even allow her the time to do this film if she is offered the role. Currently, Fox is shooting the "Transformers" sequel. The "Tomb Raider" reboot is reportedly still in the very early stages of production – so expect a lot more rumors as time goes on.
MEGAN FOX is determined not to be hailed as the next ANGELINA JOLIE – she has side-stepped a role as gun-toting movie tough girl LARA CROFT. Industry insiders tipped the Transformers beauty to replace Jolie as the sexy action heroine in the next outing of the franchise, adapted from the popular video game.

But Fox's representative is adamant the actress won't be stepping into Jolie's boots.

A spokesperson for the star says, "Megan is not involved in this movie."

Plans for the third film – a follow-up to 2001′s Lara Croft: Tomb Raider and 2003′s Lara Croft Tomb Raider: The Cradle of Life – are still going forward as producers cast a new villain and love interest, according to The Hollywood Reporter.
I'm wondering why there needs to be another "Lara Croft" movie. Neither of the first two were all that great. It would be a huge mistake for Megan Fox to set herself up in Jolie's footsteps. There have already been so many comparisons between the two, based on their looks and tendencies to overshare in interviews. Better for Fox to find her own unique identity as an actress at this early stage in her career. Besides, even on his best day, Brian Austin Green can't touch Brad Pitt.
Here's Megan Fox, without her 90210-boyfriend, walking the red carpet at the Golden Globe Awards. Photo credits: WENN.