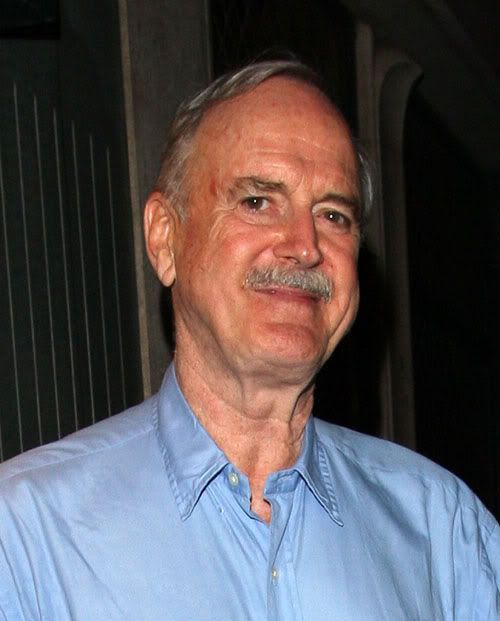 Remember Barbie Orr? She was John Cleese's "27-year-old" girlfriend who gave a tell-all interview where she discussed, in intimate detail, every part of John Cleese's body. As it turns out, she's not even close to 27, and she's not his girlfriend any more. According to Richard Kay of The Daily Mail, Cleese unceremoniously dumped Barbie after her little tell-all, and after the discovery of her real age – 45.
By any standard, it has been a masterclass in the art of British reserve.

Already hit by a multi-million-pound divorce from his third wife, John Cleese was forced to squirm in silence when his new girlfriend revealed even more embarrassing intimacies about their relationship.

It was certainly toe-curling stuff as Barbie Orr let slip details about his not-so-subtle chat-up line, her opinion of his ageing physique and how she felt about sleeping with a man of pensionable age.

So no wonder – and to the relief of his supporters in Britain – the 69-year-old Monty Python star is telling friends he has dumped her.

Barbie, who claims to be 27 but as the Mail revealed is actually 45, breathlessly disclosed how Cleese fell in love with her after seeing a photo of her in a bikini on her website.

She also said he was 'athletic' in the bedroom and a 'great kisser'. All that, Cleese could perhaps have taken on the chin.

But her references to his new teeth, his hair plugs (transplants from other parts of the body) to cover his bald patches and the fact that she 'kept picturing him naked wondering what someone that old looks like, and would I actually sleep with them' were a step too far.

The comedienne even quipped: 'For his birthday, I was thinking about buying him a Zimmer frame.'

Cleese is no longer returning her texts and their brief romance is over, say pals. What finally put the kibosh on the romance, however, was the exposure that Barbie was not all she cracked herself up to be.

According to official records in the U.S., she knocked 18 years off her age. On her website, she claims to have been born in 1981, whereas in reality she was born in 1964.

It is the latest setback for Cleese, who claims he is paying his estranged wife Alyce Faye Eichelberger £1million a year while their lawyers haggle over a final settlement. She is also claiming half of his nine properties.

But of the excitable Miss Orr, I am told: 'What she did to Cleese was undignified. He was very vulnerable.'
From The Daily Mail
Barbie Orr sounds like a world-class whack-job, but Cleese doesn't look much better. I'd imagine it would be devastating for a sixty-something year old man to be happily dating who he thinks is a 20-something bimbo, only to find out she's just a 40-something bimbo who wants to give interviews about your anatomy. Yikes. Perhaps Cleese can learn from the mistakes of his same-aged brethren, like Paul McCartney, and stay away from the Barbie Orr-Heather Mills types.
Note by Celebitchy: Barbie Orr suggests on her official website that the Mirror made up that interview in which she praised Cleese's package and claimed to be 27, but she never quite accuses them of it. It's all a bit suspect.