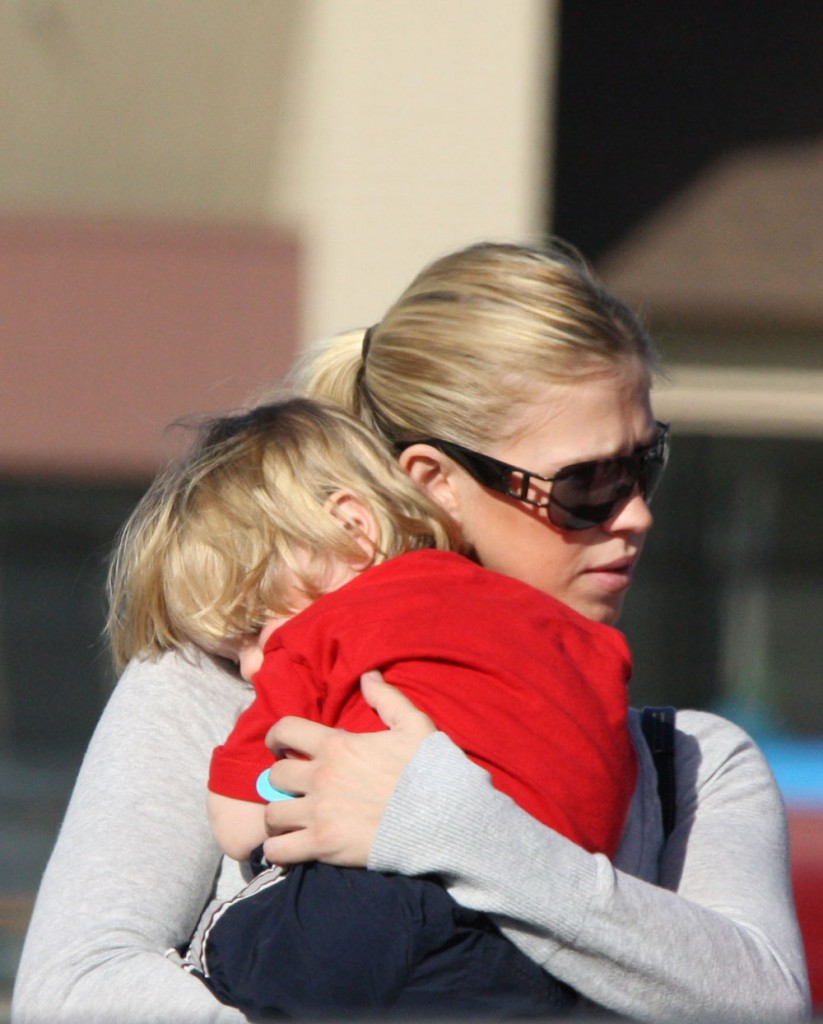 Britney Spears is said to be heartbroken over learning that her ex husband's new girlfriend has been spending time with her sons Sean Preston, 3, and Jayden James, 2. Photos came out last week on TMZ that showed volleyball player Victoria Prince holding Jayden after having dinner with Kevin and his sons. This week's Life & Style has details and pictures a weekend trip that Prince took with K-Fed and all four of his children with Britney and Shar Jackson. Federline's new girlfriend is seen holding the boys on several occasions and is even comforting Jayden by offering him a pacifier.
While Kevin and Victoria's relationship has been tough on Britney, nothing prepared her for the latest and most painful stab in the heart: finding out that Victoria has also been getting close to [her] sons…

Kevin's new girlfriend recently spent an entire weekend boding with Brit's boys.

On Jan. 16, Kevin and Victoria loaded Sean and Jayden into the backseat of Kevin's car. Also on board" Kori, 6, and Kaleb, 4, Kevin's children with his ex-girlfriend Shar Jackson. Together, they drove 225 miles from LA to Clovis, CA, where Kevin's parents live. From there, the group – along with several members of Kevin's family – headed 40 miles north to the snowy town of Shaver Lake, CA…

Victoria, 26, seemed so at ease caring for Britney's kids, it looked as if she were their mother…

While Kevin proudly videotaped them, Victoria and the kids played in the snow and went sledding…

It was the kind of moment Britney, 27, would have loved to share with her boys, and she was heartbroken she missed it. Making things worse: She's aware there's another woman in the picture who does get to share in these types of memories.

"Britney knows all about Victoria," says a family friend. "But it's what she doesn't know that tears her apart. She's not sure if this woman is changing their diapers or singing to them at night or what. She just knows there's someone else doing these things for the boys."
[From Life & Style, print edition, February 9, 2009 via Fame Pictures]
At least Prince likes kids. If I was in Britney's shoes it would make me cringe to see another woman with my son like that. It's some kind of weird primal response that I can't explain. If Prince was just a babysitter I would think she was awesome with the kids, but add the fact that she's with them because she's sleeping with your ex and you would rather she hand the boys off to someone else. It would hurt my feelings too, and chances are high that the tabloids have no insider information and are just assuming Britney is upset.
In his People interview this December, Federline said he wasn't dating anyone and that "I don't really feel like bringing that around the kids." He was rumored to be partying with hookers during weekends away in Vegas at the time. Maybe he anticipated the fallout that would happen if he got a new girlfriend and she was seen with his sons.
It's nice that he's found a woman who really adores his kids and you can't blame her for picking them up and mothering them. Many women would want to do the same thing in that situation. You can't blame Britney either if she really is hurt by it. She only gets so much time with her boys and she doesn't want another woman muscling in. We haven't seen many photos of Shar with the boys, but maybe she just keeps a low profile. It's not like those type of pictures are in demand either, because the tabloids can't blow it up into a big rivalry that isn't there.
Photo credit: Fame