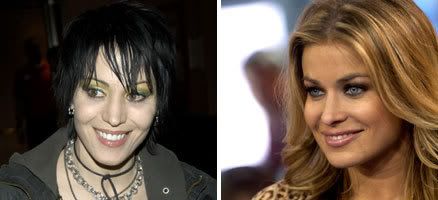 Carmen Electra has finally attempted to quash long-standing rumors that she's bumping uglies with singer Joan Jett, not that there's anything wrong with that. Carmen once said she had a crush on Jett when she first listened to her music as a teen and was re-aquainted with the rock star last May when she appeared in her eyebrow raising and aptly-titled "A.C.D.C." video, below. There was a story last November that Jett and Electra were seen making out backstage at one of Jett's concerts, and now the tabloids are declaring a full-on romance.
Carmen Electra's rep is refuting tabloid reports that the 34-year-old former Baywatch babe is involved in a romantic relationship with '80s rocker Joan Jett.

Electra's rep tells Usmagazine.com: "They are just friends."

The model/actress split from her hubby of three years Dave Navarro last July and has reportedly been spending a lot of time with the 46-year-old Jett.
Electra's rep goes on to add that she's performing with her burlesque troop "Carmen Electra and the Bombsell Babes" in London now, and that Jett will not be joining her there. Last year Carmen and her act played at a lesbian event in California and she said it was so much fun "I only want to perform for lesbians from now on!"
Here's Joan Jett's "A.C.D.C." video featuring Carmen.