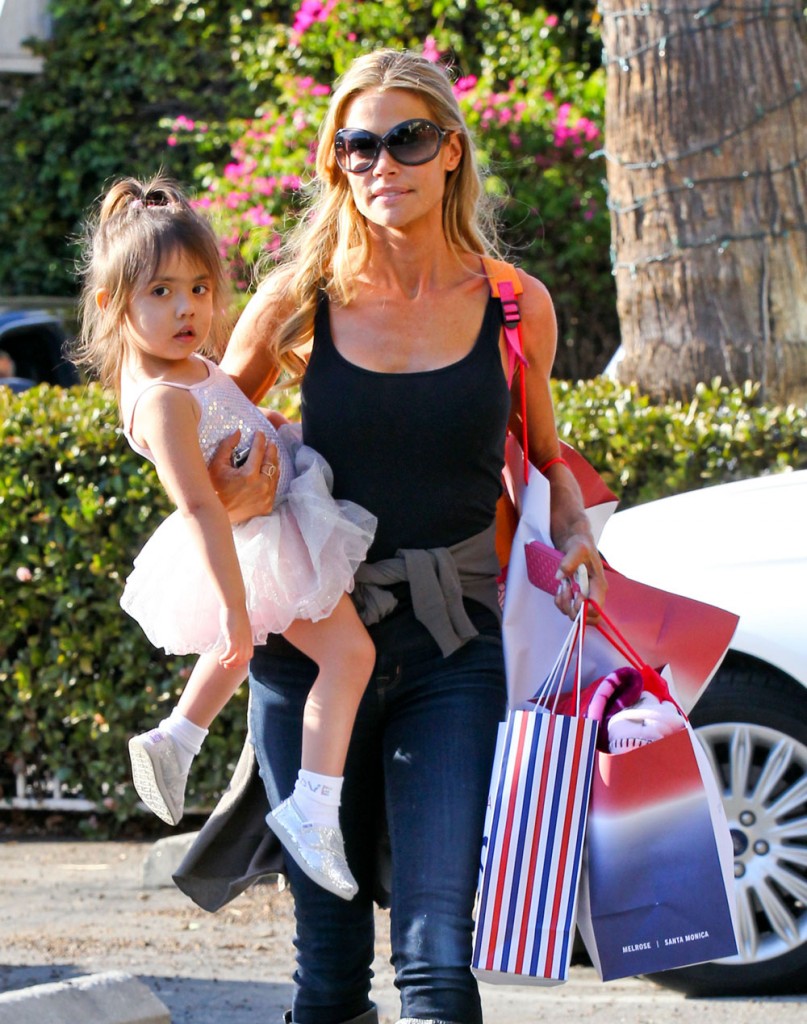 Well it happened. After years of playing nice with her ex husband and refusing to speak poorly about him to the press, Denise Richards finally pushed back a little. TMZ reports that Denise has blocked Charlie's access to their daughters for Christmas, and that Charlie has vowed to cut Denise's child support, currently at $55,000 a month, as a result. We don't know what's going on behind the scenes, but given Charlie's reaction, it's safe to assume he's off the rails again. (Or he never really got back on them.)
Apparently Denise decided that Charlie wasn't invited to go on vacation with her and her daughters for Christmas. At least that's what Charlie thinks happened. Denise told TMZ that Charlie is still invited. My guess is that Charlie's "girlfriend" isn't welcome, however. Charlie is "dating" yet another porn star, a 24 year-old named Brett Rossi. Charlie took Brett on vacation two weeks ago, and since the other shoe hasn't dropped after two weeks he's telling everyone that Brett is the love of his life. I bet that Denise told Charlie he could come as long as he didn't bring Brett, but that's just a hunch. Denise has seen plenty of porn stars, sometimes handfuls at a time, come and go in Charlie's life and she probably doesn't want her children exposed to that.
Charlie is of course taking it incredibly poorly. He posted a twitpic of a cut up wedding favor, an engraved bat from his 2002 nuptials to Denise, along with a knife and some kind of anger poem against Denise.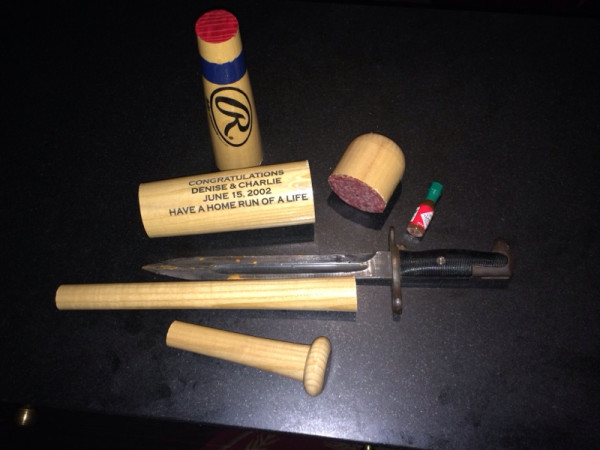 more like a feeble "K".
the lie is over.
i'm done
being treated like
a relative with a
one-way ticket.
c
#DuhNeese
Can someone tell me what that little Tabasco bottle is doing there? Does that have some meaning to Charlie? (Update: I needed Megan at D-Listed to explain that it's a meat bat. I can't believe I didn't see that. I would eat it.)
TMZ's follow-up story says that Charlie will petition the court to have his child support to Denise decreased. Charlie claims that his child support to Denise is a private arrangement and was never court-ordered, although it's likely that it was set by a judge and that Charlie just doesn't remember. If Denise doesn't get in line I bet Charlie will try to sell the home he bought her, just like he did with Brooke. (Not that Brooke should have kept the home by any means.) The home is specifically mentioned in that story, along with the line that Denise is "epically ungrateful."
Denise has consistently been gracious to Charlie, even going so far as to temporarily take in his twin boys with his last ex wife. So if Denise has decided that Charlie needs some time off from their daughters, she likely has a very good reason for it. No judge is going to rule in Charlie's favor. I hope they take a look at his child support and increase it. He probably spends 5 times more on hookers and blow in a month than he pays for his kids.
Speaking of hookers and blow, there's yet another angle to this story. Radar claims that Charlie's latest piece, Brett, is the one behind his rants at Denise. Brett is supposedly insanely jealous of Denise and is demanding that Charlie cut off contact with her. I bet she's angling to marry him and get some monthly checks of her own. The guy deserves everything that's about to come his way, and he'll be kissing Denise's ass again before long.
These are photos of Denise out shopping with her girls on 12-5, of Charlie on vacation with his "girlfriend" Brett on 11-30, and of Denise, Charlie and their daughters catching a flight on 11-16. Credit: FameFlynet